This is the Flemish Onion Soup recipe.
Prep: 10 min
Cooking: 40 min
Yields 4 servings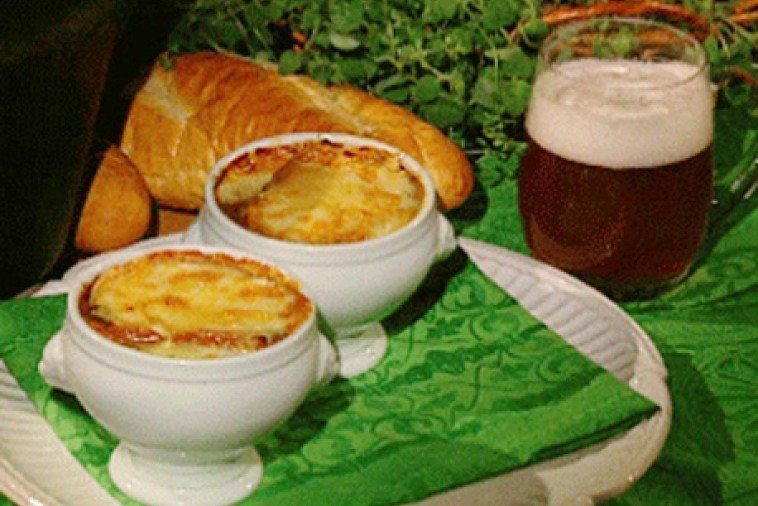 Ingredients
1/3 cup (80 mL) butter
6 large onions sliced thinly
2 cloves garlic finely chopped
1 tsp (5 mL) sugar
1 tbsp (15 mL) all-purpose flour
1 tbsp (15 mL) tomato paste (optional)
1 (341 mL/ 11 oz) bottle light beer
3 cups (750 mL) beef broth
1/2 baguette loaf
4 oz (120 g) Canadian Brie cheese
Salt and freshly ground pepper to taste
Preparation
Heat butter in a large thick-bottomed saucepan and sauté onions and garlic with sugar. Allow to caramelise.
Blend in tomato paste and flour. Cook 2 to 3 minutes. Pour beer in saucepan and bring to a boil. Cook 5 minutes then add bouillon, season with salt and pepper. Lower heat and simmer 20 to 25 minutes.
Cut baguette in thin slices and toast them. Remove rind from Canadian Brie and slice thinly.
Pour soup in ovenproof bowls. Float a piece of toast in each bowl and top with Canadian Brie slices. Place under oven grill until cheese is browned.
Tips