Kasha Bowl with Vegetables and Chicken
Our dietitians' favourite
This recipe has been developed as part of Nutrition Month.

Recipe created by Josée Robitaille
Prep: 20 minutes
Cooking: 15 to 20 minutes
Yields 4 servings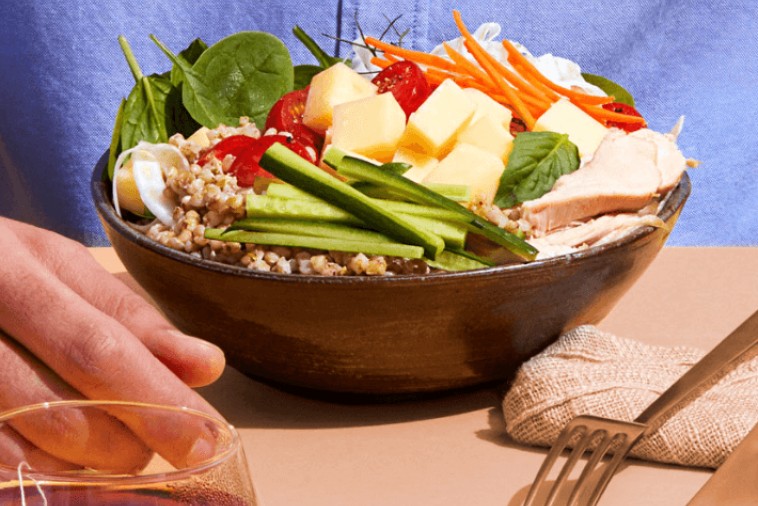 Ingredients
250 mL (1 cup) white buckwheat (kasha)

375 mL (1½ cups) water

One pinch of salt

125 mL (1/2 cup) plain yogurt

15 mL (1 tbsp) basil pesto

15 mL (1 tbsp) white balsamic vinegar

Zest of one lemon, finely grated

1 small clove garlic, crushed in a garlic press or finely chopped

500 mL (2 cups) cherry tomatoes, cut in 4

Small drizzle of olive oil

1 litre (4 cups) baby spinach, coarsely chopped

2 Lebanese cucumbers, julienned

1/2 fennel bulb, minced

400 g (14 oz) cooked chicken, sliced or diced

250 mL (1 cup) Cheddar cheese, cubed

Fresh basil (optional)

Salt and pepper, to taste

Preparation
Rinse the buckwheat in cold water. In a saucepan, bring the water, buckwheat and salt to a boil. Reduce heat to low and cook, covered, 15 to 20 minutes, until the water is completely absorbed. Transfer to a large plate and let cool.
In a small bowl, prepare the dressing by mixing the yogurt, pesto, vinegar, lemon zest and garlic. Season with salt and pepper.
Once the buckwheat has cooled off, transfer it into a bowl and add half the dressing. Mix well.
In another bowl, toss the tomatoes with a drizzle of olive oil. Season with salt and pepper. Set aside.
Divide the spinach into 4 bowls. Add the buckwheat. Garnish with the cucumbers, tomatoes, fennel, chicken and Cheddar.
Serve with the remaining dressing and, if desired, garnish with fresh basil.
Tips
This recipe is ideal for people who are lactose intolerant as Cheddar contains almost no lactose, and yogurt is generally well tolerated because of the good bacteria it contains. If you don't have a problem digesting lactose, try the original version, the Kasha Bowl with Vegetables and Burrata. Simply replace the Cheddar cheese by 250 g (1/2 lb) of Burrata cheese, tempered.
Nutritional information
Per serving
| | |
| --- | --- |
| Energy: | 530 Calories |
| Protein: | 49 g |
| Carbohydrate: | 42 g |
| Fat: | 20 g |
| Fibre: | 4.6 g |
| Sodium: | 414 mg |
Top 5 Nutrients
Nutrient and % DV*
(% DV*)
Calcium:

28 % /

362 mg

Niacin:

176 %

Pantothenic Acid:

56 %

Selenium:

80 %

Vitamin B6:

85 %
Did you know?
* Note: The daily value (DV) is established by Health Canada and corresponds to the daily quantity recommended for each nutrient. The percentage of the daily value (% DV) indicates the proportion of the nutrient provided by a serving of the recipe, in comparison with the quantity recommended.