Lasagna with Ratatouille Sauce
Our dietitians' favourite
This recipe has been developed as part of Nutrition Month.

Recipe created by Josée Robitaille
Prep: 50 minutes
Cooking: 1 hour, 15 minutes
Yields 8 servings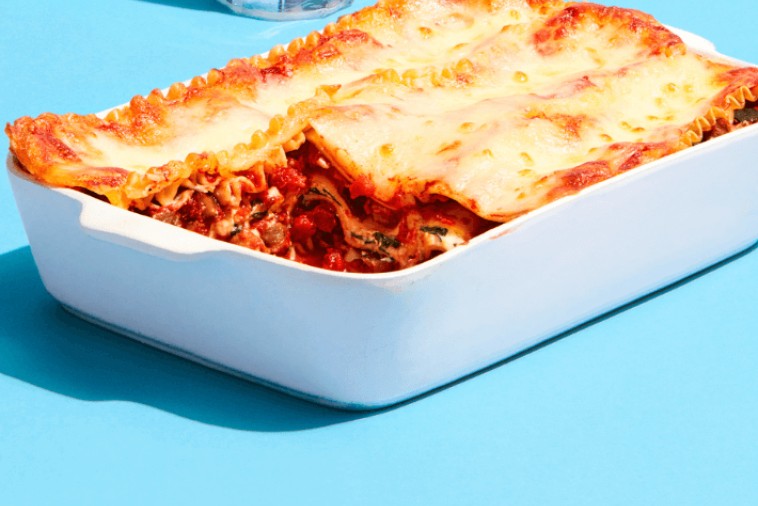 Ingredients
15 mL (1 tbsp) butter

Small drizzle of olive oil

2 zucchinis, cubed

1 eggplant, cubed

1 large onion, chopped

1 red bell pepper, cubed

10 mL (2 tsp) fresh thyme

10 mL (2 tsp) dried oregano

398 mL (14 oz) canned diced tomatoes

398 mL (14 oz) tomato sauce

227 g (8 oz) fresh spinach, washed and stems removed

400 g (14 oz) Ricotta cheese

1 clove garlic, chopped

80 mL (1/3 cup) fresh Canadian Parmesan cheese, grated

1 egg

1 mL (1/4 tsp) ground nutmeg

9 cooked lasagna noodles

500 mL (2 cups) Canadian Mozzarella cheese, grated

Salt and pepper, to taste

Preparation
In a large saucepan, heat the butter and olive oil over medium heat. Add the zucchini, eggplant, onion, bell pepper, thyme and oregano and season with salt and pepper. Cook, stirring constantly, for 10 minutes. Add the diced tomatoes and tomato sauce. Bring to a boil and then simmer over medium-low heat, covered, for 20 to 25 minutes. Check the seasoning.
While the sauce cooks, cover the bottom of a large pan with a little water and bring to a boil. Add the spinach and cook, 1 to 2 minutes, until tender. Season with salt and pepper. Transfer and drain in a strainer to remove as much water as possible.
In a bowl, combine the Ricotta, spinach, garlic, Parmesan, egg and nutmeg. Season with salt and pepper.
Preheat the oven to 180°C (350°F), placing a rack in the centre of the oven.
In a 33 x 23 cm (13 x 9 in) dish, spread a heaping spoonful of sauce. Cover with 3 pasta noodles, then with sauce. Repeat these steps and cover with the spinach-Ricotta mixture. Add another layer of pasta and sauce and finish with the Mozzarella. Bake for 35 to 40 minutes. Let stand 5 minutes and serve.
Tips
The secret is in the sauce! Tons of fresh vegetables in this lasagna sauce maximize this dish's flavour and nutritional value. And thanks to the cheese in this dish, each serving also meets one third of your calcium needs. 
Nutritional information
Per serving
| | |
| --- | --- |
| Energy: | 386 Calories |
| Protein: | 21 g |
| Carbohydrate: | 35 g |
| Fat: | 19 g |
| Fibre: | 5.9 g |
| Sodium: | 686 mg |
Top 5 Nutrients
Nutrient and % DV*
(% DV*)
Calcium:

32 % /

413 mg

Folate:

55 %

Selenium:

59 %

Thiamin:

56 %

Vitamin C:

55 %
Did you know?
* Note: The daily value (DV) is established by Health Canada and corresponds to the daily quantity recommended for each nutrient. The percentage of the daily value (% DV) indicates the proportion of the nutrient provided by a serving of the recipe, in comparison with the quantity recommended.