A free online nutrition program designed for Alberta early learning in child care (ELCC) professors and educators.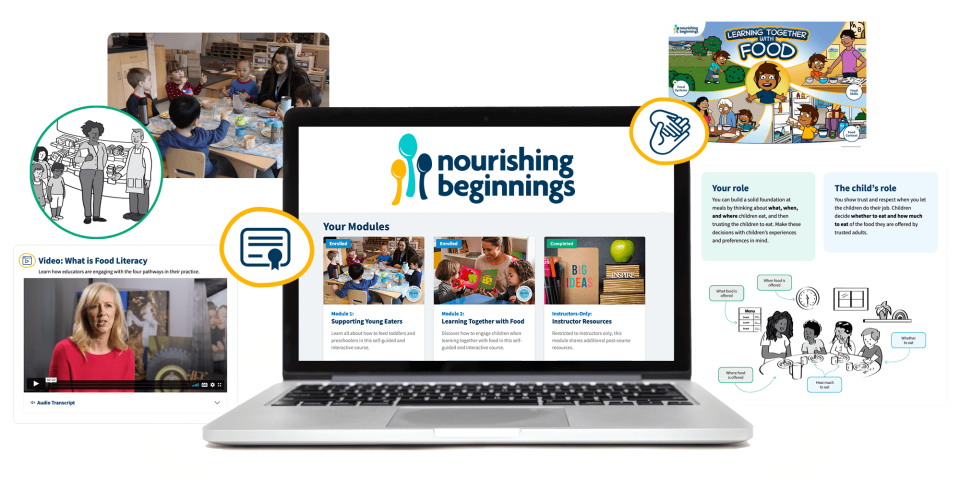 Nourishing Beginnings is a free online training program created for Alberta early learning in child care (ELCC) educators by leaders in nutrition and early learning.  
Module overview 
Three modules help you build your knowledge and your confidence in feeding toddlers and preschoolers and engaging young children when learning together with food. The program content aligns with Flight: Alberta's Early Learning and Care Framework. It is evidence-informed and follows best practices in nutrition and early learning. We recommend completing the modules in sequence. 
Module 1. Supporting Young Eaters 
Learn best practises for feeding young children and explore common feeding concerns. 
Module 2. Learning Together with Food (available now) 
Learn ways to support child-centred food learning and to grow food literacy.
Module 3. Menu Planning 
Under development. 
What's involved? 
Each module consists of 
 30–60 minutes of self-directed online learning;  

1.5–2 hours of peer-to-peer learning in a workshop;  

practical, user-friendly resources you can download and print; 

real-life videos of Alberta educators sharing their experiences; and 

a certificate of completion. 
Who can participate? 
Nourishing Beginnings is available to 
ELCC educators and directors working in child care centres or day homes 
Complete the online learning at your convenience and then register for one of the monthly workshops with a trained facilitator
ELCC professors or program directors at colleges or universities who want to offer the program to their students 
Students complete the self-directed online learning, including a summative assessment.  
Deliver a 1.5–2 hour lecture using our comprehensive slide decks, speaking notes, and videos either on your own or with virtual support from the Nourishing Beginnings team. 
Is there Release Time funding?
Yes! Upon successful completion of Nourishing Beginning modules and workshops, eligible educators in Alberta can claim up to 5 hours of Release Time. Please refer to the ARCQE website for more details.
I'm ready to register! 
Click on the module you're interested in to register today. 
OverView
Theme
Feeding relationship
How to Access
Online Training
Aligned with
Meeting Early Childhood Needs