Grades 7–9 Health students will plan meals and snacks that feature foods from Canada's Food Guide by completing creative activities, such as designing their own food truck.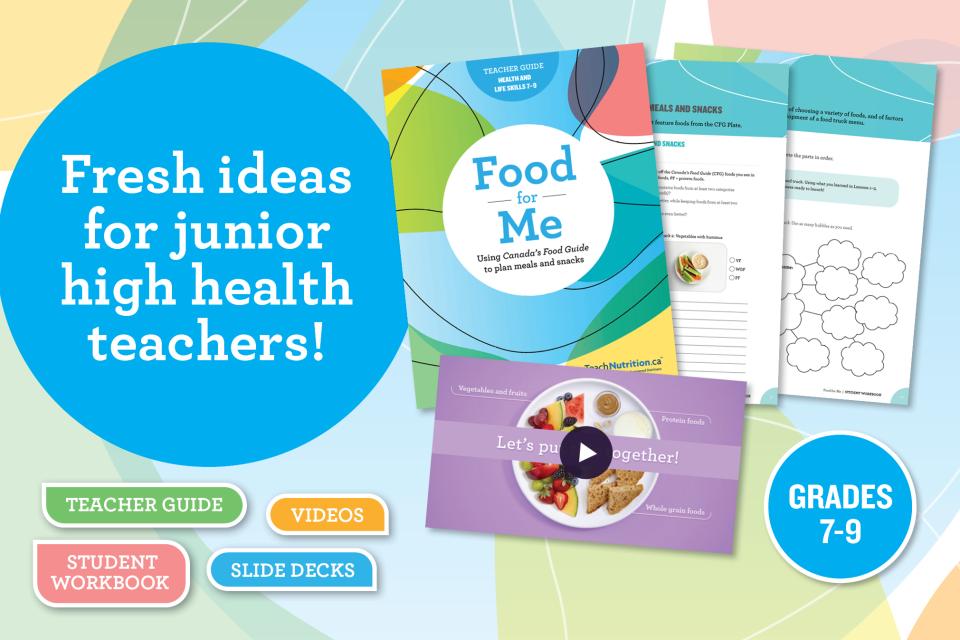 *This program is for junior high Health teachers. If you are a junior high Foods teacher, click here.
Junior high Health students explore Canada's Food Guide (CFG) with Food for Me. Using engaging videos and activities, students 
plan meals and snacks using the CFG Plate; 

explore how choosing a variety of foods helps meet nutrient needs; 

examine factors that influence food choices; and  

culminate their learning with an exciting final challenge (food trucks, anyone?!).  
The program meets Health and Life Skills learning outcomes and has cross-curricular links and assessment tools. Food for Me is similar to our DIY Meals and Snacks program, except no kitchen is required! 
Teaching and Learning Resources 
Teacher Guide and nutrient graphs: The Teacher Guide provides all the background information you need to teach the program's four lessons. Plus, it includes ready-to-use student and teacher assessment tools and an optional English Language Arts extension activity. The nutrient graphs are a detailed 8.5 × 11" card set to use as a teaching tool for one of the activities. You can order a Teacher Guide and a set of nutrient graphs from our Free Resources page or download them below as PDFs. 

Student Workbook: The Student Workbook includes activity worksheets for each lesson, as well as the optional English Language Arts extension. You can order class sets of workbooks from our Free Resources page or download them below as PDFs. 

Slide decks: The slide decks are the main teaching tools for the lessons. They contain videos, background information, activity instructions, and discussion questions. Suggested speaking notes and additional information for teachers are provided in the notes section of each slide. You can access the slide decks for each lesson below. 

Videos: A Canada's Food Guide transformation video embedded in the slide deck introduces each lesson. You can access the videos for each lesson below.   
Access the slide decks and videos for the lessons here: 
Registered Dietitian Office Hours 
Our team of Registered Dietitians is offering video call office hours, with four 15-minute appointments per month for teachers and/or health classes to discuss ideas from the program, answer questions, and share information about the dietitian profession. Email your questions and requested timeslot to [email protected] with the subject line "Food for Me Office Hours." Appointments are first come, first served. 
Have your students already completed Food for Me in a previous year? Check out A Guided Discovery of Canada's Food Guide, a web-based resource that includes guidance about eating habits in the form of videos, recipes, and tips! 
Report Broken Links 
The teaching and learning resources include links to credible websites. If you encounter a broken link, please email [email protected] with the subject line "Food for Me Broken Link." 
Get Your Teacher Guide and Student Workbook
OverView
Curriculum
Physical Education and Health
Theme
Canada's Food Guide