In the second lesson of Food for Me, grades 7–9 Health students put Canada's Food Guide into practice using a fun activity to explore the importance of eating a variety of foods each day.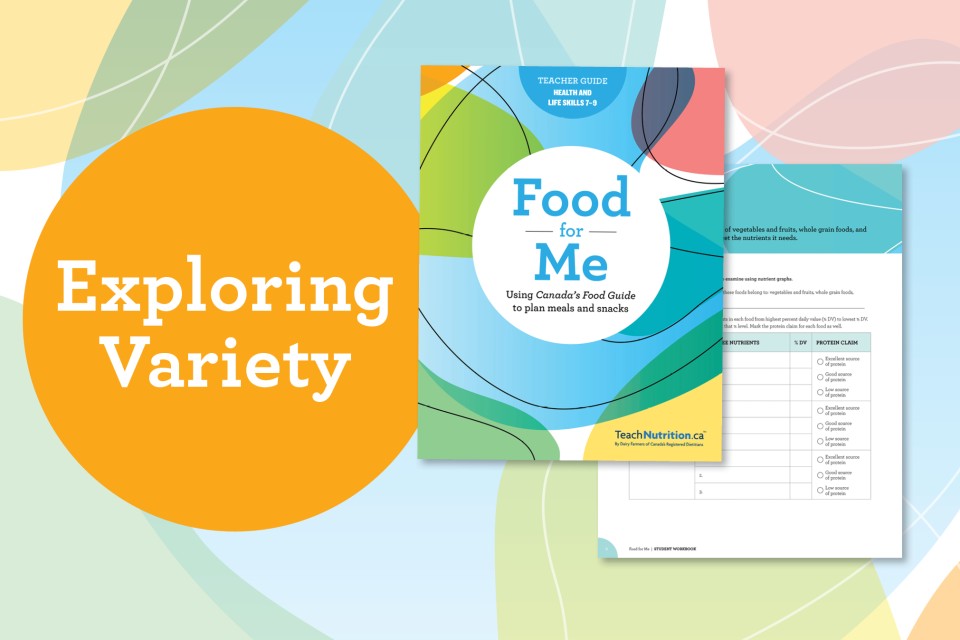 *This program is for junior high Health teachers. If you are a junior high Foods teacher, click here.
In the second lesson of Food for Me, grades 7–9 Health students explore how choosing a variety of vegetables and fruits, whole grain foods, and protein foods helps your body get the nutrients it needs.  
Teaching and learning resources you will need to facilitate Lesson 2:  
Teacher Guide & Student Workbook: You can order a Teacher Guide and class sets of Student Workbooks from our Free Resources Page or download them as PDFs on the Food for Me main page. 

Nutrient Graphs: The nutrient graphs are a detailed 8.5 × 11" card set to use as a teaching tool for one of the activities. You can order a set of nutrient graphs from our Free Resources page or download a PDF version below.  

Slide Deck: Access your slide deck for Lesson 2 below. The slide deck contains the video, background information, activity instructions, and discussion questions required to teach this lesson. Suggested speaking notes and additional information for teachers is provided in the notes section of each slide. 

Video: The Canada's Food Guide transformation video introduces the lesson and is embedded in the slide deck. If the embedded video does not play, use the link in the notes section.
Get the slide deck & nutrient graphs for Lesson 2
OverView
Theme
Canada's Food Guide