Try this unique recipe where all ingredients are mixed in a bag.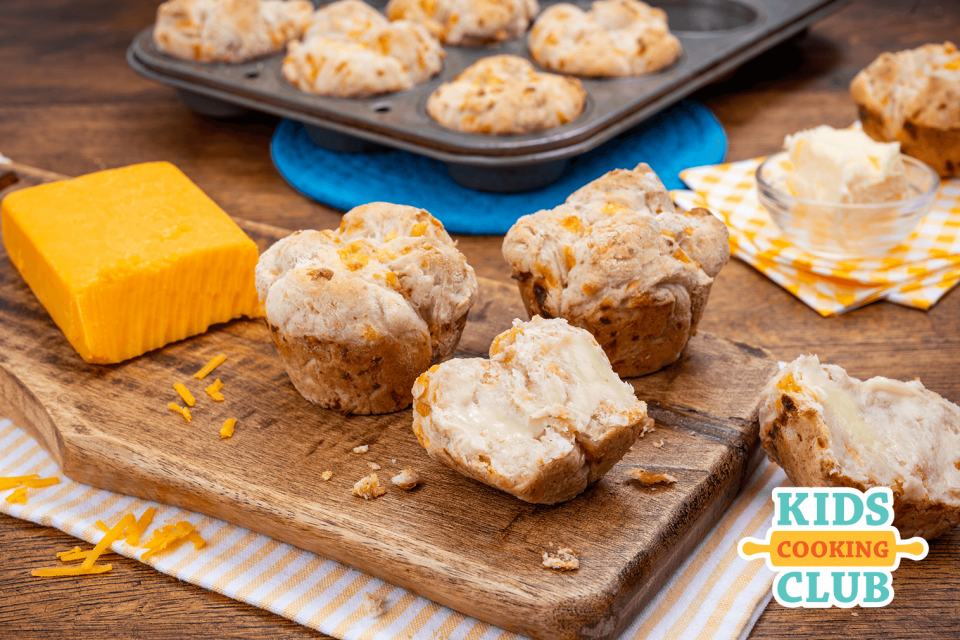 Simple Recipes to Enjoy Together.
Makes 12
Ingredients
3 tbsp (45 mL) butter
1 cup (250 mL) warm water
2 ¼ cups (560 mL) all purpose flour
1 ¼ cups (310 mL) whole wheat flour
2 ¼ tsp (11 mL) quick rise yeast (1 pkg) 
3 tbsp (45 mL) sugar
1 tsp (5 mL) salt
1 tsp (5 mL) garlic powder
1 cup (250 mL) Canadian old cheddar cheese, shredded
Directions
1. Preheat oven to 400° F (200 °C). Grease a 12-cup muffin tin.
2. Melt butter in a microwave-safe dish or small saucepan. Stir in water and set aside.
3. Add remaining ingredients to a resealable plastic bag. Seal bag and shake until combined.
4. Pour the water and butter in the bag. Seal the bag well and start squeezing the bag. Do this until dough pulls away from the sides of the bag (about 5 minutes).
5. Place the dough on a floured work surface and knead for 5 minutes. The dough should be smooth and firm.
6. Pull off small pieces of dough (about 1 tbsp in size) and roll into balls. Place 4 balls into each muffin cup.
7. Cover with a clean kitchen towel and let rise for 15 minutes.
8. Bake for about 12 minutes. Cool and share with friends!
Kneading 101
Fold the dough onto itself. Use the heel of your hand to push the dough down and away from your body. Rotate the dough and repeat.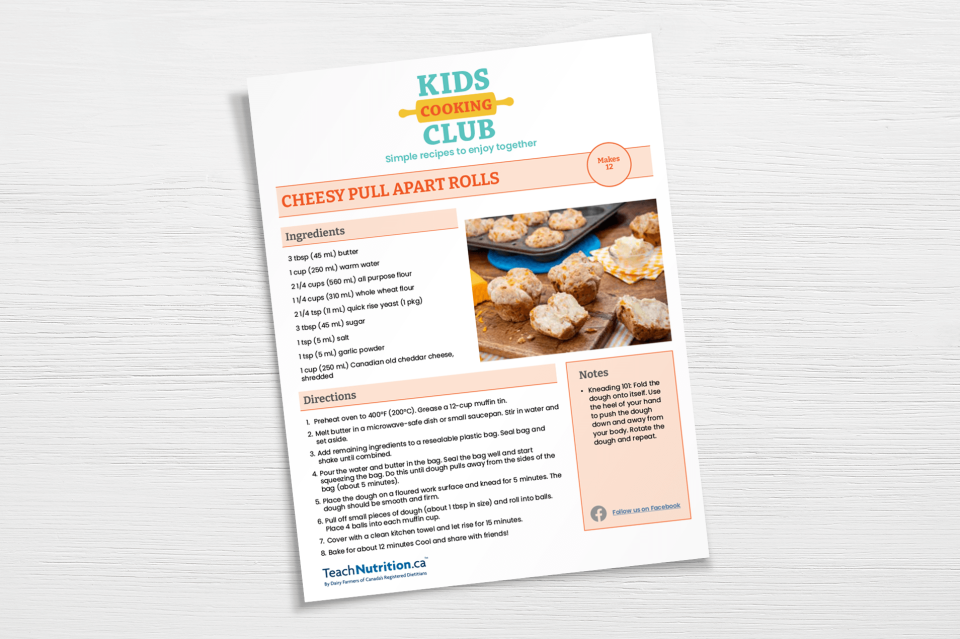 OverView
How to Access
Downloadable
Related materials
Ready to dig deeper? Help children explore and learn with these exciting and interactive materials.