Cinnamon Two-Bite Muffins
If the aroma of cinnamon makes your mouth water, these are the muffins for you!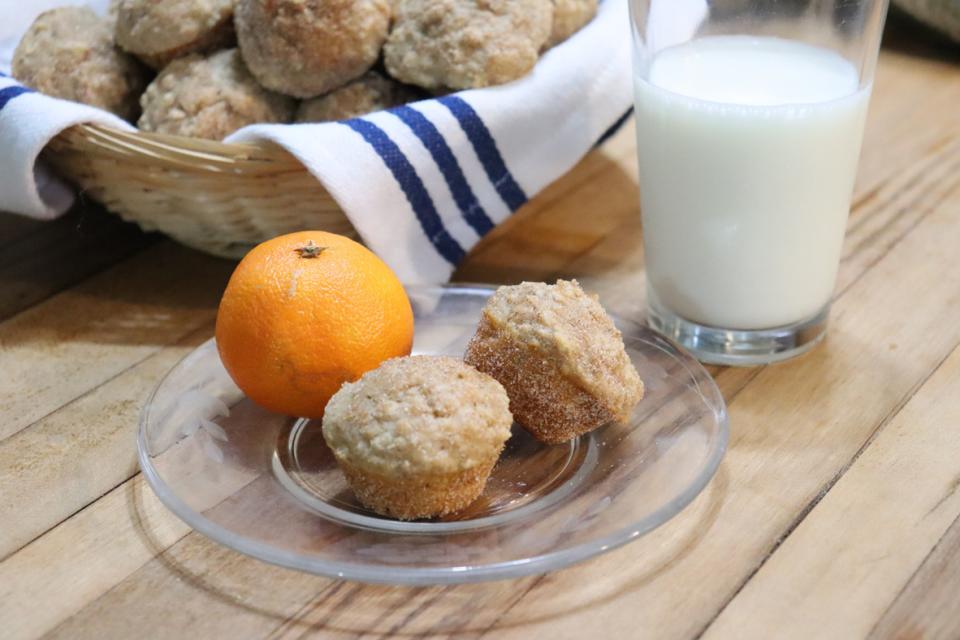 Easy to Make, Easy to Love. Recipes to Share with Others.
Makes 24
Ingredients
1 cup (250 mL) Canadian milk
1 egg
1 cup (250 mL) quick cooking oats
1 tsp (5 mL) vanilla
¼ cup (60 mL) butter, melted
¼ cup (60 mL) sugar
1 tsp (5 mL) cinnamon
½ tsp (2.5 mL) nutmeg
½ cup (125 mL) whole wheat flour
½ cup (125 mL) white flour
2 tsp (10 mL) baking powder
⅛ tsp (0.5 mL) salt
Topping
2 tbsp (30 mL) sugar
1 tsp (5 mL) cinnamon
⅛ tsp (0.5 mL) nutmeg
Directions
 Heat oven to 375°F (190°C). Grease mini muffin tins and set aside.
Mix milk, egg, oats and vanilla in a large bowl. Let soak for 10 minutes.
Melt butter. Let cool slightly and then add to oat mixture.
Combine dry ingredients in a bowl (except for topping). Add to oat mixture and stir just until combined.
Spoon batter into muffin cups, filling 2/3 full.
Bake for 10 minutes or until a toothpick inserted in the centre comes out clean. Remove from oven and let cool in pan for a minute.
Mix topping ingredients in a sealable bag. Place muffins in bag while still hot. Close bag and shake to coat with cinnamon sugar mixture.
Remove from bag and let cool on a wire rack.
Perfect for tiny hands!
Small foods like these mini muffins are sometimes more appealing to children because they are just the right size.
Meal Planning Tip
Serve your oatmeal in muffin form! Add fruit and some nuts for a grab-and-go breakfast.