Food Image and Origin Cards
These free food image and origin cards will help you organize food-related activities for children.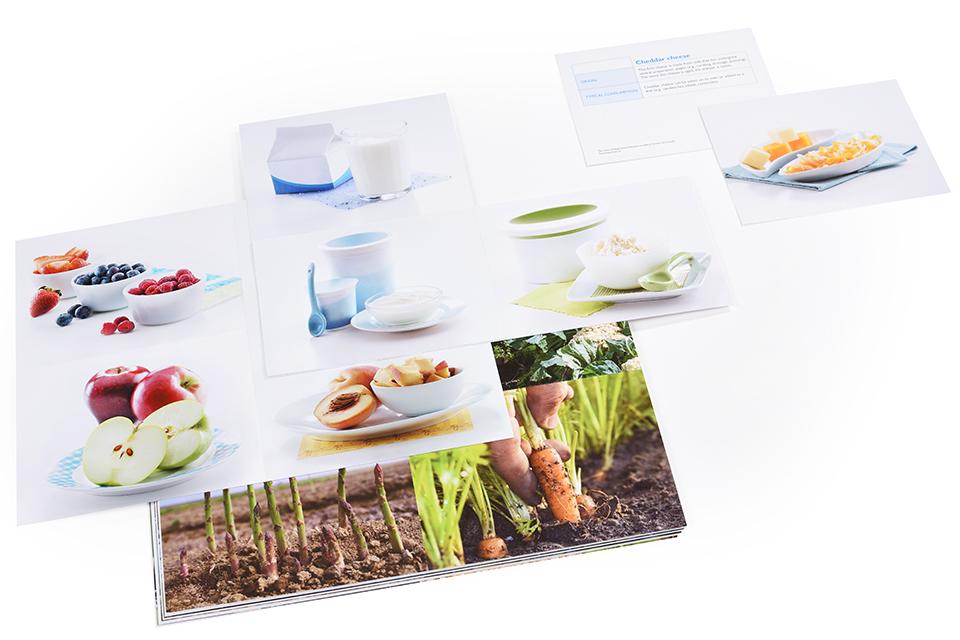 A variety of activities!
This food image and origin card set features pictures and food origin descriptions for a variety of foods. Use the cards for interactive activities about healthy eating, where foods come from and many other topics. They are also useful for doing activities with children about the five senses.
The set contains 80 cards that feature:
Pictures of a variety of food and information about where the food comes from and how it is typically consumed
Pictures showing the different stages of food production
Get two free copies!

Order now!

Order
Ideas for school activities
Find an image of a food for each letter of the alphabet. Ask students to write the name of the food after looking at the picture.
Conduct a survey of the students' favourite foods from among the food origin cards. Create a bar graph illustrating the results.
Ask the students to give an oral presentation on one or more foods found in the cards.
Divide students up in small groups and ask them to come up with a healthy meal or snack idea using the food origin cards.  Once completed, ask each group to share with the class.
Ideas for early childhood activities
Choose 10 food origin cards and try to create a nursery rhyme that includes all of them.
Using two sets of food origin cards, play a memory game. Place the cards face down on the table and let the children take turns trying to find matching pairs.
Ask kids different questions related to the food origin cards.  Some examples are:  Who can name a food that helps to build strong bones (e.g.: milk, yogurt), a fruit that grown in a tree (e.g.: apple), a vegetable that grows in a garden (e.g.: lettuce), etc.
During meal and snack times, invite children to observe the foods on their plate and identify if these same foods and beverages appear in the food origin card set. Invite them to talk about the shapes, colours, aromas, flavours, etc. of the foods on their plates, and ask them to find similarly shaped or coloured foods in the card set.
OverView
How to Access
Online Order
Our suggestions:
Use the cards with school-age and preschool-age children.
---
Use the cards for activities related to health, math, science, etc.
---