This Do-it-yourself popcorn chicken recipe is perfect for family night!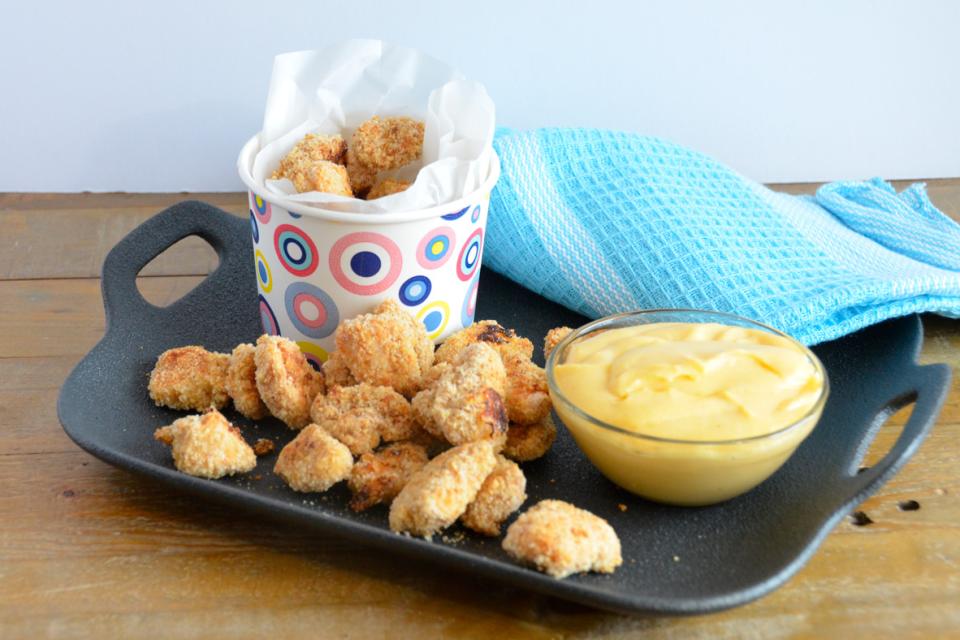 Easy to Make, Easy to Love. Recipes to Share with Others.
Serves 4 to 6
Ingredients
1 lb (454 g) chicken breasts, skin removed
½ cup (125 mL) flour
2 tsp (10 mL) paprika
1 tsp (5 mL) garlic powder
½ tsp (2 mL) onion powder
¼ tsp (1 mL) pepper
1/8 tsp (0.5 mL) salt
½ cup (125 mL) buttermilk
1 cup (250 mL) breadcrumbs
1/3 cup (75 mL) Parmesan cheese, grated
Directions
Preheat oven to 400°F (230°C). 
Apply a light coating of oil to your baking sheet or line it with parchment paper
Cut the chicken into bite-sized pieces.
Get 3 bowls ready with the following ingredients:
Bowl 1: Flour, paprika, garlic powder, onion powder, pepper and salt
Bowl 2: Buttermilk
Bowl 3: Breadcrumbs and Parmesan cheese
Dip chicken pieces into flour mixture, coating evenly.
Dip in buttermilk and then into breadcrumbs, turning to coat each piece. Place on baking sheet.
Repeat until all the chicken pieces are coated in crumbs.
Bake at 400°F (230°C) for 10 minutes. Turn over and cook for another 10 minutes or until golden brown and cooked through.
Serve with your favorite dip or sauce.
Tasty Dip for Your Popcorn Chicken
Mix plain yogurt or sour cream with sweet chili sauce, minced garlic and chives.
Meal Planning Tip
Stash extra popcorn chicken in a freezer safe container and freeze for another time.
Related materials
Ready to dig deeper? Help children explore and learn with these exciting and interactive materials.