Yield: 1 fruit plate per child
Kids can have fun making and eating their fruity creations.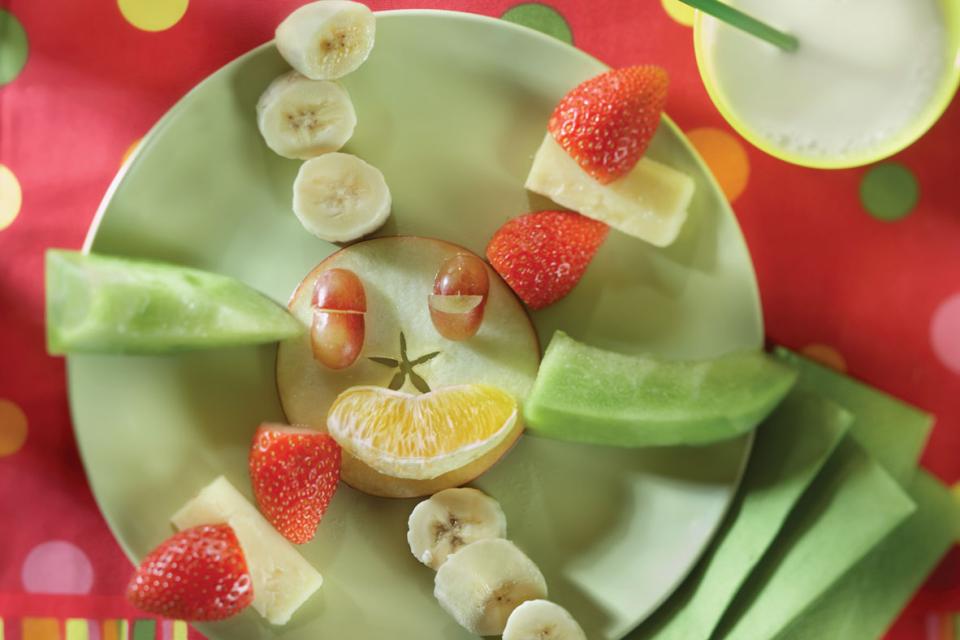 A photo-illustrated and interactive cooking activity!
Using a mobile device (e.g., a smartphone or tablet) or IWB, view the photos of the recipe steps. Under your supervision, the kids will only have to follow these steps to make their Frutti Petutie Salads!
A PDF version of this recipe is also available. Download and print it if you like. It contains the recipe and additional information (e.g., discussion topics and tips for getting younger children involved). (in French only)
Ingredients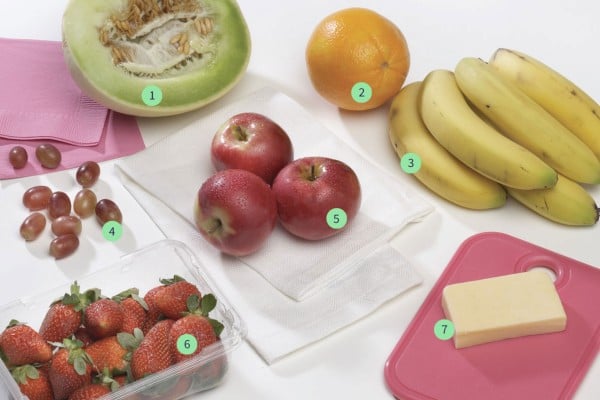 1

1 slice of a honeydew melon (about 3 cm thick)

2

1 orange section

3

½ of a banana

4

1 grape

5

1 apple slice, about ½ cm thick

6

2 strawberries

7

1 slice (about ½ cm thick) of a 300 g brick of firm cheese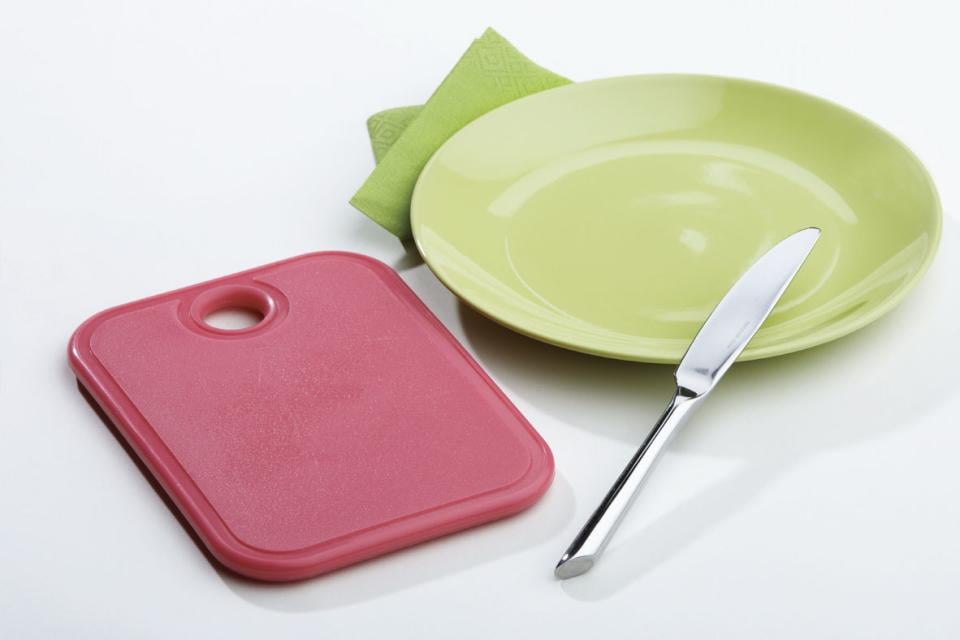 As shown in the photo:
Utensils per child : 1 large plate, 1 cutting board, 1 butter knife.
List of utensils for the adult : 1 cutting board, 1 paring knife.
1. Before the cooking activity (steps for the adult)
Wash the apples, strawberries, grapes, melon and orange.
Peel and section the orange.
Cut the apple widthwise, about ½ cm thick, as to reveal the starshaped hole inside. Remove the seeds from each slice.
Cut the melon into slices, lengthwise and remove the rind.
Cut the grapes in 2.
Core the strawberries.
Peel the bananas and cut them in 2, widthwise.
Cut the cheese into slices, about ½ cm thick.
2. Handing out ingredients and cooking utensils
Give each child their ingredients and cooking utensils.
3. 8 kids' steps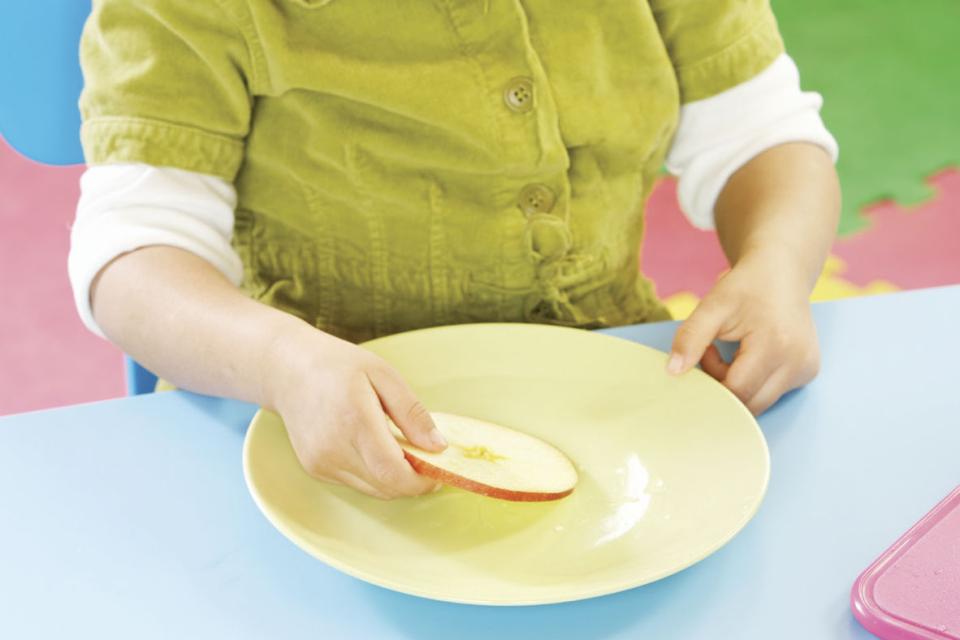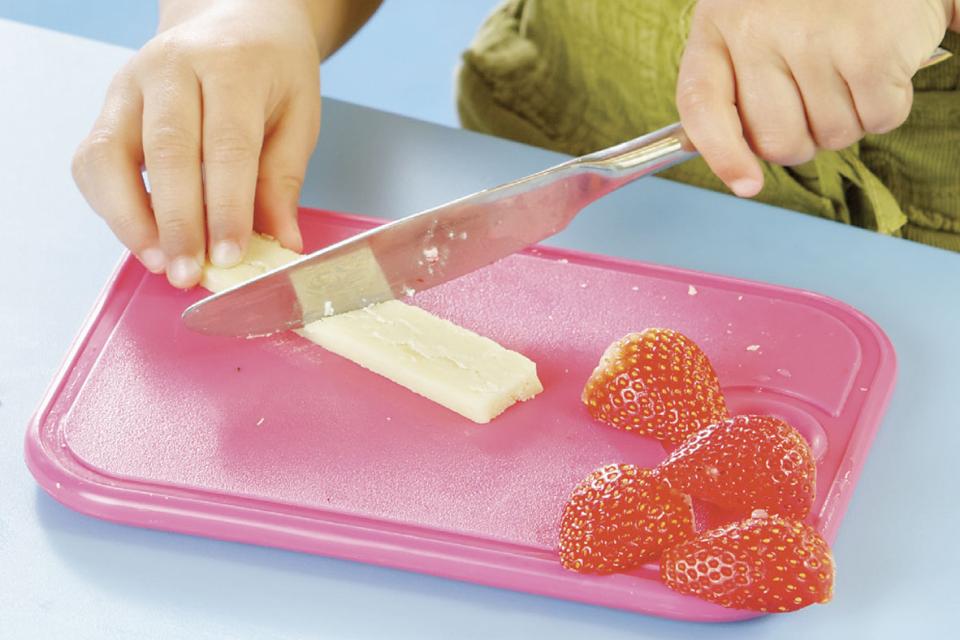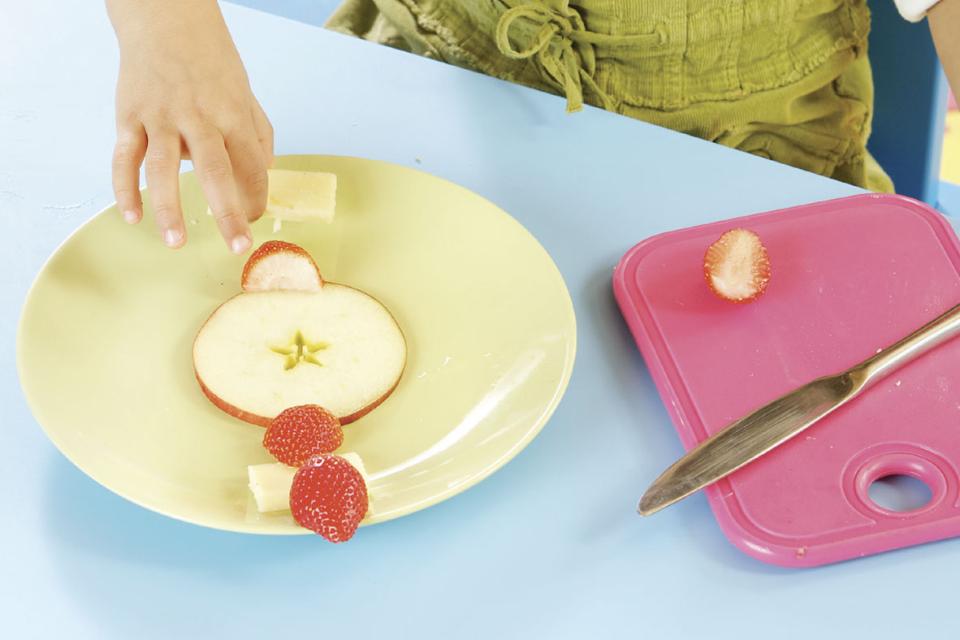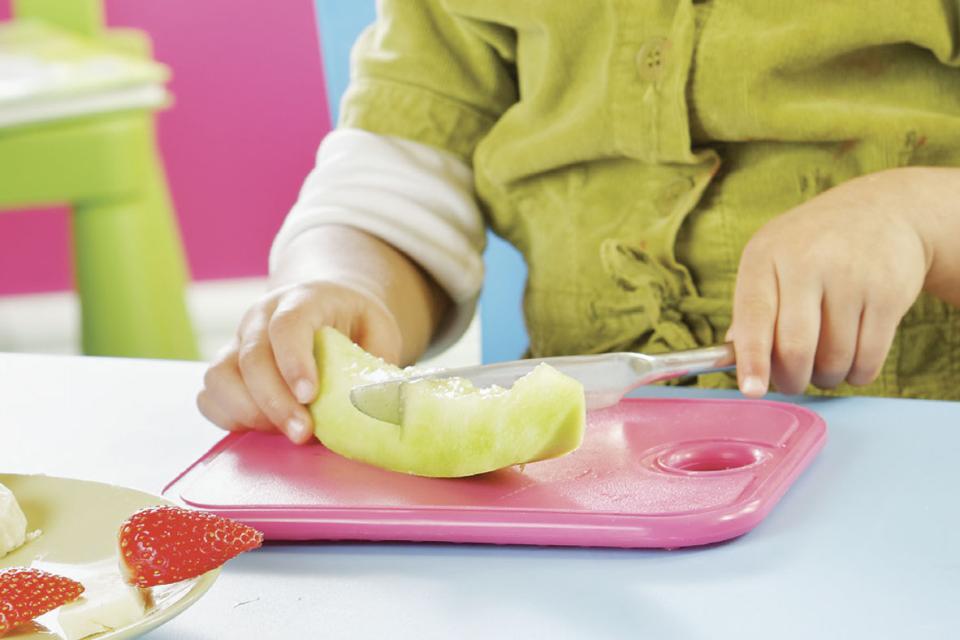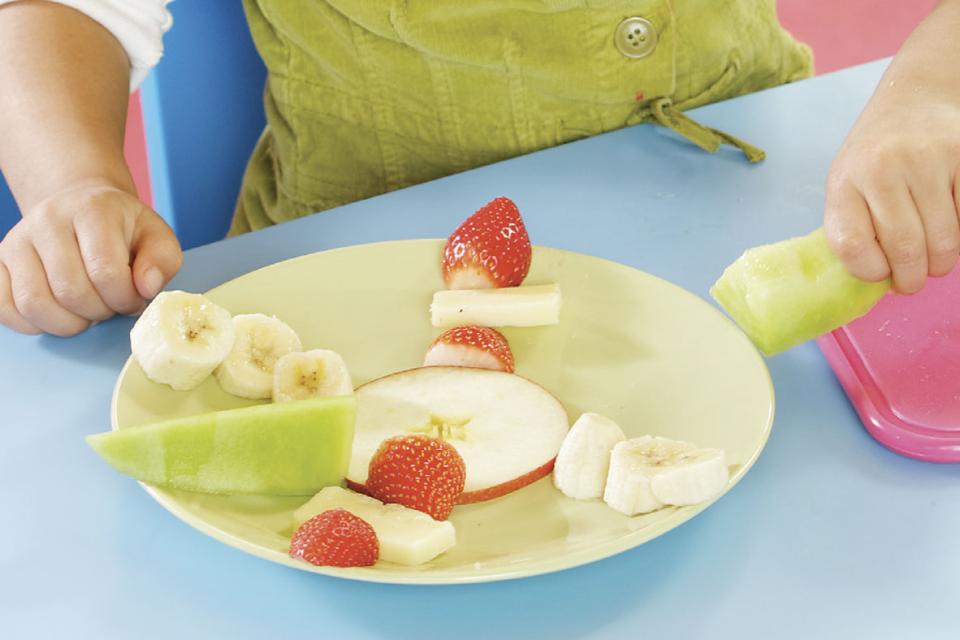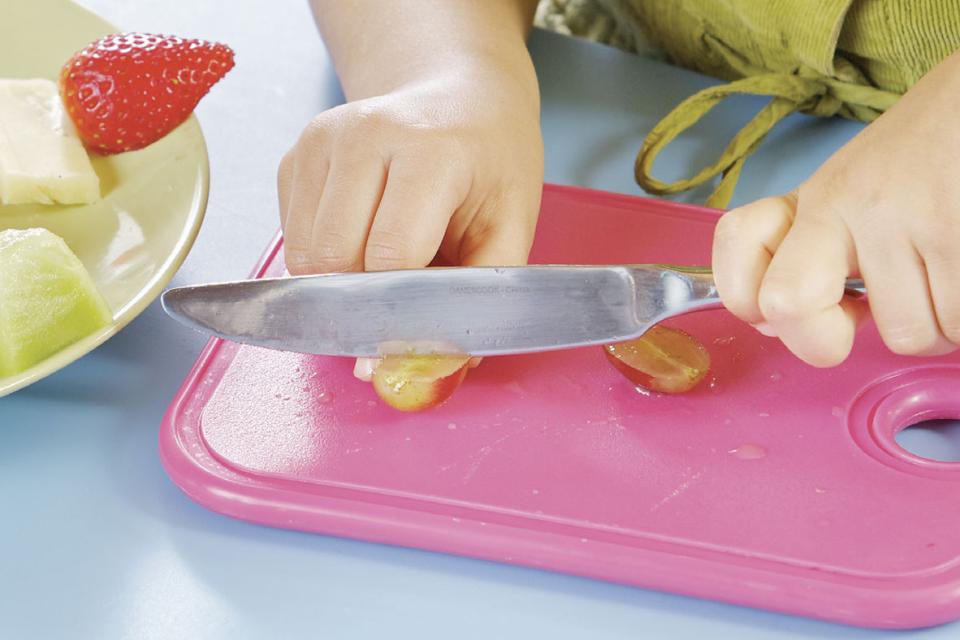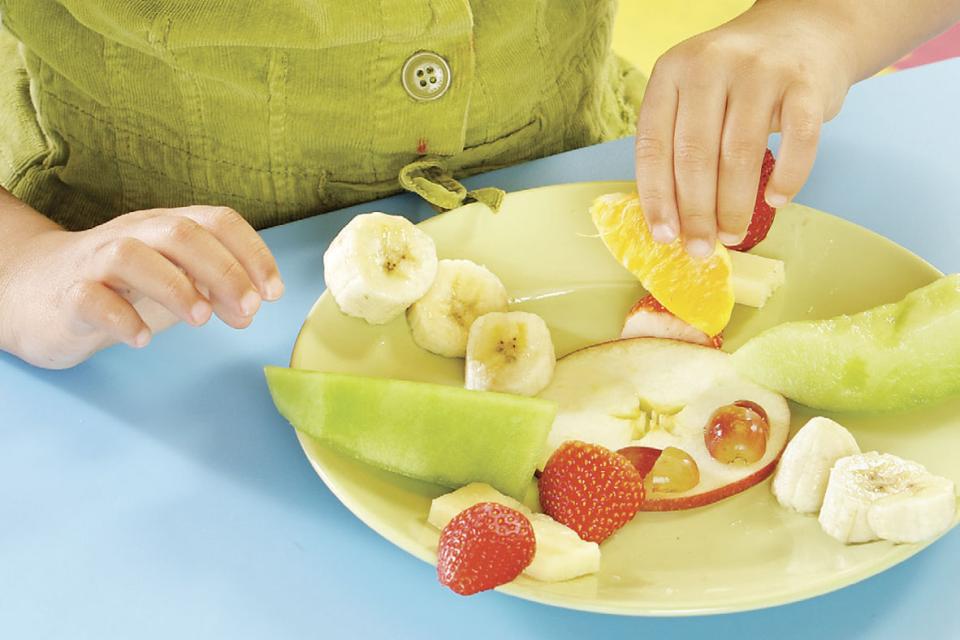 Suggested variations from our team!
It's easy to modify this fun recipe! Replace the apple with a slice of cucumber for the centre and the fruit with blanched vegetables for the sun's rays. Why not let the children use their imagination and create other shapes!