Yield : 2 mini pitas per child
An original recipe made with mini pitas, apples, spinach and cheese!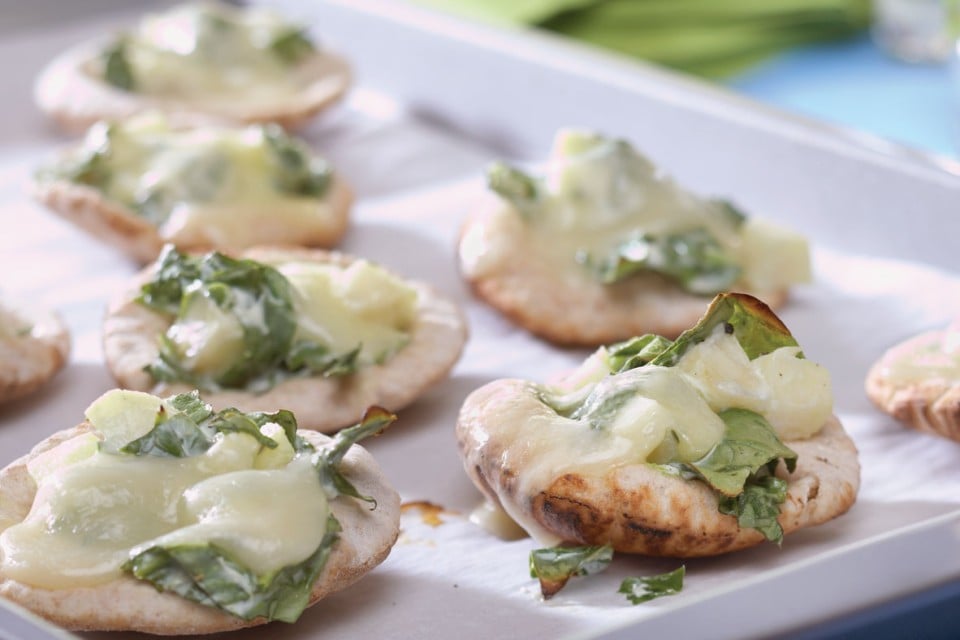 Follow the steps of this photo-illustrated recipe!
Have access to a tablet, smartphone or interactive whiteboard? You can view the photos of each recipe step with your group. Under your supervision, the kids will only have to follow these steps to make their Pretty Pita Bites!
This cooking activity can also be downloaded. View the PDF version of this recipe and print it if you like. It also contains additional information (e.g., tips for getting younger children involved and discussion topics for before and after the cooking workshop). (in French only)
Ingredients
1

2 whole-wheat mini pitas

2

60 ml (1/4 cup) baby spinach

3

1 piece (1/8) of red apple

4

1 slice (about ½ cm thick) of a 300 g brick of firm cheese

5

10 ml (2 tsp) plain yogurt (approximately 2 % M.F.)

6

Garlic, to taste

7

1 pinch of pepper and 1 pinch of salt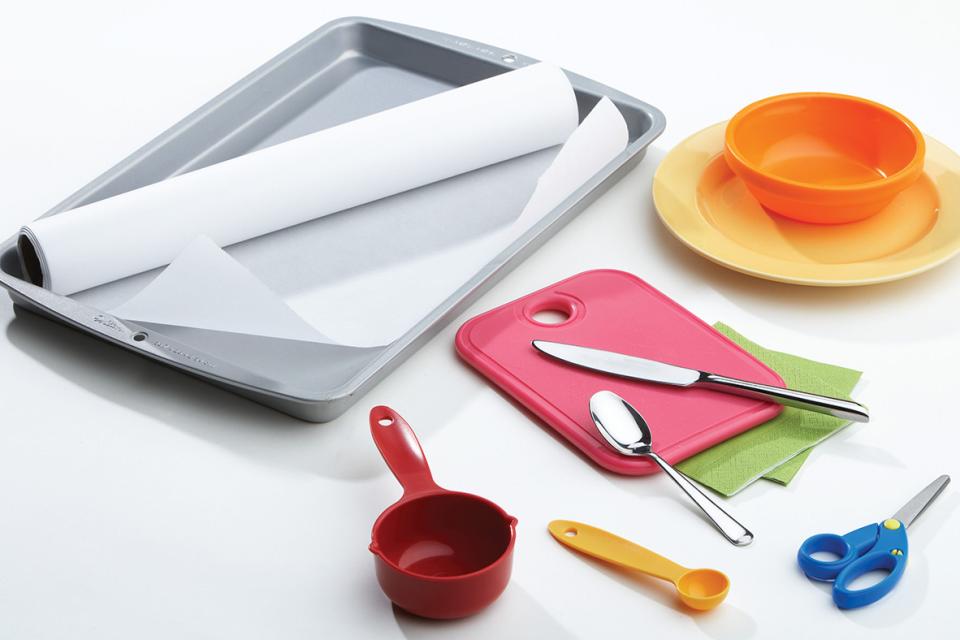 As shown in the photo:
Utensils per child : 1 small bowl, 1 small plate (to eat off of), 1 cutting board, 1 butter knife, 1 small spoon, 1 pair of scissors.
Utensils per group : 1 cookie sheet lined with parchment paper, 60 ml (1/4 cup) dry measuring cup, 5 ml (1 tsp) measuring spoon.
List of utensils for the adult : 1 garlic press, 1 small spoon, 1 paring knife, 1 apple corer, 1 cutting board.
1. Before the cooking activity (steps for the adult)
Preheat the oven to 180°C (350°F).
Wash the spinach and the apple.
Put the spinach in a bowl.
Pour the yogurt in a small bowl.
Put salt and pepper into separate bowls.
Cut the cheese and the apple.
Peel the garlic clove.
2. Handing out ingredients and cooking utensils
Give each child their ingredients and cooking utensils.
Put the shared cooking utensils in the centre of the table.
3. In front of the children
Press the garlic and add it to the yogurt. Add a pinch of salt and pepper. Using a small spoon, mix well.
4. 8 kids' steps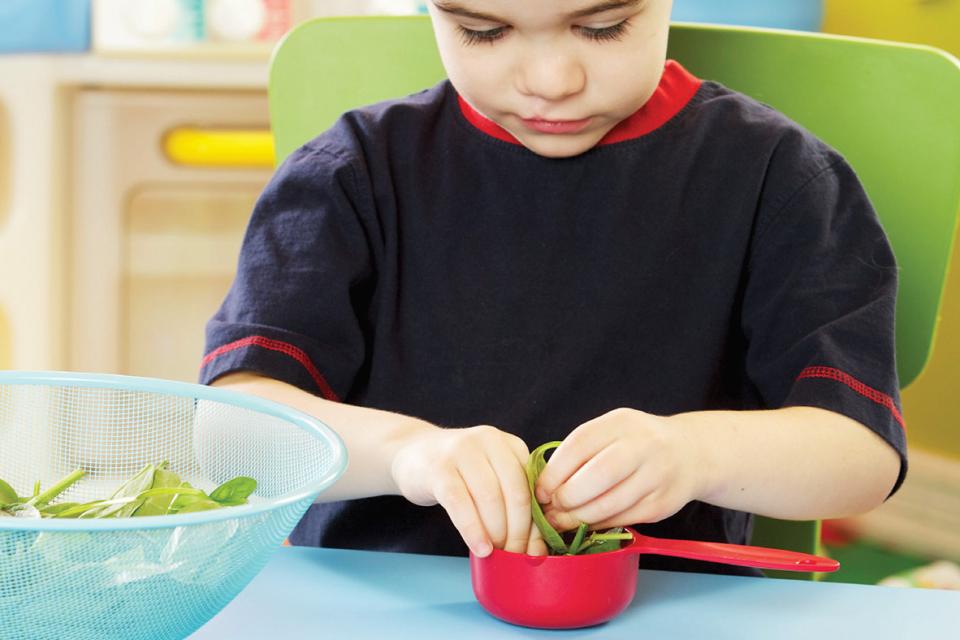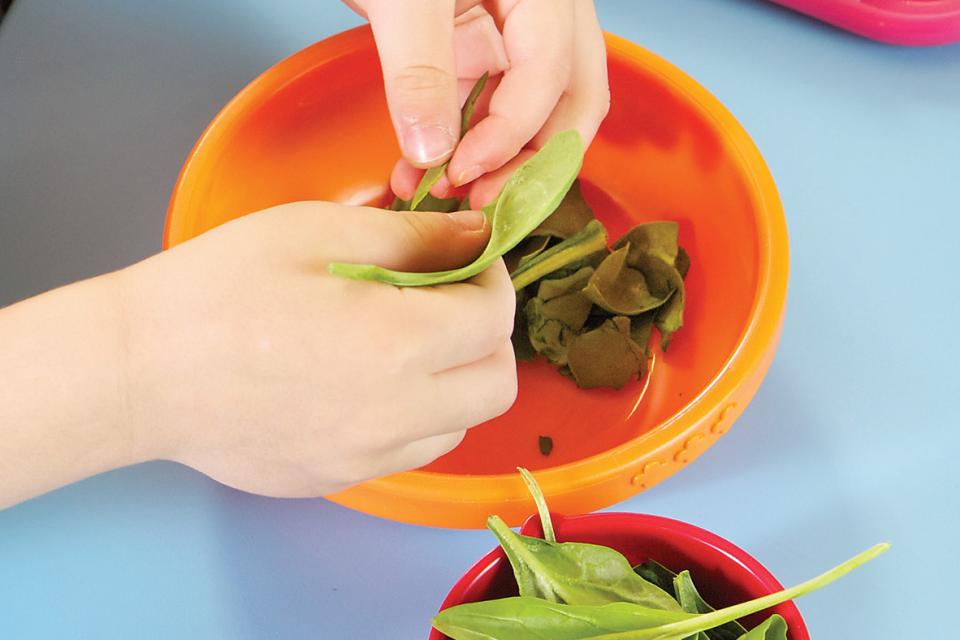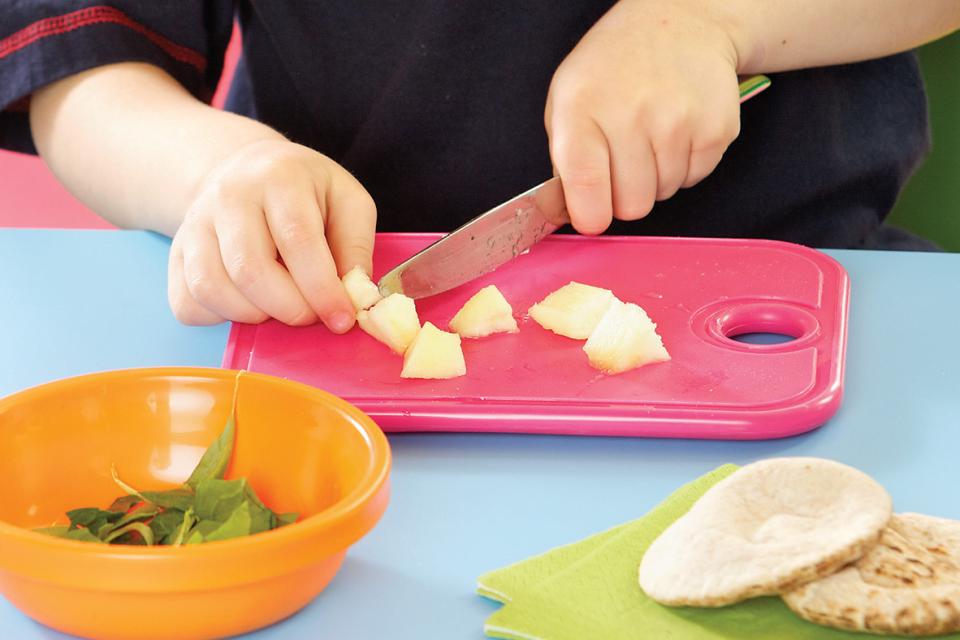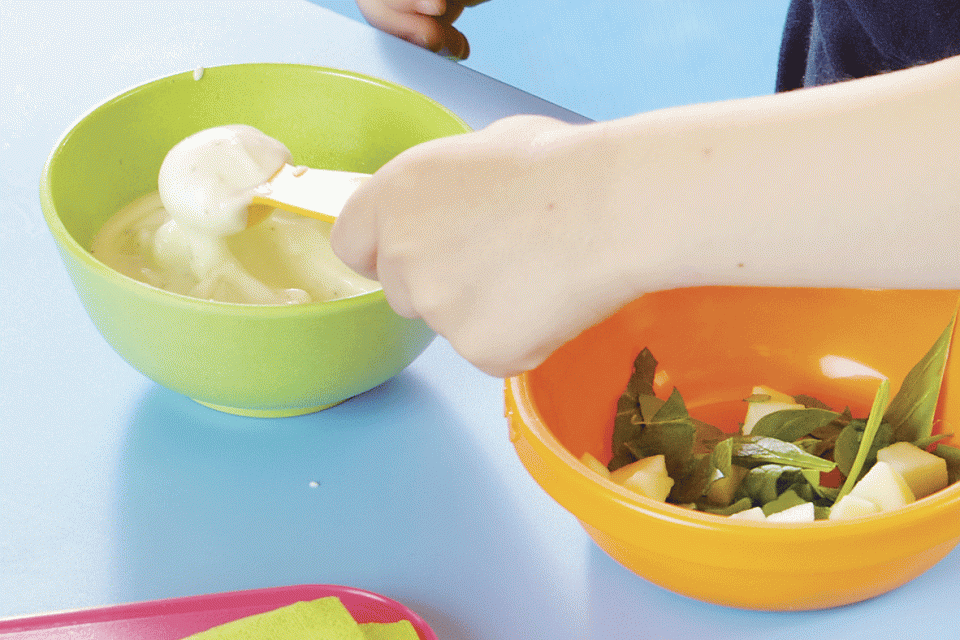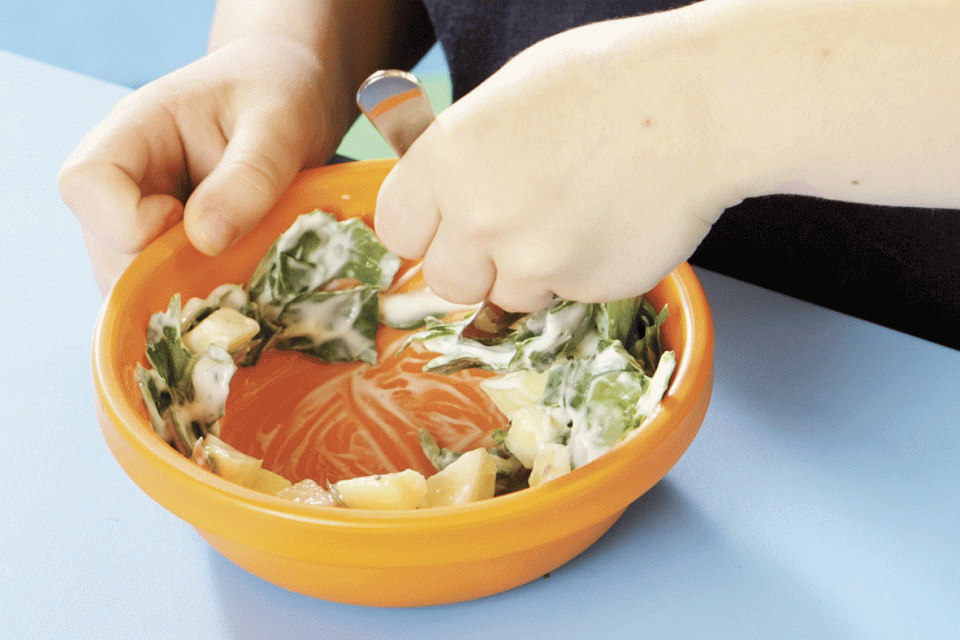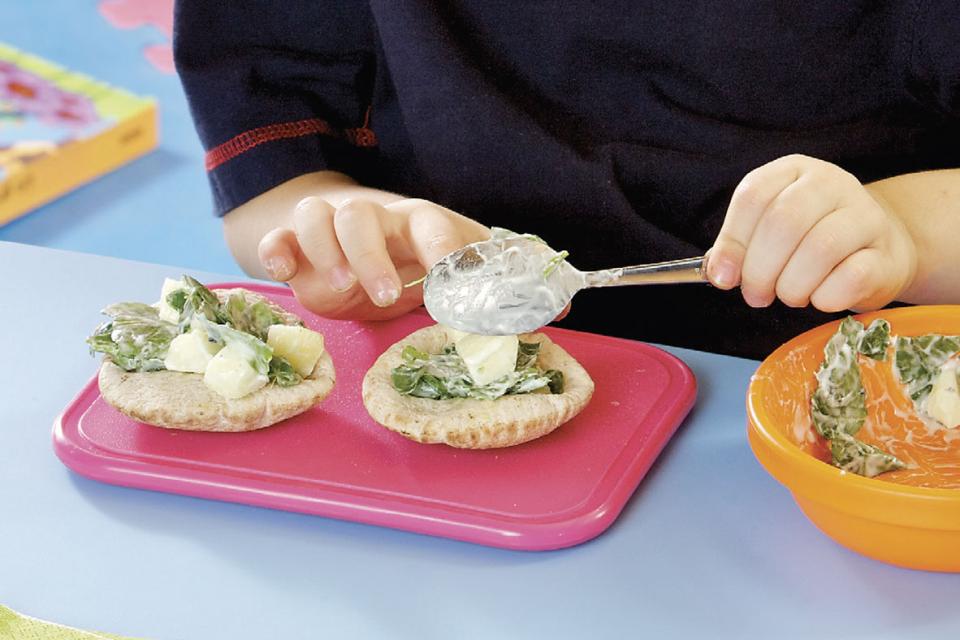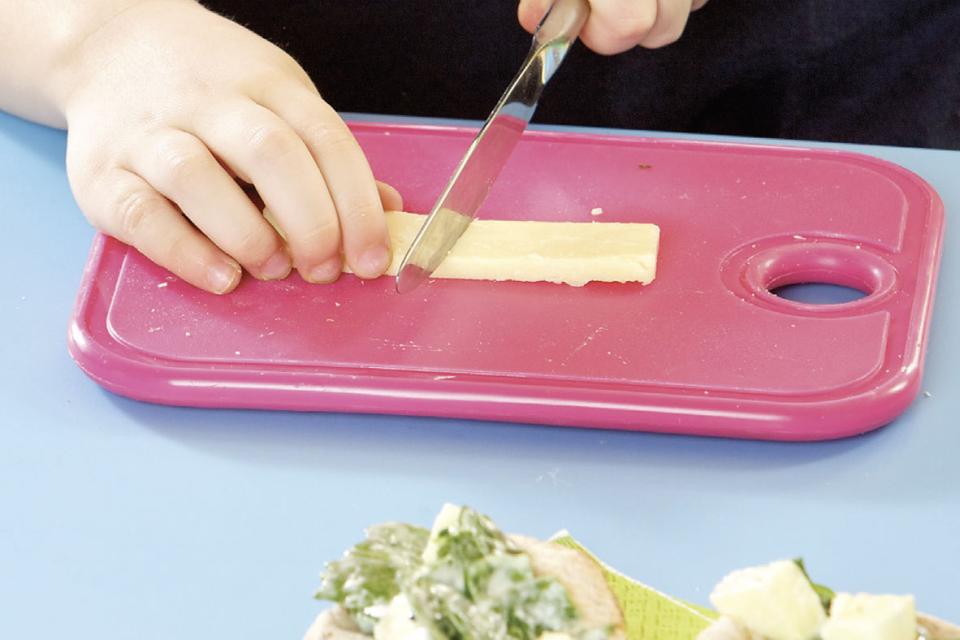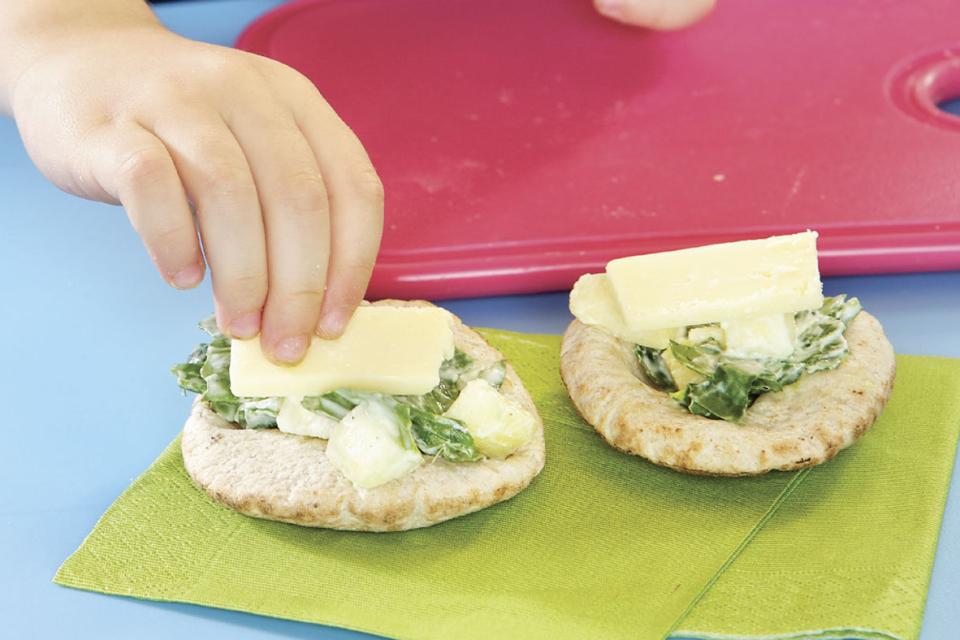 5. Baking
Cook the Pretty Pita Bites for 8 to 10 minutes.
Allow to cool and serve to the children.
Suggested variation from our team!
Instead of mini pitas, lightly toast whole-grain bread that has been previously cut into shapes with a cookie cutter. A fun twist to this recipe!