Yield : 1 roll-up per child
Have fun making this original tuna sandwich with the kids!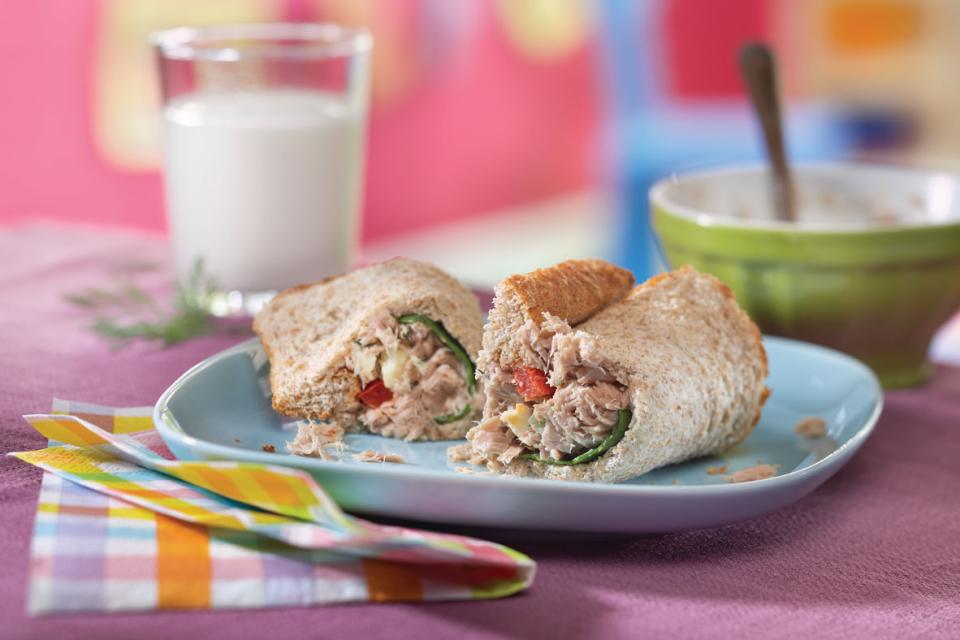 Kids can cook by following the steps illustrated in the photos!
Under your supervision, the kids can cook by themselves by looking at the photos of each recipe step. To do so, view this cooking workshop on a mobile device (e.g., tablet or smartphone) or interactive whiteboard.
You can also download this cooking activity. The PDF version includes the recipe, tips for getting younger children involved and discussion topics. (in French only)
Ingredients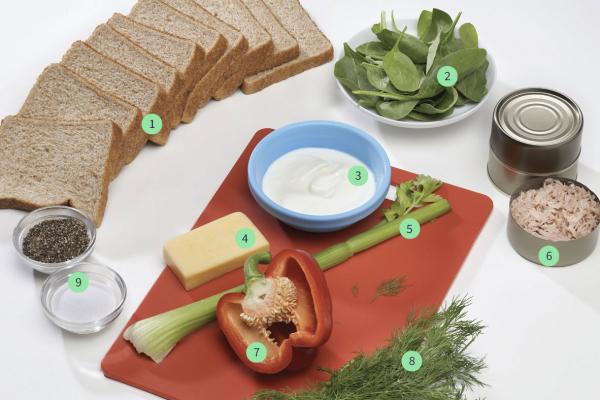 1

1 slice of whole-grain bread

2

4 fresh baby spinach leaves

3

10 mL (2 tsp) plain yogurt (approx. 2% M.F.)

4

1 slice (about ½ cm thick) of a 300 g brick of firm cheese

5

1 celery stalk

6

80 mL (1/3 cup) chunk light tuna in water

7

1 slice of red, orange or yellow bell pepper

8

1 small sprig of dill

9

1 pinch of pepper and 1 pinch of salt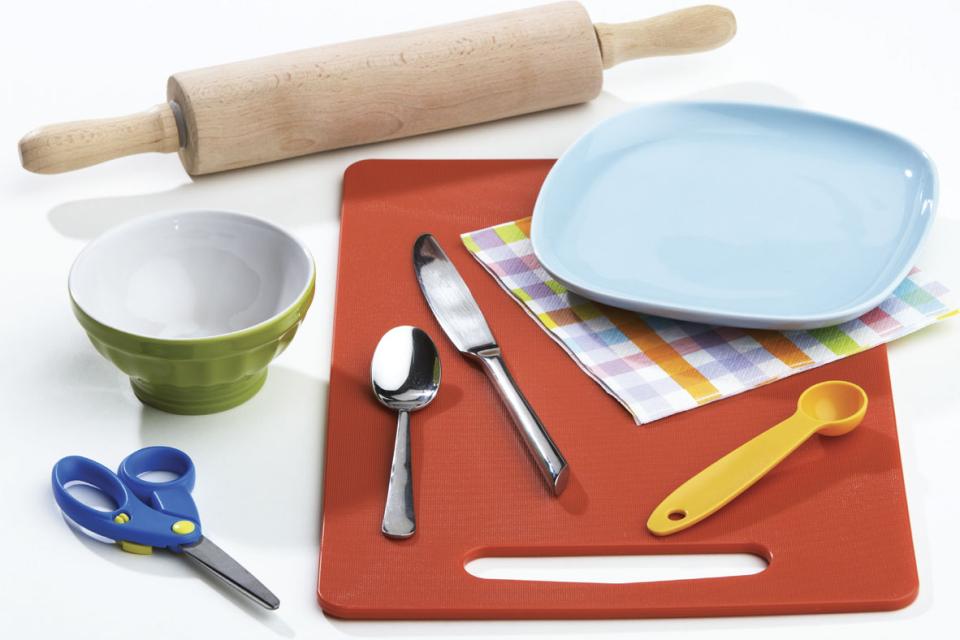 As shown in the photo:
Utensils per child : 1 small bowl, 1 large plate, 1 small spoon, 1 butter knife, 1 pair of scissors, 1 cutting board.
Utensils per group : 1 rolling pin or 1 rigid plastic glass, 5 mL (1 tsp) measuring spoon
List of utensils for the adult : 1 paring knife, 1 cutting board, 1 can opener
1. Before the cooking activity (steps for the adult)
Wash the spinach, red bell pepper, celery and dill.
Cut the bell pepper into strips.
Blanch the celery stalk, then cut it into strips.
Open the cans of tuna, drain and equally divide the contents into small bowls.
Cut the cheese into slices, about ½ cm thick.
Transfer the yogurt to a bowl.
Put salt and pepper into separate bowls.
2. Handing out ingredients and cooking utensils
Give each child their ingredients and cooking utensils.
Put the shared cooking utensils in the centre of the table.
3. 10 kids' steps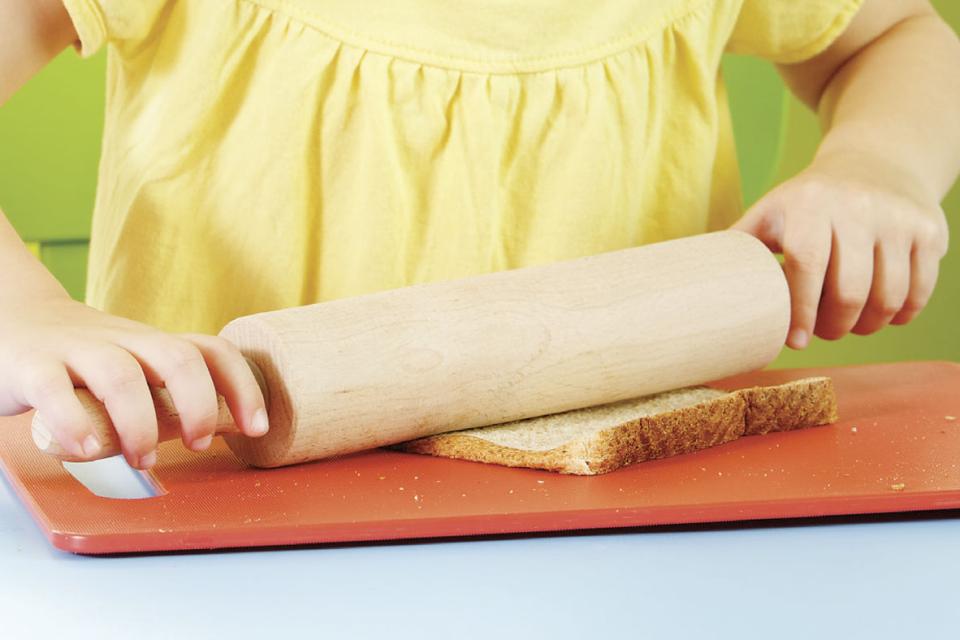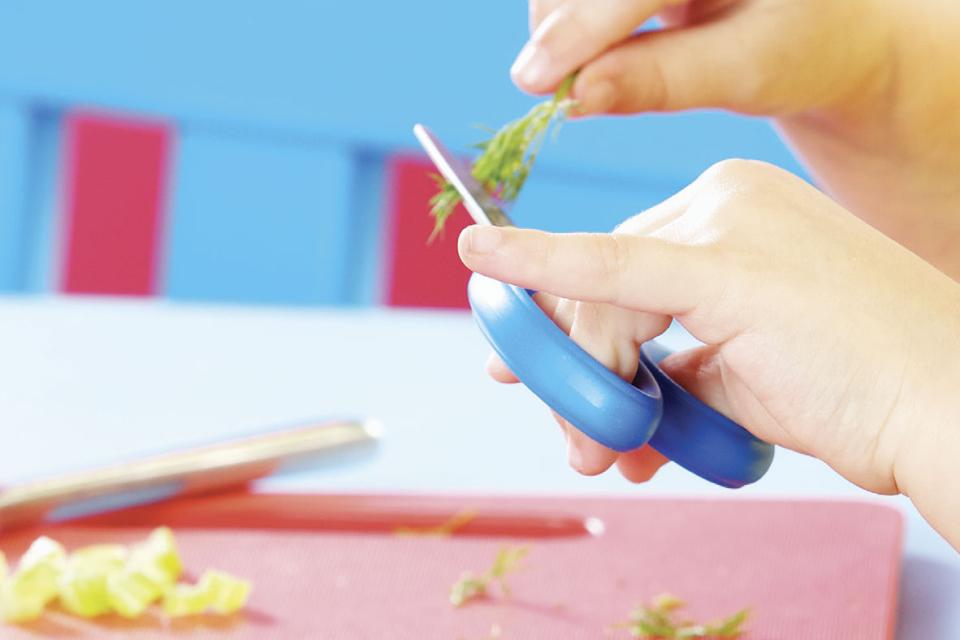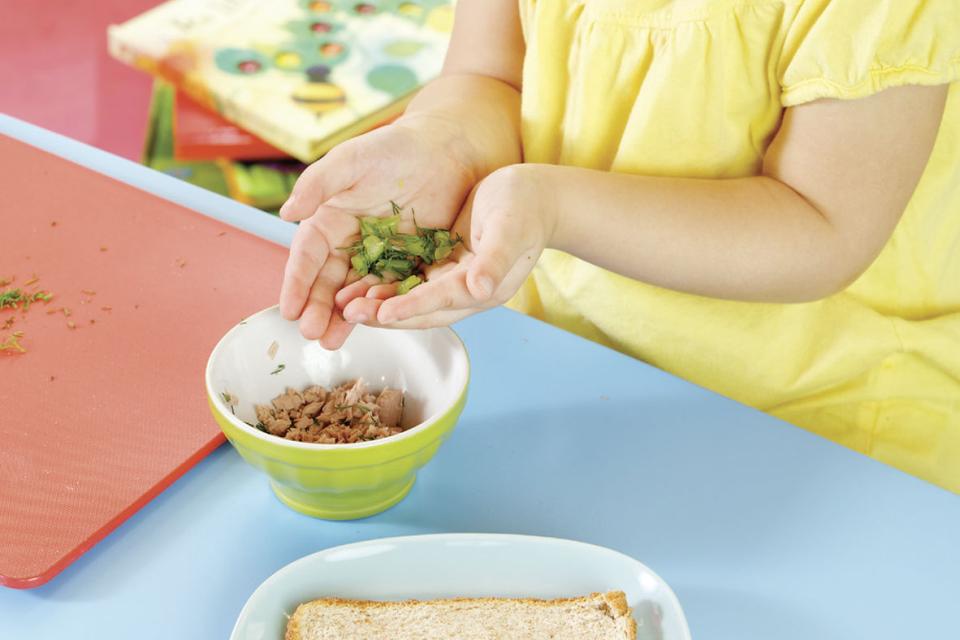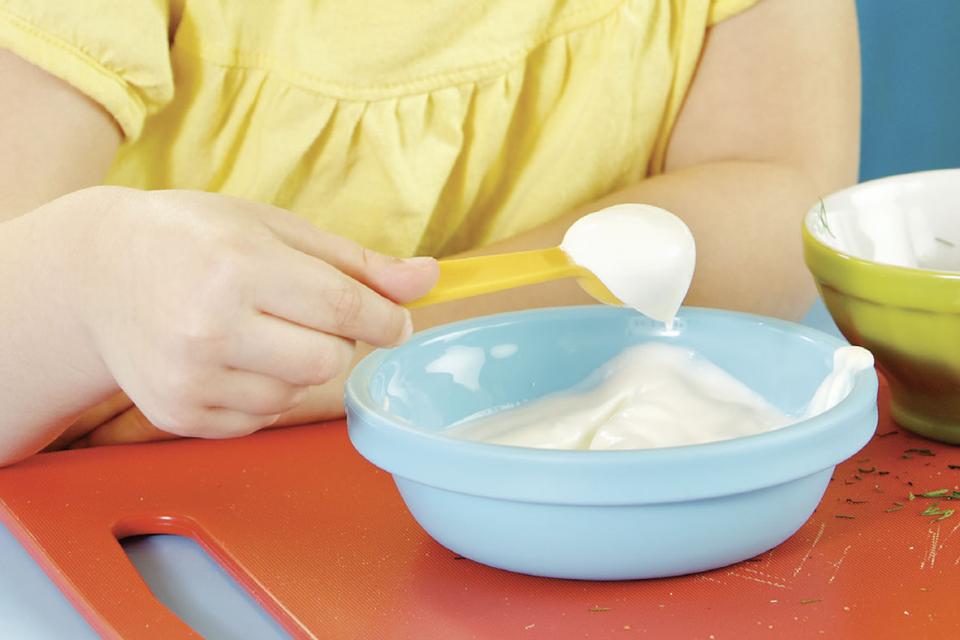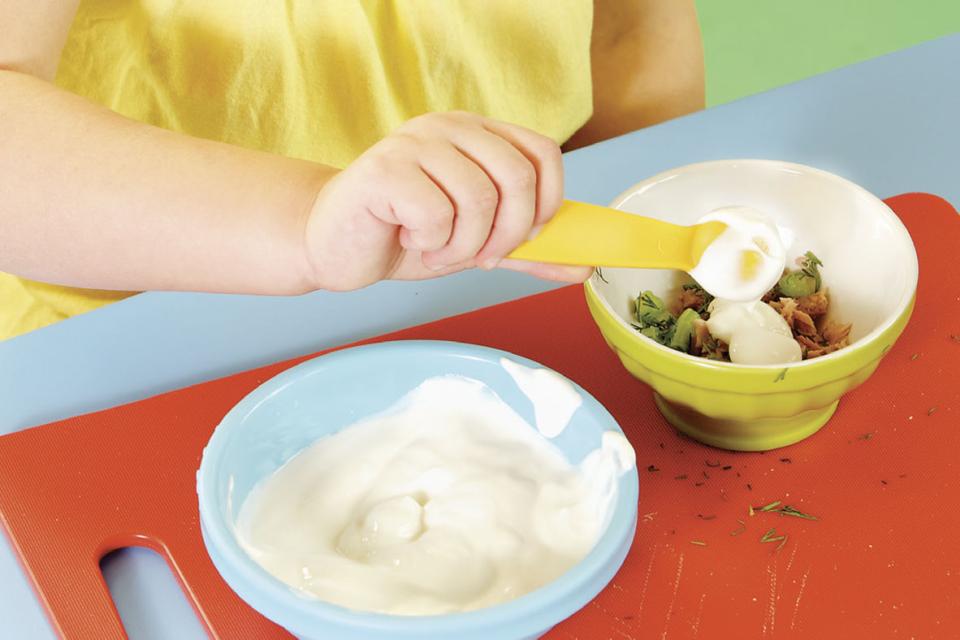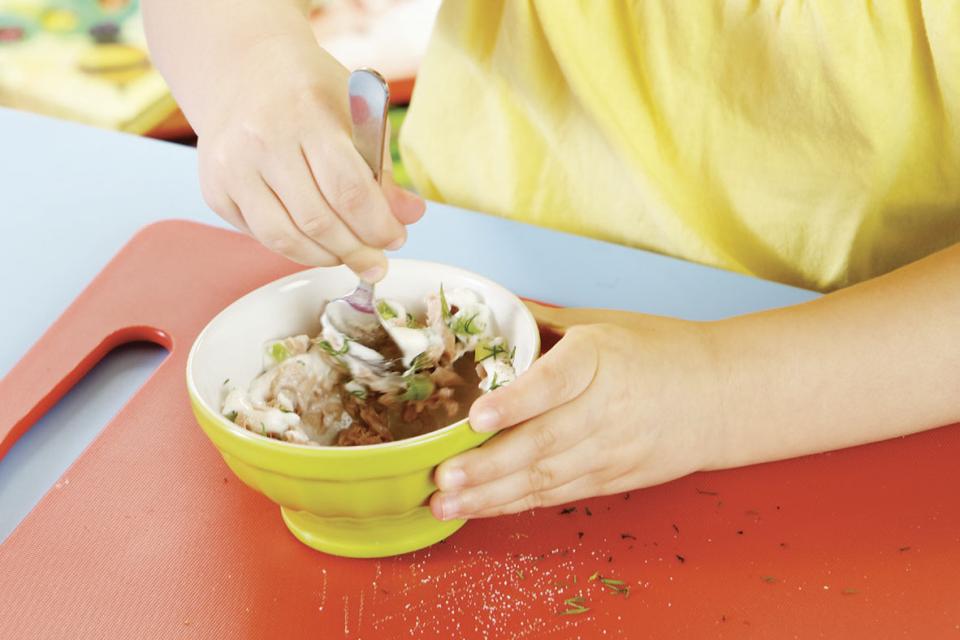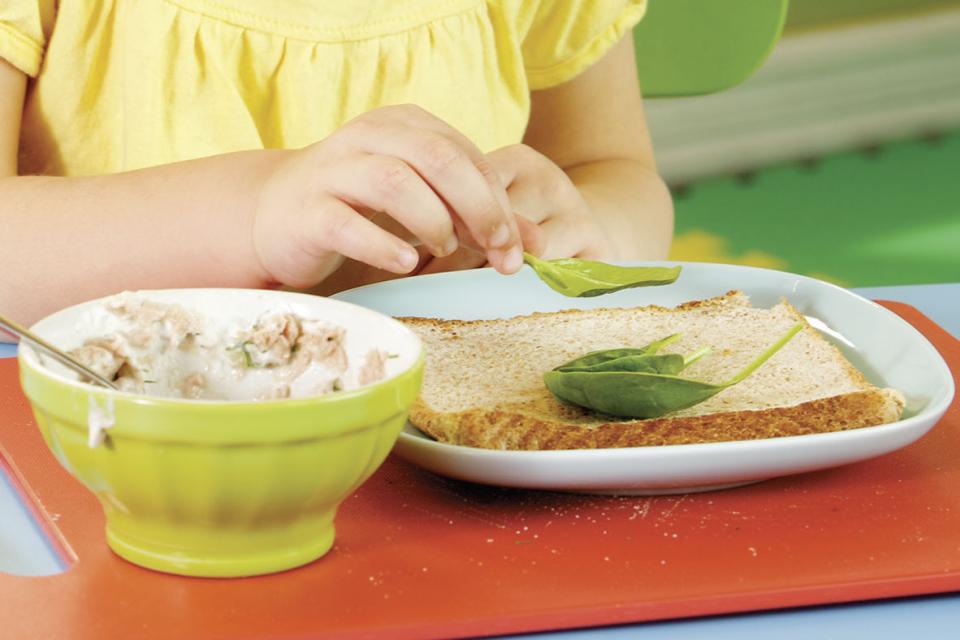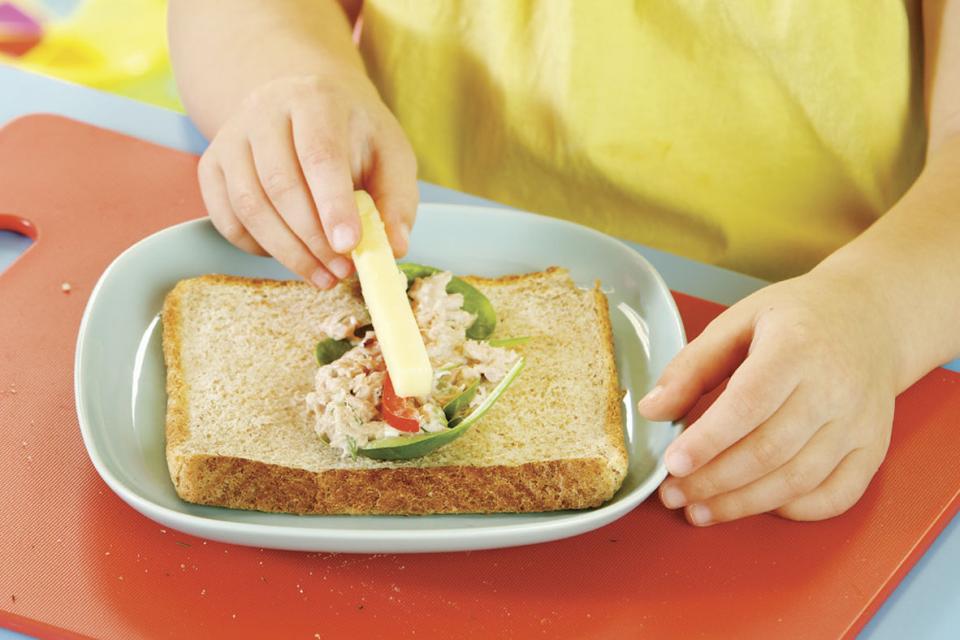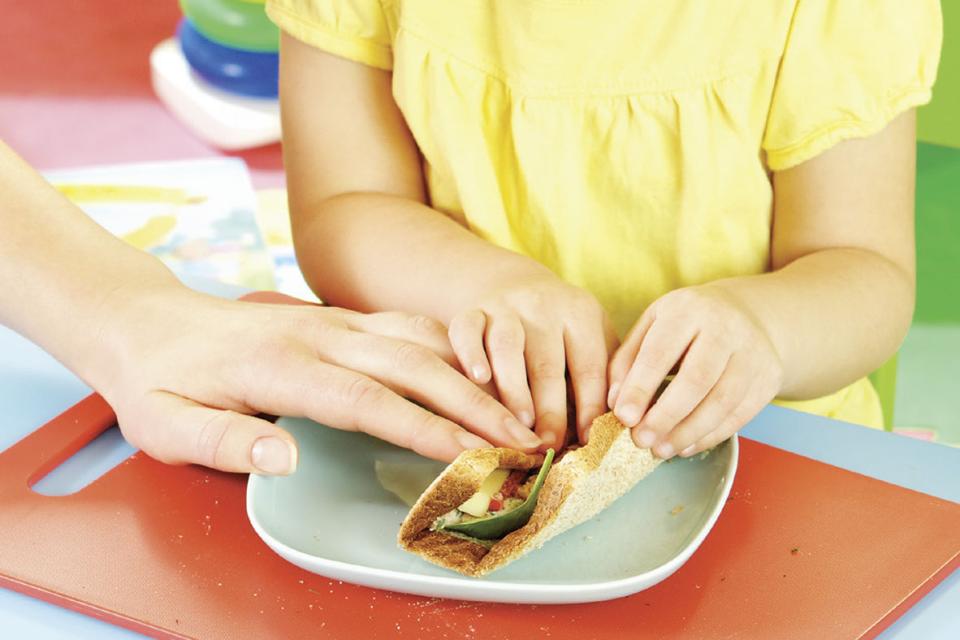 Suggested variation from our team!
Add sour cream to the yogurt and tuna mixture to make a creamy dip for whole-grain crackers.