Twenty illustrated cooking techniques
A picture is worth a thousand words!
Help children develop their cooking skills with these illustrations and animations of cooking techniques designed just for them.
These tools are coming soon!
(French only)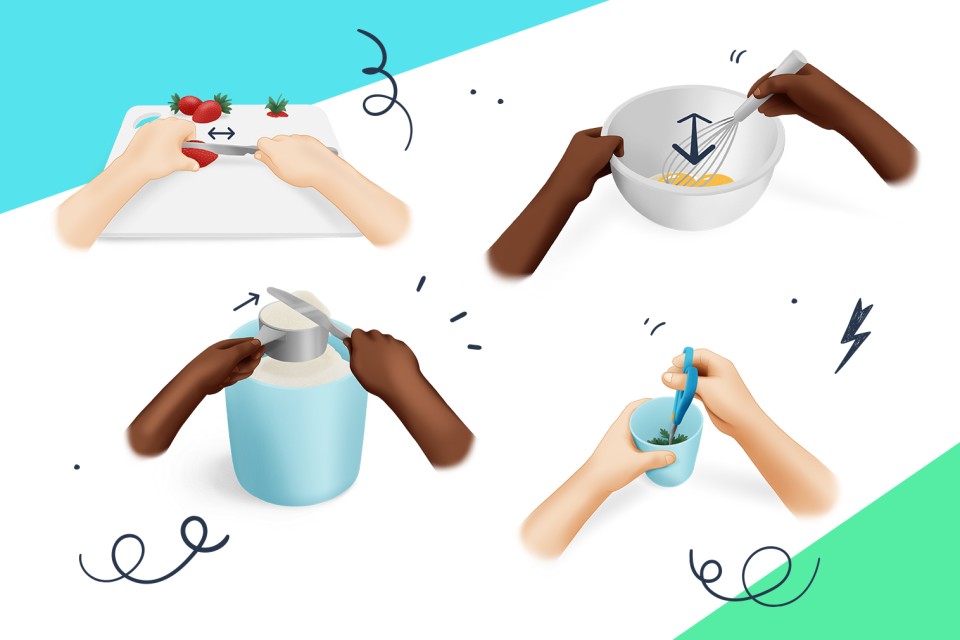 Easier and more active cooking activities!
These cooking technique illustrations, developed in partnership with the Centre de services scolaire de Montréal and Les ateliers cinq épices, are designed to facilitate making recipes with children using visual aids that encourage young chefs to learn and make learning to cook more engaging and enriching.
The illustrations depict basic cooking techniques, making them perfect for introducing children to cooking.
 These cooking techniques are coming very soon. Stay tuned for the launch by signing up for our newsletter.
Hand-washing technique
Measuring techniques
Measuring dry ingredients with a measuring cup
Measuring dry ingredients with a measuring spoon
Measuring wet ingredients with a measuring cup
Measuring liquid ingredients with a measuring cup
Mixing techniques
Mixing ingredients with a metal spoon
Mixing ingredients with a wooden spoon
Whisking
Scraping with a spatula
Cutting techniques
Chopping using the "tunnel" technique
Cutting using the "cat's paw" technique
Snipping herbs with scissors
Grating cheese
Peeling with a peeler
Basic food prep techniques
Washing foods
Spreading a topping
Rolling a tortilla
Cracking an egg
Portioning
Transferring food into a bowl
Squeezing citrus fruit
To adapt cooking activities to COVID-19 restrictions, read our article on the subject (coming soon).