Look no further for easy recipes kids you can make in the classroom! Start with a class favourite – mini pizzas.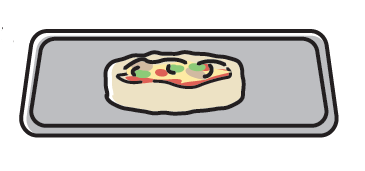 Cooking in the classroom is so much more than just a fun activity for students; it's an engaging way to learn about food. By creating a supportive and safe environment, students can use their senses to explore foods, choose whether or not to taste foods, and discover more about the story of different foods.
This simple recipe offers a great starting point for trialling new and familiar foods and combinations. Students can be creative and use the toppings they choose from the ones available to create their own mini pizza. Students can also nurture their food skills by successfully preparing their ingredients, and using an oven or toaster oven. Teachers can provide the full recipe on the board for the class to follow or print out recipe cards for each table group.
How to create this recipe in your classroom:
Two to three days before you make the pizza, have a class discussion about what toppings they would like to try. Have students pick two to three toppings from each category. We have provided a list of ideas below; however, students can also come up with their own list.
Grocery shop before the day of your class.
On your cooking day, divide students into cooking teams of about four to six.
Provide topping bowls for each team to share. Suggested quantities are provided below.
Provide the recipe to the class or print individual sheets for your students to follow.
Have students follow the recipe and assist as needed.
Cooked or uncooked, eat together.
Supplies:
Ingredients for pizzas (list below)
Recipe to put on board for students (PDF download)
Baking sheet - one per table group
Cutting board
Sharp knife
Toaster oven or oven
Utensils for serving and eating
Cloths, towels or paper towels
Ingredients:
English muffins - one per two students
Pizza sauce - ½ cup (125 mL) per 12 students
Assorted toppings
Topping ideas:
Protein Foods:
Cheese (provide 1 cup of each cheese to every table group):
Mozzarella
Feta
Parmesan cheese
Cheddar cheese
Swiss cheese
Ricotta cheese
Meat and Plant Protein Foods (provide ½ cup of each choice to every table group):
Canned shrimp
Cooked ground beef
Cooked sliced chicken breast
Canned lentils, rinsed
Canned black beans, rinsed
Vegetables and Fruits (provide 1 cup of each choice to every table group):
Tomatoes
Onion
Broccoli
Corn
Zucchini
Bell peppers
Sun dried tomatoes
Spinach
Mushrooms
Flavour Boosters (provide 2 Tbsp of each choice to every table group):
Basil (dry or fresh)
Pitted olives
Oregano (dry or fresh)
Parsley (dry or fresh)
Preparation
Pre-heat oven or toaster oven to 375°F (190°C).
Place the English muffin halves onto a baking sheet, cut side up.
Shred, chop or slice toppings.
Spoon 1-2 Tbsp of the pizza sauce onto each muffin half.
Choose and add toppings you would like in the order you want you would like Bake for 10 minutes or until cheese is melted and lightly browned.
Cool for about two minutes.
Enjoy!
Get the Recipe

English
March, 2020
pdf (614.86 KB)
download

French
April, 2020
pdf (616.6 KB)
download
More tips and tricks on cooking in the classroom.
Learn More