Series of nursery rhymes for children
Get the children singing and dancing to the rhythm of the music of our nursery rhymes and songs.
(French Only)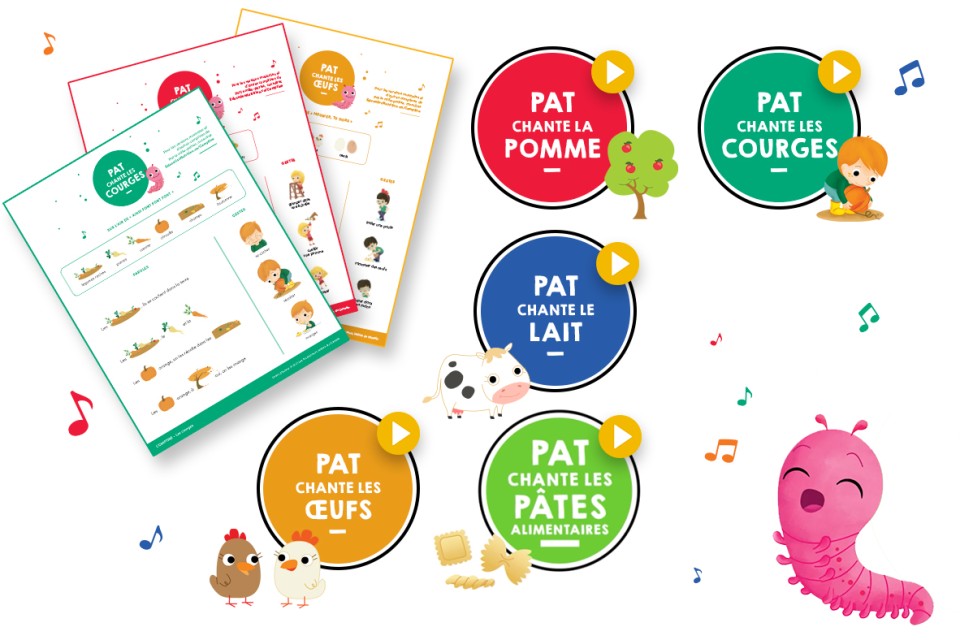 Children's songs
The nursery rhymes are inspired by food in an original way. Children will discover through song where the featured foods come from, how they are prepared, and their shape, colour and taste. These nursery rhymes are taken from the Les aventures de Pat le mille-pattes activity book.
The music is offered in two ways: sung or instrumental. All the tunes are varied and well-known. So it will be easy for you to sing them! (French Only)
Each nursery rhyme also comes with a sheet illustrating the lyrics and gestures for the children to make. This tool was created to make it easier for children to learn the song. Post the text on the wall so they can sing whenever they want! (French Only)
Lyrics and gestures
Lyrics and gestures - Color version
Download
Lyrics and gestures - Black&White version
Download
Nursery rhymes sung version
Nursery rhymes instrumental version
Pat sings along his discoveries!
Find all the foods featured in previous nursery rhymes in this great song. It is also available in sung and instrumental version.
Did you know nursery rhymes and songs contribute to the development of language and cognitive skills?