This recipe is taken from the 1995 Milk Calendar. This is the Banana Cream Pie recipe.
Prep: 20 min
Cooking: 10 min
Refrigeration: 4 h
Yields 6 - 8 servings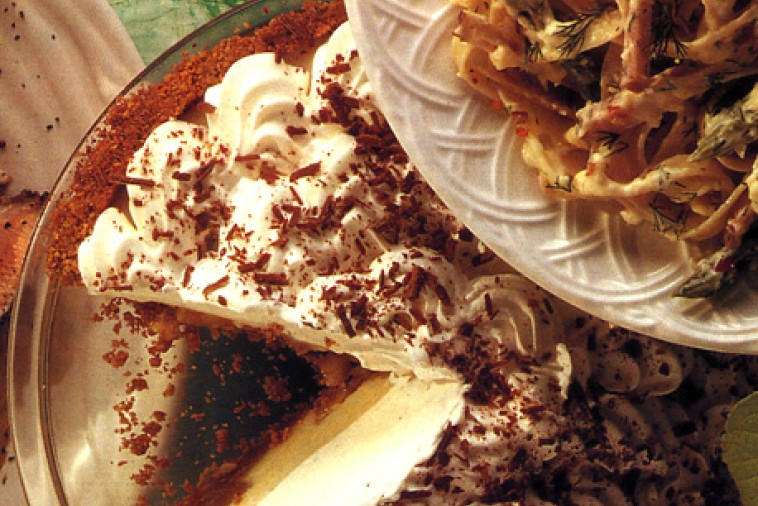 Ingredients
Crust
1 1/2 cups (375 mL) vanilla cookies or gingersnap cookies crushed into crumbs
1/4 cup (60 mL) butter melted
1/4 cup (60 mL) mashed ripe bananas
Filling
1 pouch (1/4 oz/7 g) unflavored gelatin
1/4 cup (60 mL) cold water
3 eggs
2/3 cup (160 mL) sugar
1/4 cup (60 mL) cornstarch
2 cups (500 mL) Milk
1 tsp (5 mL) vanilla extract
1 cup (250 mL) 35 % cream
2 bananas
Garnish
1 cup (250 mL) 35 % cream
2 tbsp (30 mL) icing sugar
1/2 cup (125 mL) grated semi-sweet chocolate- optional
Preparation
Crust
Combine cookie crumbs with melted butter and mashed bananas. Press firmly into the bottom and up the sides of a 9-inch (23 cm) round pie dish.
Filling
In a medium saucepan sprinkle gelatin over cold water. Allow to soften 5 min. Heat gently just until dissolved.
In a medium size bowl, beat eggs with sugar until combined. Whisk in cornstarch. Whisk in milk. Whisk in dissolved gelatin.
Transfer mixture to a saucepan and cook, stirring constantly, just until mixture comes to a boil and thickens. Remove from heat. Stir in vanilla extract. Cool to room temperature.
Whip 1 cup (250 mL) cream until soft peaks form. Fold into cooled custard.
Slice bananas and place in the bottom of the prepared pie crust. Mound the filling over the bananas. Refrigerate.
Whip remaining 1 cup (250 mL) cream with icing sugar. Pipe or spoon over the filling. Sprinkle the top with grated chocolate. Chill at least 4 hrs before serving.
Tips