This recipe is taken from the 1997 Milk Calendar. An old favourite made easy, creamy and rich. And you can make it ahead when company's coming. - James Barber
Prep: 15 min
Cooking: 15 min
Yields 4 - 6 servings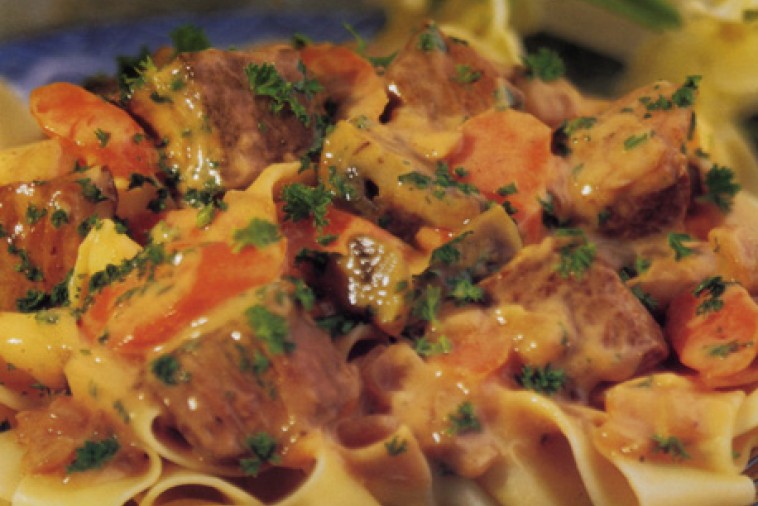 Ingredients
1 lb (450 g) sirloin steak cut into 1 inch (2.5 cm) cubes
2 tbsp (30 mL) butter
1 onion finely chopped
2 cups (500 mL) quartered mushrooms
1 cup (250 mL) diagonally sliced carrots
3/4 cup (180 mL) sour cream
1/4 cup (60 mL) all-purpose flour
1 1/2 cups (375 mL) Milk
1 tbsp (15 mL) tomato ketchup
1 tbsp (15 mL) lemon juice
Salt and pepper to taste
2 tbsp (30 mL) fresh parsley finely chopped
1 lb (450 g) egg noodles or farfalle cooked
Preparation
In large skillet, cook steak in butter over medium heat for 5 minutes. Add onion, mushrooms and carrots; cook until onion is tender, about 5 min.
In bowl, mix together sour cream and flour. Add milk and ketchup; stir well. Gradually pour milk mixture into the skillet. Cook and stir until sauce comes to a boil and thickens. Simmer 5 minutes. Add lemon juice and season to taste.
Sprinkle with parsley and serve with pasta.
Tips
Nutrition
Nutritional Information
per serving
Energy:

383 Calories

Protein:

27 g

Carbohydrate:

36 g

Fat:

15 g

Calcium:

13 % /

144 mg

Fibre:

3.6 g

Sodium:

177 mg