This recipe is taken from the 1995 Milk Calendar. This is the Broccoli Gratin recipe.
Prep: 20 min
Cooking: 15 min - 20 min
Yields 4 - 6 servings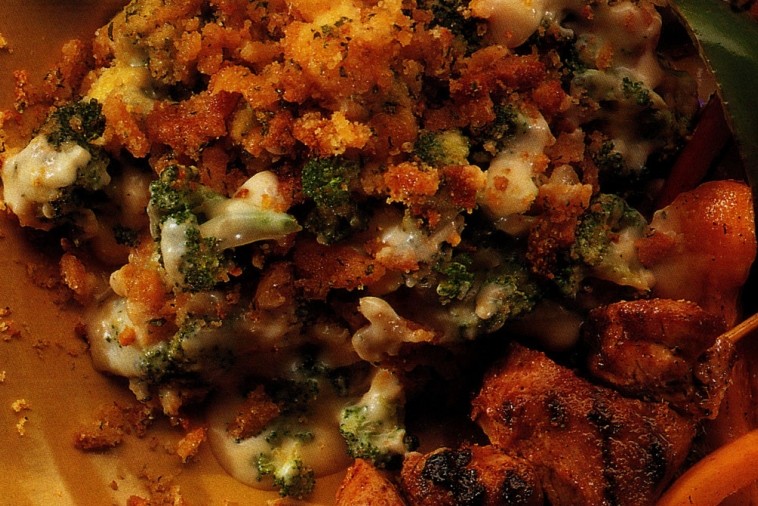 Ingredients
2 bunches of broccoli trimmed and cut into chunks
1/4 cup (60 mL) butter
1 garlic clove minced
1 onion thinly sliced
1/4 cup (60 mL) all-purpose flour
2 cups (500 mL) Milk
1 tsp (5 mL) salt
1/4 tsp (1 mL) pepper
A pinch of ground nutmeg
A pinch of Cayenne pepper
1 1/2 cups (375 mL) shredded Canadian Cheddar cheese
Topping
1 cup (250 mL) bread crumbs
3 tbsp (45 mL) butter melted
1/2 cup (125 mL) shredded Canadian Cheddar cheese
2 tbsp (30 mL) chopped fresh parsley
Preparation
Steam or boil broccoli 5 to 6 min or until just tender. Drain well. Reserve.
Melt butter in a saucepan. Add garlic and onion. Cook gently until fragrant and tender, about 5 min. Sprinkle with flour. Cook, stirring constantly, 3 min without browning. Whisk in milk. Bring to a boil, add seasonings. Cook 5 min. Stir in Canadian Cheddar. Remove from heat.
Combine broccoli with sauce. Transfer to a buttered 6-cup (2L) casserole dish or glass baking pan.
For the topping, combine bread crumbs with butter, Cheddar and parsley. Sprinkle on top of broccoli mixture. Bake in a preheated 350 °F (180 °C) oven for 20 min or until thoroughly heated.
Tips
Use one large head of cauliflower instead of broccoli and prepare as above.