Brunch Bread Pudding with Mixed Berries
This is the Brunch Bread Pudding with Mixed Berries recipe.
Prep: 15 min
Cooking: 40 min
Refrigeration: 6 h - 8 h
Yields 6 servings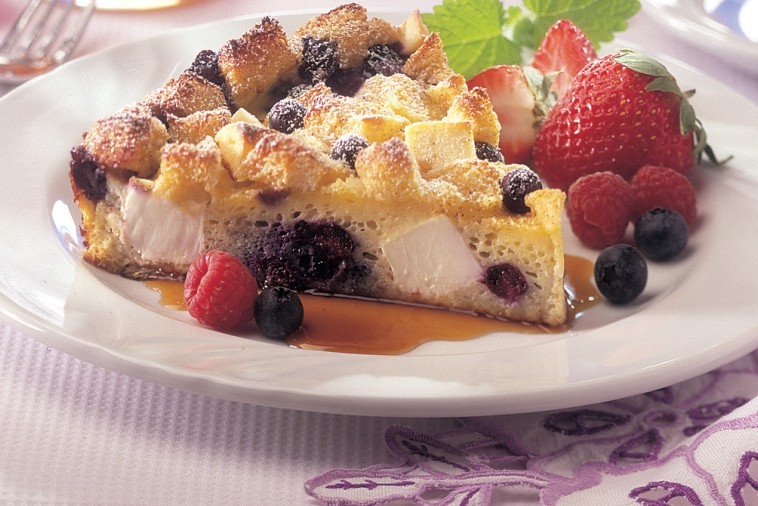 Ingredients
8 slices enriched white bread or whole wheat bread
8 oz (250 g) Canadian Cream cheese* cubed
1 cup (250 mL) fresh blueberries
6 eggs
1 cup (250 mL) Milk
1/2 cup (125 mL) maple syrup
1/2 tsp (2 mL) ground cinnamon
Icing sugar
2 cups (500 mL) mixed berries (blueberries, raspberries, strawberries)
Maple syrup
Preparation
Remove crusts from bread and cut into 1 inch (2 1/2 cm) squares. Place half the bread squares in buttered 10-in (25 cm) fluted quiche pan or pie plate. Sprinkle Canadian Cream cheese cubes and blueberries over bread layer and top with remaining bread squares.
Whisk together eggs, milk, maple syrup and cinnamon; pour evenly over bread mixture. Cover with plastic wrap and refrigerate overnight.
Remove from refrigerator 45 minutes before baking. Bake uncovered in 350 °F (180 °C) oven 40 minutes or until a knife inserted in centre comes out clean. If top is browning too quickly, cover loosely with foil. Dust with icing sugar, slice and serve warm with mixed berries and maple syrup.
Tips
* For a change of taste use Canadian Pineapple Cream cheese or Canadian Cinnamon-Brown Sugar Cream cheese.