Cappuccino and Chocolatissimo Cheesecake
This delectable Cappuccino and Chocolatissimo Cheesecake recipe features luscious layers of Canadian Cream Cheese, cappuccino chocolate ganache and a sour cream topping on a chocolate wafer crust.
Prep: 20 min
Cooking: 1 h 15
Refrigeration: 3 h
Freezing: 30 min
Yields 12 - 16 servings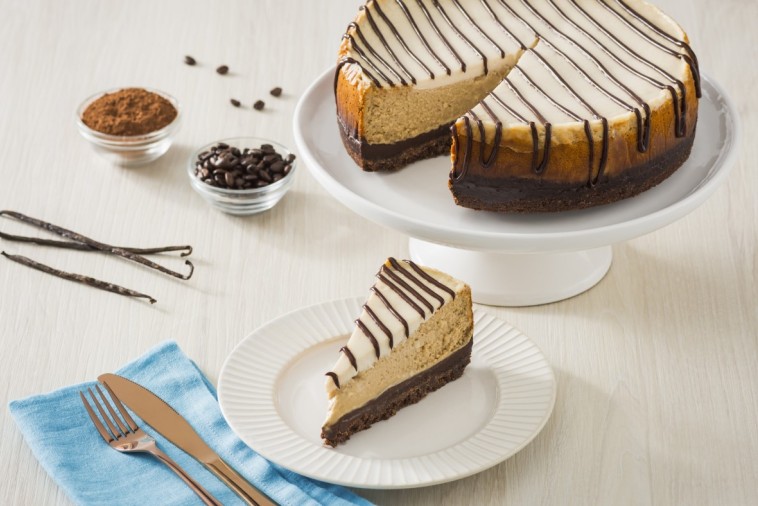 Ingredients
Crust
10 oz (300 g) chocolate wafers (1 1/2 pkg)
6 Squares (6 oz/180 g) semi-sweet chocolate chopped
1/2 cup (125 mL) lightly packed brown sugar
1 pinch of ground nutmeg
1/3 cup (80 mL) melted Canadian Butter
Ganache
1 1/2 cup (375 mL) Canadian Cream, 35%
20 Squares (20 oz/600 g) semi-sweet chocolate chopped
1/4 cup (60 mL) coffee liqueur
Cheese
4 pkg (8 oz/225 g each) Canadian Cream Cheese at room temperature
1 1/3 cup (330 mL) sugar
2 tbsp (30 mL) all-purpose flour
2 tbsp (30 mL) dark rum
2 tbsp (30 mL) very strong espresso coffee
2 tbsp (30 mL) espresso coffee grains finely ground
1 tbsp (15 mL) vanilla extract
4 eggs
Garnish
1 1/2 cups (375 mL) Canadian Sour Cream
1/3 cup (80 mL) sugar
2 tsp (10 mL) vanilla extract
DID YOU KNOW?
When you see the Blue Cow Logo on a product, it means it's made with 100% Canadian quality milk.
LEARN MORE
Preparation
Crust:
Using a food processor, mix wafers, chocolate, brown sugar and nutmeg. Blend in butter and mix thoroughly. Press mixture on bottom and sides to a height of 1/2 in (1 cm) from top edge of a 10-in (25 cm) springform pan.
Ganache:
Heat cream in a saucepan over medium heat. Remove from heat.
Pour warm cream over chocolate in a heat-proof bowl. Stir until chocolate has melted. Add coffee liqueur and stir until preparation is smooth.
Pour 2 cups (500 mL) of preparation in crust and place in freezer 30 minutes.
Cheese:
Preheat oven to 180 °C (350 °F). Place grill at centre height.
Using a food processor, mix all ingredients, incorporating eggs one by one and scraping sides until mixture is smooth. Pour preparation over cold ganache, place pan on a pastry sheet and bake 1 hour and 5 minutes until top is golden, sides crack and centre moves a little when cake is jiggled.
Remove from heat and allow to cool (top will fall). Keep oven on.
Garnish:
In a bowl, mix sour cream, sugar and vanilla extract. Pour over still warm cake and bake in oven about 10 minutes or until top sets. Remove from oven, allow to cool then refrigerate 3 hours.
Turn cake out by passing a thin-bladed knife around sides and set on a serving plate. Fill a decorating pouch with remaining ganache and decorate by tracing diagonal lines and lines along the edges. Garnish with coffee beans. Refrigerate.
Tips
Cake will be better if prepared a day in advance as flavours will have time to blend.