This is the Caramel Fudge Brownies recipe.
Prep: 15 min
Cooking: 30 min - 35 min
Yields 48 brownies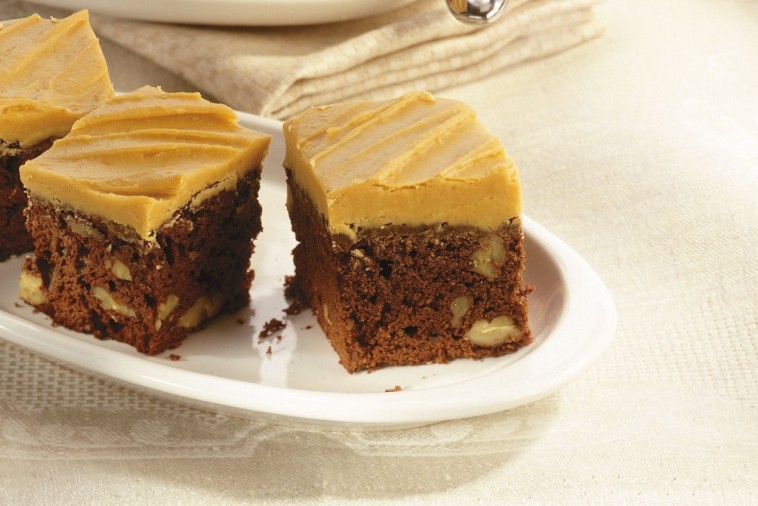 Ingredients
Brownies
1 1/4 cups (310 mL) butter
1 tsp (5 mL) instant coffee granules
2 cups (500 mL) sugar
5 eggs
1 tsp (5 mL) vanilla extract
1 1/2 cups (375 mL) all-purpose flour
1 1/4 cups (310 mL) cocoa powder
1 tsp (5 mL) baking powder
1/2 tsp (2 mL) salt
1 1/2 cups (375 mL) pecan chunks (optional)
Frosting
2 cups (500 mL) brown sugar lightly packed
2/3 cup (160 mL) regular evaporated milk
2 tbsp (30 mL) corn syrup
1/4 cup (60 mL) butter
of salt
1/2 tsp (2 mL) vanilla extract
Preparation
Brownies:
Preheat oven to 350 °F (180°C). Line a 13 x 9-inch (33 x 23 cm) baking pan up and over the sides with non-stick aluminium foil, non-stick side facing up.
Melt butter in a large saucepan over medium heat. Stir in coffee until dissolved. Stir in sugar. Remove pan from heat, and beating with a wooden spoon between additions, add the eggs, one at a time. Stir in vanilla extract. Add flour, cocoa, baking powder and salt and stir to combine. Stir in pecans, if using.
Spread batter into prepared pan and bake for 25 minutes for a fudgey brownie, or 30 minutes for a cakey brownie. Cool.
Frosting:
Combine brown sugar, evaporated milk, corn syrup, butter and salt in a medium saucepan. Bring to a boil over medium heat, stirring constantly until sugar dissolves. Boil hard, without stirring, for 5 minutes. Remove from heat and add vanilla extract. Beat with an electric mixer until creamy and very thick, from 3 to 5 minutes. Frost brownies.
Tips
For perfect slicing, freeze these brownies before cutting.
Learn more about