This is the Caramelized Onion Buns recipe.
Prep: 2 h 15
Cooking: 35 min
Yields 12 buns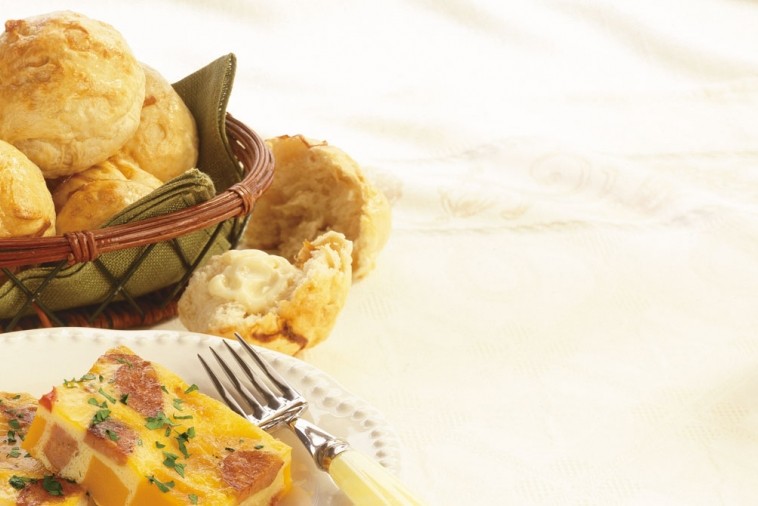 Ingredients
Dough
2 tbsp (30 mL) active dry yeast
1/2 cup (125 mL) sugar
1 tbsp (15 mL) salt
7 cups (1.75 L) unbleached bread flour
1 3/4 cups (430 mL) warm water
4 eggs beaten
1/2 cup (125 mL) melted butter
Onions
1 tbsp (15 mL) butter
1/2 white onion thinly sliced
1 small garlic clove minced
1/4 tsp (1 mL) salt
1/4 tsp (1 mL) pepper
2 tsp (10 mL) sugar
1 tsp (5 mL) Worcestershire sauce
Glaze
1 egg white
1 tbsp (15 mL) water
Preparation
Dough:
Place yeast, sugar, salt and 2 cups (500 mL) flour in a mixing bowl. Add water, eggs and butter and beat on high speed using an electric mixer for 5 minutes.
Using a wooden spoon, stir in half the flour. Add more flour 1/2 cup (125 mL) at a time until dough becomes very stiff. Turn dough out onto a work surface and continue to add flour, kneading, until dough is smooth, 7 to 10 minutes.
a mixing bowl and add dough, turning to coat. Cover tightly and let stand in a warm place for 1-1/4 to 1-1/2 hours or until doubled in bulk.
Melt butter in a skillet over medium heat. Add onions, garlic, salt and pepper. Partially cover and cook, stirring often, for 12 to 14 minutes or until onions are very soft. Sprinkle in sugar and stir until onions are very brown but not scorched. Add Worcestershire sauce. Scrape up any browned bits and simmer, stirring, until juices evaporate. Cool.
Punch down dough and knead in onions. Divide into 12 seamless round buns. Place buns on a parchment paper-lined baking sheet. Cover and let rest for 30 minutes.
Preheat oven to 375 °F (190 °C). Whisk egg white with water and brush all over each bun. Bake for 20 minutes or until golden.
Tips
Learn more about