This is the Cheesy Buttons and Bows recipe.
Prep: 15 min
Cooking: 15 min
Yields 4 servings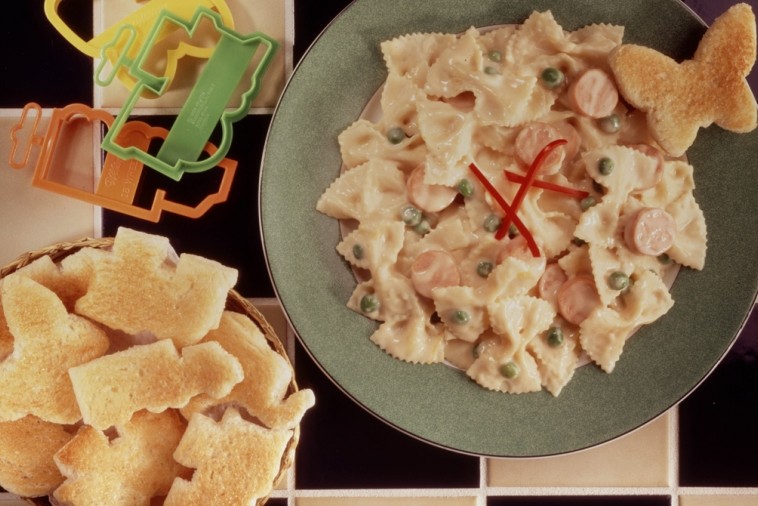 Ingredients
1 1/2 cups (375 mL) bowtie-shaped pasta
2 tbsp (30 mL) butter
2 tbsp (30 mL) all-purpose flour
1/2 tsp (2 mL) chicken broth mix
1 cup (250 mL) Milk
1 1/2 cups (375 mL) shredded Canadian Colby* cheese
4 wieners cut in 1/4 inch (5 mm) slices
3/4 cup (180 mL) frozen peas thawed
1-2 tbsp (15-30 mL) ketchup
Toast cut-outs
Preparation
In large saucepan, cook pasta according to package directions; drain.
In large saucepan, melt butter. Blend in flour and chicken broth mix. Gradually stir in milk. Cook and stir over medium heat until mixture boils and thickens. Remove from heat.
Add Canadian Colby cheese and stir until cheese is melted. Add pasta, wieners, peas and ketchup. Cook and stir over low heat until heated through; do not let mixture boil.
Serve with toast cut-outs.
Use cookie cutters (hearts, stars, teddy bears, etc.) to cut fun shapes from buttered toast.
Tips
Substitute wagon wheel-shaped pasta for bowtie-shaped pasta.
* Or you can use shredded Canadian Cheddar or Marble cheese .