Chef Paul's Deliciously Sustainable Cauliflower Soup
This delicious recipe was developed by renowned chef Paul Toussaint. Made with sustainably-farmed Canadian dairy, it is high on taste and low on waste.

This creamy, delicious soup recipe was developed by renowned chef Paul Toussaint with sustainability in mind. It is made with locally-sourced Canadian dairy, and uses all of the cauliflower parts, including the leaves! So you can enjoy this flavourful soup knowing that it's both great-tasting and great for the planet.
Prep: 15 minutes
Cooking: 30 minutes
Yields 3-4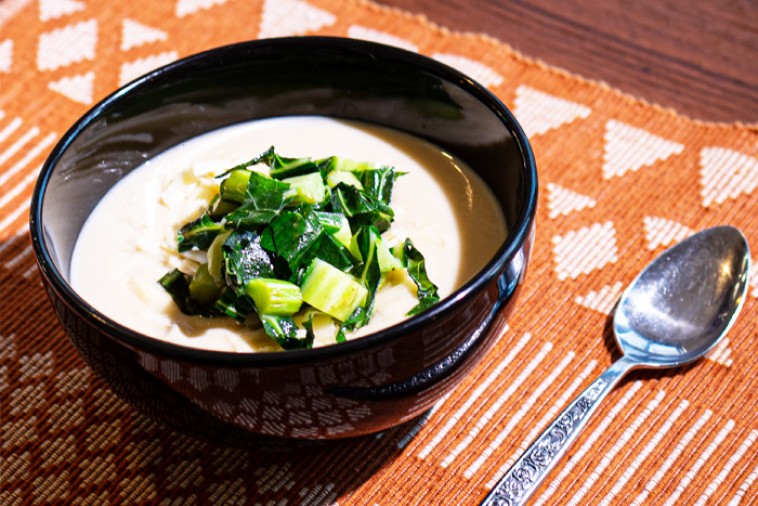 Ingredients
2 cauliflower heads, including the leaves
1 diced onion 
2 cloves garlic, minced 
473 ml (2 cups) heavy Canadian cream, 35% 
600 ml (2.5 cups) water 

200g (16 tbps/ about 1 cup) Canadian butter, divided
150g (2/3 cup) 2-year-old Canadian cheddar  
1 Scotch Bonnet pepper  
1 tsp (5 ml) salt  
To boil the cauliflower leaves
2L (8 cups) water 
1 teaspoon (5ml) salt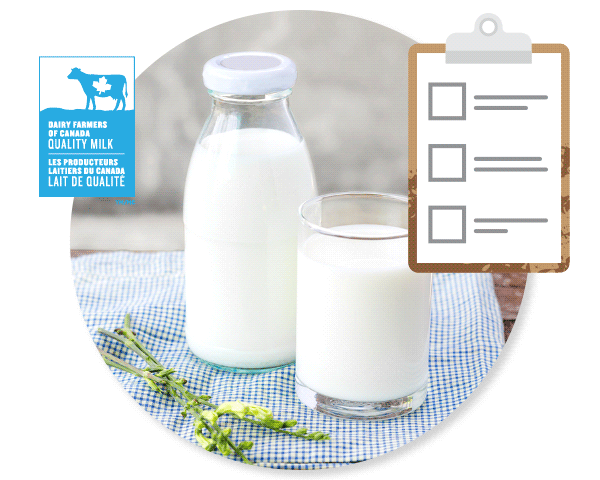 DID YOU KNOW?
When you see the Blue Cow Logo on a product, it means it's made with 100% Canadian quality milk that meets some of the highest standards in the world.
Learn More
Preparation
Remove the leaves from the cauliflower and set them aside. Cut the cauliflower into small pieces. Remember to use the whole cauliflower!
In a Dutch oven or soup pot, melt 50g (4 tbsp) of butter. Add garlic and onion and let simmer. Add the cauliflower and let everything cook for approximately 2 minutes. Mix until cauliflower pieces are steaming, then add 600 ml (2.5 cups) of water to cool everything down.
Add the cream, salt and Scotch Bonnet pepper and let cook for about 25 to 30 minutes or until cauliflower is cooked through. Don't forget to remove the Scotch Bonnet pepper (very important!)   
Make the brown butter. Cook 100 g (8 tbsp) of butter in a pan on medium heat until you smell toasted hazelnuts, between 3 and 5 minutes. Add the brown butter in the creamy cauliflower mix.
Puree in blender until smooth. Add salt to taste.
Prepare the cauliflower leaves :
In another pan, boil 2L 8 cups) of water. Chop the reserved cauliflower leaves into 1.5 cm (1/2 inch) pieces. Boil the cauliflower leaves for approximately 4 to 5 minutes. Remove the leaves and place them in iced water to keep their green color. Once chilled, remove leaves from water. Dry off leaves. In a pan, add 50 g (4 tbsp) of butter. Sauté the leaves. Add salt and pepper and set aside.
To serve:
Place sautéed leaves in each bowl, then add the soup on top. Grate 25g (2 tbsp) of grated Canadian cheese on top of each bowl. Enjoy!
Tips
There are so many ways to make more sustainable choices in the kitchen.
Tip 1: Using local ingredients helps promote sustainability. When you see the Blue Cow logo on a product, it means it's made with 100% Canadian milk.
Tip 2: Using all of the ingredients where possible, like the whole cauliflower in this recipe.
Tip 3: Re-using leftover ingredients. Garlic skin and onion peels can be used in stocks and teas!