This recipe is taken from the 1991 Milk Calendar. This is the Chicken Cacciatore recipe.
Prep: 15 min
Cooking: 40 min
Yields 4 servings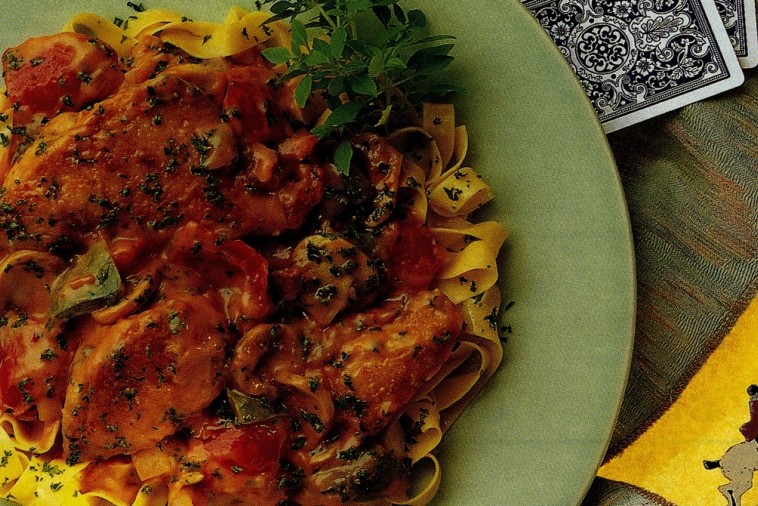 Ingredients
3 lbs (1.5 Kg) chicken pieces
1/2 cup (125 mL) all-purpose flour
2 tbsp (30 mL) olive oil
1 large onion chopped
2 garlic cloves minced
1 green bell pepper cut into cubes
1 red bell pepper cut into cubes
1/4 lb (125 g) mushrooms sliced
1 can (14 oz/398 mL) tomatoes with juices
1 tbsp (15 mL) tomato paste
1/4 tsp (1 mL) dried thyme
1/4 tsp (1 mL) dried oregano
1/4 tsp (1 mL) dried basil
Salt and pepper to taste
1 cup (250 mL) Milk
3 tbsp (45 mL) chopped fresh parsley
Preparation
Pat chicken pieces dry and dust lightly with flour. (Reserve excess flour). Heat oil in large skillet. Brown chicken pieces well. Remove and reserve.
Discard all but 3 tbsp (45 mL) oil from pan. Return to heat. Add onions, garlic, green and red bell peppers and mushrooms to pan. Cook 5 min until tender and fragrant.
Sprinkle vegetables with 1/4 cup (60 mL) reserved flour. (Discard any remaining flour). Stir in tomatoes, tomato paste, herbs, salt and pepper. Break tomatoes with a spoon. Bring to a boil. Mixture will be thick. Add chicken pieces. Simmer gently, covered, 40 to 45 min or until chicken is tender.
Remove chicken pieces to serving dish. Keep warm. Add milk to sauce. Heat thoroughly. Adjust seasoning if necessary. If sauce is thin, cook over medium heat, uncovered, until it reduces to desired thickness. Combine sauce with chicken. Serve over rice or pasta. Sprinkle with fresh parsley.
Tips
Learn more about