Chicken Cutlets with Spinach Sabayon
This is the Chicken Cutlets with Spinach Sabayon recipe.
Prep: 30 min
Cooking: 20 min - 25 min
Yields 4 servings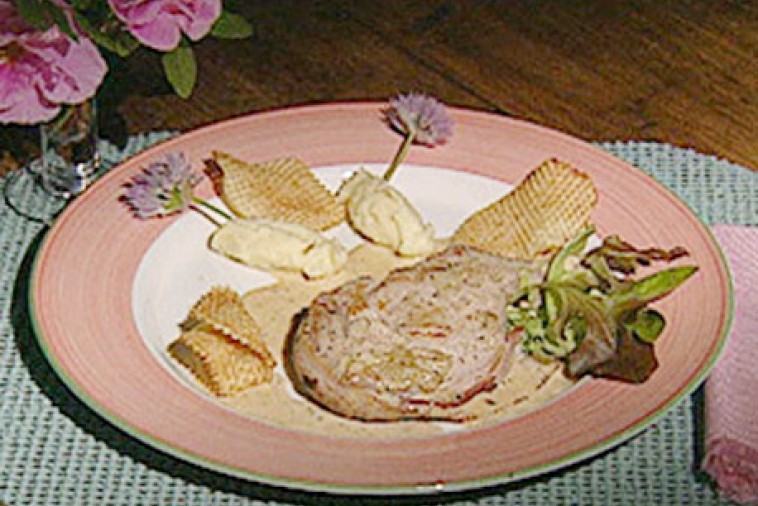 Ingredients
4 chicken breasts
1 tbsp (15 mL) butter
2 oz (30 g) shallots
7 oz (200 g) spinach
3 tbsp (45 mL) port
1 cup (250 mL) chicken broth
1/2 cup (125 mL) 35 % cream
3 oz (90 g) Canadian Migneron or Cantonnier cheese
Salt and freshly ground pepper to taste
Vegetable stuffing
2 tbsp (30 mL) butter
5 oz (150 g) vegetable brunoise (finely diced carrots, green peppers, leeks)
Sabayon
2 egg yolks
3 tbsp (45 mL) cold water
Chanterelle mushrooms or watercress or spinach leaves to garnish
Preparation
In a saucepan, melt some butter and cook the vegetable brunoise over low heat for a few minutes without allowing to colour. Season with salt and pepper.
Using a sharp knife, slice chicken breasts lengthways to form a pocket. Season the inside with salt and pepper and stuff with the vegetable mixture and a slice of Canadian cheese.
Sauté shallots in butter, then add washed and stemmed spinach leaves. Cook 2 to 3 minutes, then pour in the port wine, chicken broth and whipping cream.
Place chicken cutlets in the liquid, bring to a gentle boil and simmer 15 to 20 minutes. Remove cutlets from pan and keep warm. Pour the cooking liquid into a blender and puree. Keep warm.
Sabayon:
In a bowl set over a pan of simmering water, whisk egg yolks with cold water until increased in volume and foamy.
Fold mixture a little at a time into pureed ingredients. Keep warm, taking care not to let boil.
Arrange chicken cutlets on plates and pour over the sabayon. Garnish with chanterelle mushrooms sautéed in butter and watercress or spinach leaves.
Jean Soulard, Executive Chef, Le Château Frontenac
Tips