This is the Country Style Meat Pie recipe.
Prep: 30 min
Cooking: 55 min - 1 h
Refrigeration: 1 h
Yields 2 meat pies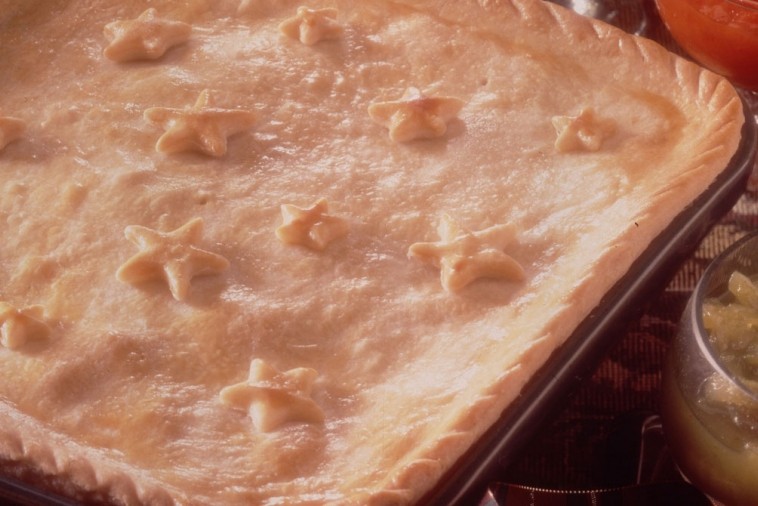 Ingredients
Flaky Pastry: (2 crusts)
2 cups (500 mL) all-purpose flour
1/2 cup (125 mL) vegetable shortening
1/2 cup (125 mL) butter
1 tsp (5 mL) salt
1 tsp (5 mL) sugar
3/4 cup + 1 tbsp (200 mL) cold water
Meat Pie Mixture
1 tbsp (15 mL) butter
1 medium onion minced
2 celery stalks chopped
1 garlic clove minced
3 lb (1.5 Kg) ground beef and pork
1 large potato peeled and cut in 1/2 inch (1 cm) cubes
1 cup (250 mL) water
1/2 cup (125 mL) 15 % or 18 % table cream
1/2 tsp (2 mL) ground cloves
1/2 tsp (2 mL) dried thyme
1/2 tsp (2 mL) dried savory
Salt and pepper to taste
Preparation
Flaky Pastry:
Double recipe for 2 meat pies. In large bowl, combine salt, sugar and sifted flour. Cut in vegetable shortening and butter with 2 knives or pastry blender.
Sprinkle with cold water, tossing with fork to mix. Gather dough together and form into ball. Lightly knead dough on floured surface, divide in two smaller balls.
Wrap in plastic wrap and refrigerate for at least 1 hour. Roll out each ball with rolling pin to fit pie plate. Pierce centre of top crust.
In saucepan, sauté onion, celery and garlic in butter for 5 minutes. Stir in ground beef and pork, cubed potatoes, water and cream.
Cook while stirring, until liquid has completely evaporated. Add spices and season to taste. Let cool. Press dough into 2 pie plates. Fill each crust with half the meat pie mixture. Moisten edges and cover with other crust.
Bake in oven at 450 °F (230 °C) for 15 minutes. Reduce heat to 350 °F (180 °C) and continue baking for 30 minutes. Remove from oven and let cool. Serve with home-made ketchup and pickles.
Tips
Nutrition
Nutritional Information
per serving
Energy:

594 Calories

Protein:

21 g

Carbohydrate:

28 g

Fat:

44 g

Calcium:

3 % /

30 mg