Cranberry Coconut Chocolate Trail Mix Bars
These trail mix-inspired bars are the perfect healthy snack to pack for a long hike or a workout session! Bake them in advance so you'll always have one on hand before being active—they'll give you all the energy you need to perform at your best. This quick and easy recipe packs a nutritional extra-slash-secret ingredient: the addition of 100% Canadian powdered milk is a simple way of amping up the nutritional value of your homemade granola bars while boosting your protein intake. If you're looking for quick and healthy breakfast ideas, don't look further: these bars are a great option in the morning, and will also fix you right up if your energy levels are running low during your work day.
Prep: 10 minutes
Cooking: 10-12 minutes
Yields 12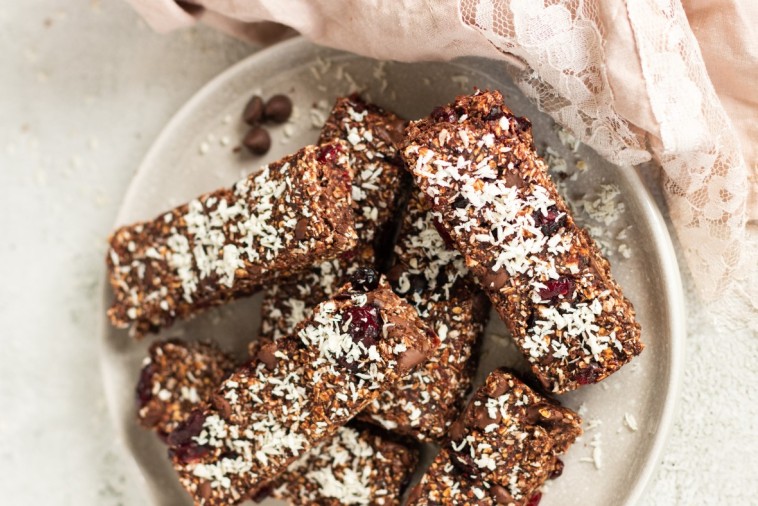 Ingredients
375 ml (1 ½ cup) quick oats
190 ml (¾ cup) whole-wheat flour
80 ml (⅓ cup) cacao powder
125 ml (½ cup) Canadian powdered milk with the Blue Cow logo
80 ml (⅓ cup) honey
80 ml (⅓ cup) applesauce
5 ml (1 tsp) vanilla extract
125 ml (½ cup) dried cranberries
60 ml (¼ cup) shredded coconut
125 ml (½ cup) semi-sweet chocolate chips
DID YOU KNOW?
When you see the Blue Cow Logo on a product, it means it's made with 100% Canadian quality milk.
LEARN MORE
Preparation
Preheat the oven to 180ºC (350°F). In a bowl, mix the oats, flour, cocoa powder and powdered milk.
Add the honey, applesauce and vanilla extract, and mix until smooth (which is easier to do using your hands!). Mix in the cranberries, coconut and chocolate chips.
Transfer the mix into a lined, square 8-inch pan, and press it down to ensure the bars are compact and even.
Bake for 10 to 12 minutes. Set aside to cool, then cut into 12 bars.
Tips
You can tweak this granola bar recipe to make no-bake bars or energy balls by simply substituting the whole-wheat flour for almond powder, but baking the trail mix bars makes them less sticky and less likely to fall apart.
Can be frozen.
For more inspiration by Laurence Bergeron, visit her TikTok profile @libredemanger
Learn more about