Eric Chong's Canadian Paris-Brest
This dish takes everyday ingredients such as milk, cream, butter and cheese and elevates them with refined techniques, while maintaining the highest standards. A Paris-Brest is simple on paper, but all comes down to the execution. A nicely puffed and crispy choux pastry, a rich and luxurious mousse filling with delectable garnishes such as strawberries and macadamia nuts — this dessert has it all! This dish is at its finest when baked fresh daily, so it's essential that we incorporate dairy from local Canadian farms.
-Chef Eric Chong
Yields 1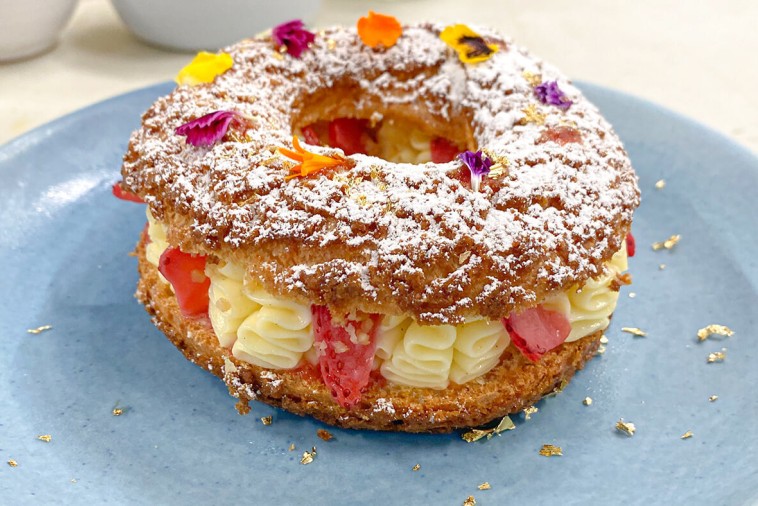 Ingredients
Choux Paste
125g Canadian unsalted butter (½ cup)

200g Canadian whole milk (¾ cup)

8g sugar (2 tsps)

2g salt (½ tsp)

65g all-purpose flour (½ cup)

75g bread flour (½ cup)

5 whole eggs



Craquelin Topping
145g Canadian unsalted butter (⅝ cup)

180g brown sugar (¾ cup)

180g all-purpose flour (1 ½ cups)



Mascarpone Mousse:
80g Canadian mascarpone cheese (⅓ cup)

80g Canadian cream cheese (⅓ cup)

150g Canadian heavy cream (⅔ cup)

3g powdered gelatin (¾ tsp)

40g Cointreau (1 ½ oz.)

62g sugar (⅓ cup)

22g water (4 tsp)

45g egg yolks (2 ½ egg yolks)

5g vanilla bean paste (1 tsp)

130g white chocolate (⅔ cup)



Strawberry Compote
200g strawberries (1 cup)

80g sugar (to taste) (⅜ cup)

1g salt (¼ tsp)

3g vanilla bean paste (½ tsp)

30g lemon juice (2 tbsp)

Xanthan gum or cornstarch (to thicken)



Macadamia Nut Sand
85g Canadian unsalted butter (melted) (⅜ cup)

300g macadamia nuts (lightly toasted) (2 ½ cups)

125g panko bread crumbs (1 ½ cups)

85g sugar (⅜ cup)

40g all purpose flour (⅓ cup)

1g salt (¼ tsp)



DID YOU KNOW?
When you see the Blue Cow Logo on a product, it means it's made with 100% Canadian quality milk.
LEARN MORE
Preparation
Choux Paste
Sift flour in a separate bowl.
Warm milk, butter, sugar, salt in a large pot and add flour. Cook until the flour swells and continue cooking for 5-6 minutes until the paste is thick and dry.
Transfer to a stand mixer with paddle attachment and begin mixing until the dough has cooled slightly.
Whisk your eggs in a pitcher and slowly drizzle into the dough whilst mixing, whip until fully incorporated and smooth.
Fill a piping bag with the dough. On a baking tray on parchment paper or silicone mat, pipe a ring of dough. Your choux pastry should look like a doughnut. Smooth out the surface of the dough by gently patting down bumps with a finger dipped in cold milk. Take the craquelin out of the freezer, cut it to match the shape of the choux. Place the craquelin on top of the choux.
Bake at 360°F for 25 minutes. (If using a convection oven, use the steam function level 3 fan).
Lower to 250°F continue to bake without moisture for 10 minutes.
Craquelin Topping
Mix until well combined, roll out on a silicone mat, and freeze on a baking sheet until firm.
Mascarpone Mousse
Bloom gelatin in cointreau, set aside.
In a stand mixer lightly beat egg yolks until light and fluffy.
Heat sugar and water to 118°C and drizzle down the side of the mixer while beating the egg yolks.
Continue to whip until a light, fluffy zabaglione is achieved.
Add in room temperature cream cheese, mascarpone, vanilla, and cream. Whip until combined.
Add white chocolate to gelatin and melt over a double boiler and drizzle into the mixture while whipping.
Cool covered for a minimum of 4 hrs. Whip to soft peaks and place in a piping bag. DO NOT OVER WHIP. If over whipped the mixture will split — if mixture splits, re-melt, re-chill and whip again.
Strawberry Compote
Dice half of the strawberries (½ cup) into 2mm cubes and reserve.
Place the remaining ½ cup of strawberries, salt, vanilla, lemon juice, and sugar to taste (based on the sweetness of strawberries) into a pot.
Bring to a simmer and then blitz mixture with xanthan or cornstarch until just syrupy.
Cool, check consistency, and fold in the ½ cup of diced strawberries.
Macadamia Nut Sand
Mix all ingredients together and bake on a baking tray at 375°F for 10 minutes.
To assemble the Canadian Paris-Brest
Slice the doughnut-shaped choux pastry in half.
Squeeze some strawberry compote in dots around the inside of the bottom layer of choux pastry.
Pipe the mascarpone mousse on the bottom layer of choux pastry until the whole base pastry is filled.
In between each piped pile of mousse, place a sliver of compressed strawberry.
Sprinkle macadamia nut sand over top of the mousse.
Gently place the top layer of the choux pastry on top of the mousse.
Garnish with powdered sugar, gold leaf, and edible flower petals.