Fettuccine with Ham and Asparagus
This recipe is taken from the 1995 Milk Calendar. This is the Fettuccine with Ham and Asparagus recipe.
Prep: 10 min - 15 min
Cooking: 15 min
Yields 4 - 6 servings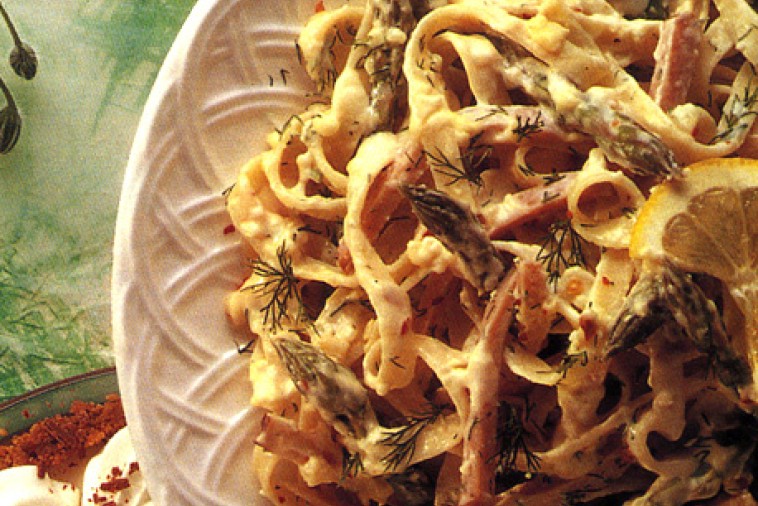 Ingredients
1 lb (450 g) fresh asparagus trimmed
1/4 cup (60 mL) unsalted butter
3 cloves garlic minced
of hot red chili flakes
1 cup (250 mL) 35 % cream
1 tsp (5 mL) grated lemon zsest
3/4 lb (340 g) Black Forest ham cut into strips
1 tbsp (15 mL) Russian style mustard or 1 tsp (5 mL) Dijon mustard
Salt and pepper to taste
1 lb (450 g) fettuccine
2 tbsp (30 mL) chopped fresh dill
2 tbsp (30 mL) butter
Preparation
Cook asparagus in boiling water 3 to 4 min or until just tender. Rinse with cold water. Pat dry. Cut into 2-inch (5 cm) pieces. Reserve.
For the sauce, melt butter in a large, deep skillet. Add garlic and hot chili flakes. Cook gently, without browning, for 3 to 5 min until garlic is very tender and fragrant. Add cream and lemon peel. Bring to a boil. Reduce cream mixture until slightly thickened.
Add ham and asparagus, mustard, salt and pepper. Stir well and remove from heat.
Meanwhile, in a large pot of boiling, salted water, cook pasta according to package directions until just tender but firm (al dente). Just before pasta is ready, reheat sauce. Drain pasta well. Toss with sauce, dill and butter. Taste and adjust seasoning, if necessary.
Tips