Game Day Chicken Wings and Blue Cheese Dip
Your friends and family will definitely want to tackle these chicken wings with blue cheese dip. Perfect for sporting events and family gatherings!
Cooking: 1 hour and 30 min
Yields 6 to 8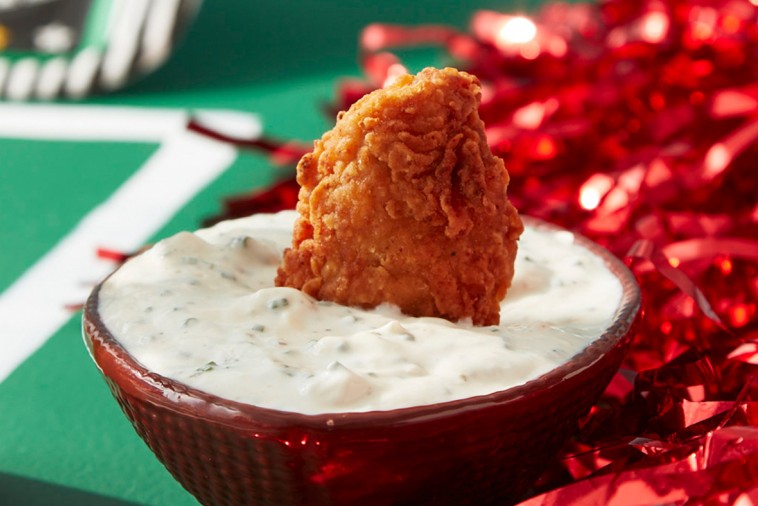 Ingredients
Wings:
2 cups (500 ml) Canadian buttermilk
2 tablespoons (30 ml) of your favourite hot sauce
2 tablespoons (30 ml) salt, divided
1.5 kg chicken wings
3 cups (750 ml) all-purpose flour
2 tablespoons (30 ml) garlic powder
1 tablespoon (15 ml) paprika
1/2 teaspoon (2.5 ml) cayenne pepper
2 teaspoons (10 ml) teaspoons freshly ground black pepper
Hot Sauce:
5 tablespoons (75 ml) unsalted Canadian butter
1/2 cup (125 ml) of your favourite hot sauce
2 tablespoons (30 ml) Canadian maple syrup
Blue cheese dip:
1/2 cup (125 ml) Canadian sour cream
1/4 cup (60 ml) Canadian buttermilk
1/4 cup (60 ml) crumbled Canadian blue cheese
1/2 teaspoon (2.5 ml) freshly ground black pepper
1/4 teaspoon (1.25 ml) salt
2 tablespoons (30 ml) chopped chives
DID YOU KNOW?
When you see the Blue Cow Logo on a product, it means it's made with 100% Canadian quality milk.
LEARN MORE
Preparation
Prepare the chicken:
Add buttermilk, your favourite hot sauce, and 1 tablespoon of salt in a wide, shallow bowl, then mix until combined.
Add the chicken wings to the bowl and toss to coat thoroughly.
Mix the flour, garlic powder, paprika, cayenne, black pepper, and 1 tablespoon salt in a large bowl.
Add the chicken wings to the bowl and then toss to coat. It's easier to work in batches.
Once the chicken is coated, dip it in the buttermilk mixture and allow excess to drip off, then dip again in flour mixture.
Transfer to baking sheet and allow to chill in the fridge at least 15 minutes and up to 2 hours.
Make the hot sauce:
Melt your butter, with the hot sauce, and maple syrup in a small saucepan over medium heat, stirring, until the butter is melted, and the mixture is smooth.
Make the blue cheese dip:
Whisk the sour cream, buttermilk, blue cheese, pepper, salt, and 1 tablespoon and a half of chives in a small bowl. Top with remaining chives.
Fry the chicken:
Preheat oven to 250°F. Set a wire rack over another rimmed baking sheet.
Pour oil into a large heavy pot fitted with thermometer to a depth of 2". Heat over medium-high until thermometer registers 350°F.
Start to fry the chicken in batches, turning occasionally, until crispy and golden brown and an instant-read thermometer registers 165°F; you'll need around 4–6 minutes per batch.
Transfer chicken to prepared wire rack, season with salt, and keep warm in the oven.
Right before serving, put your fried chicken in a large bowl. Pour the hot sauce mixture over toss until coated. Serve with blue cheese dip.