This recipe is taken from the 1997 Milk Calendar. Pretty enough for company, easy enough for every-day. Celebrate the fresh taste of summer. - James Barber
Prep: 15 min
Cooking: 30 min
Yields 8 servings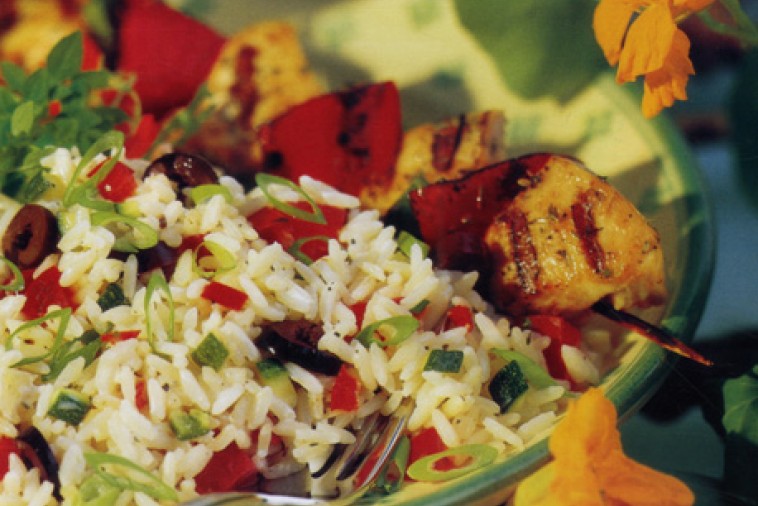 Ingredients
2 tbsp (30 mL) butter
2 cups (500 mL) finely diced zucchini (about 2 small)
2 red bell peppers or green bell peppers seeded and diced
4 garlic cloves minced
1 tbsp (15 mL) dried basil
2 tsp (10 mL) dried oregano
2 cups (500 mL) Uncle Ben's® Converted® Brand Rice
2 1/2 cups (625 mL) chicken broth
1 1/2 cups (375 mL) Milk
1 tsp (5 mL) salt
1 tomato chopped
1/4 cup (60 mL) sliced pitted olives (optional)
2 green onions sliced
Pepper to taste
Preparation
Melt butter in a large saucepan over medium heat. Add zucchini, red bell peppers, garlic, basil and oregano; cook 5 minutes. Add the rice; stir to combine. Add chicken broth, milk and salt. Bring to a boil, then reduce heat to low and simmer 20 to 25 minutes, or until liquid has been absorbed.
Stir in tomato, olives, green onions and pepper to taste.
Let stand, covered, for 5 minutes before serving.
Tips
Learn more about