It's all treats and no tricks for this Halloween with these delicious cookies.
Prep: 26 min
Decorating: Will vary by design
Yields 16 cookies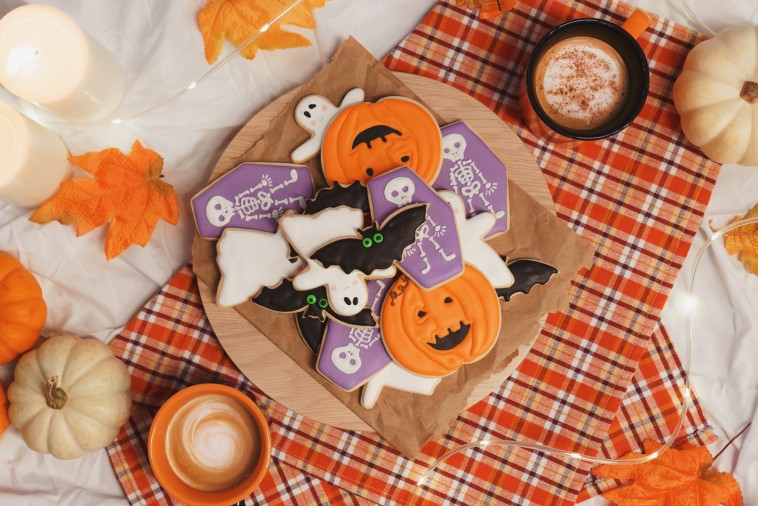 Ingredients
For the Cookies:
160 ml (⅔ cup) Canadian butter room temperature
250 ml (1 cup) sugar
2 eggs
80 ml (⅓ cup) Canadian milk
5ml (1 tsp) vanilla
1L (4 cups) flour
10 ml (2 tsp) baking powder
5ml (1 tsp) salt
For the Icing:
625 ml (2 ½ cups) powdered sugar
5ml (1 tsp) vanilla extract clear
22ml (1 ½ tbsp) light corn syrup
45 ml (3 tbsp) Canadian milk divided
Food colouring
DID YOU KNOW?
When you see the Blue Cow Logo on a product, it means it's made with 100% Canadian quality milk.
LEARN MORE
Preparation
Cookies:
Preheat the oven to 350°F.
Beat butter and sugar together until light and fluffy.
Add eggs, milk and vanilla.
In a separate bowl, combine flour, baking powder and salt.
Slowly add dry ingredients to wet ingredients.
Mix together until you can form a large dough ball.
On a floured surface, roll out dough ball until about ¼ to ½ inch thick.
Use halloween cookie cutters to cut cookie shapes out of dough.
Place the cut cookies on a lightly sprayed cookie sheet.
Bake for about 10-12 minutes.
Icing:
Beat powdered sugar, vanilla, corn syrup and 1 tablespoon milk in a small bowl until smooth
Add milk a little at a time to reach desired consistency.
Stir in food colouring to reach desired colour.
Decorate cookies and allow icing to set.
Tips
Make sure to not overcook the cookies as they will come out hard.
For food colouring, gel is best
Number of cookies iced will depend on size and amount of icing used on each cookie.
If the icing is too thick, add a little more milk (1/2 teaspoon at a time, it doesn't take much). If it's too runny, add a little more powdered sugar.