This is the Hazelnut Festive Log recipe.
Prep: 30 min
Cooking: 10 min - 12 min
Refrigeration: 1 h
Yields 10 - 12 servings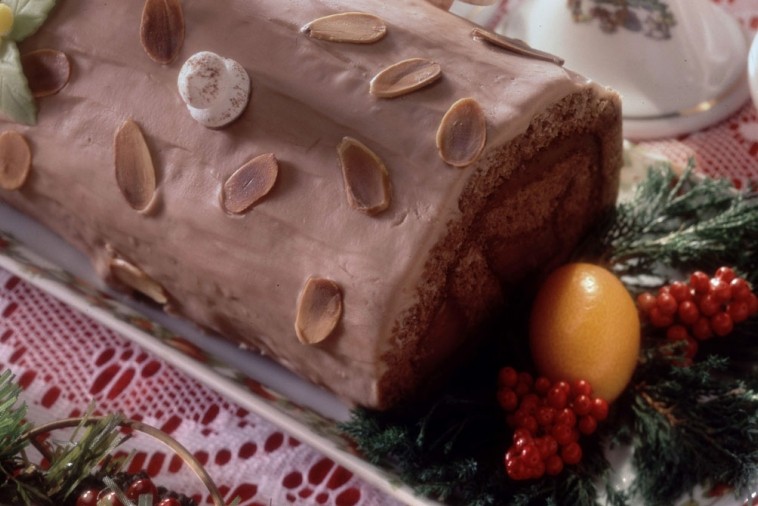 Ingredients
Cake (log)
1 cup (250 mL) all-purpose flour
1/4 cup (60 mL) cocoa powder
1 tsp (5 mL) baking powder
1/4 tsp (1 mL) salt
3 eggs
1 cup (250 mL) sugar
3 tbsp (45 mL) water
1 tsp (5 mL) vanilla extract
1/2 cup (125 mL) Milk
Icing sugar
Topping
2 egg yolks
1 egg
1/3 cup (80 mL) sugar
2 cups (500 mL) Milk
2 tbsp (30 mL) custard powder (optional)
3/4 cup (200 mL) softened unsalted butter
1 2/3 cup (410 mL) hazelnut spread (Nutella)
1 cup (250 mL) slivered roasted almonds
Preparation
Preheat oven to 375 °F (190 °C).
Cake (log):
In bowl, combine flour, cocoa, baking powder and salt. Set aside.
In separate large bowl, whisk eggs with sugar lightly. Stir in water and vanilla extract. Add dry ingredients gradually to egg mixture, alternating with milk. Beat with electric mixer until smooth. Pour preparation into buttered jelly-roll pan covered with lightly buttered wax paper. Bake for 10 to 12 minutes or until toothpick inserted in centre comes out clean.
Invert cake onto kitchen towel dusted with icing sugar. Peel off wax paper from cake. Immediately roll cake with towel lengthwise and set aside to cool. Place in refrigerator for 1 hour, making sure cake remains rolled.
Remove cake from refrigerator and unroll. Spread half of the topping over cake evenly with spatula. Roll cake and cover log completely with remaining topping. Top with almonds and refrigerate.
In bowl, whip egg yolks, egg and sugar. Set aside.
In saucepan, bring milk to boil. Gradually add hot milk to egg mixture, whisking until smooth. Return to saucepan and bring to boil over low heat, stirring regularly. Simmer for 1 minute. Remove from heat and cool for 10 minutes. Add custard powder, if desired, and butter, whipping lightly until butter has melted. Refrigerate.
When custard is cool, whip until foamy. Stir in hazelnut spread. Set aside.
Tips