This do-it-yourself recipe for ricotta made with whole milk is not only super straightforward to make but also tastes incredible!
Prep: 10 minutes
Cooking: 25 minutes
Yields 4 servings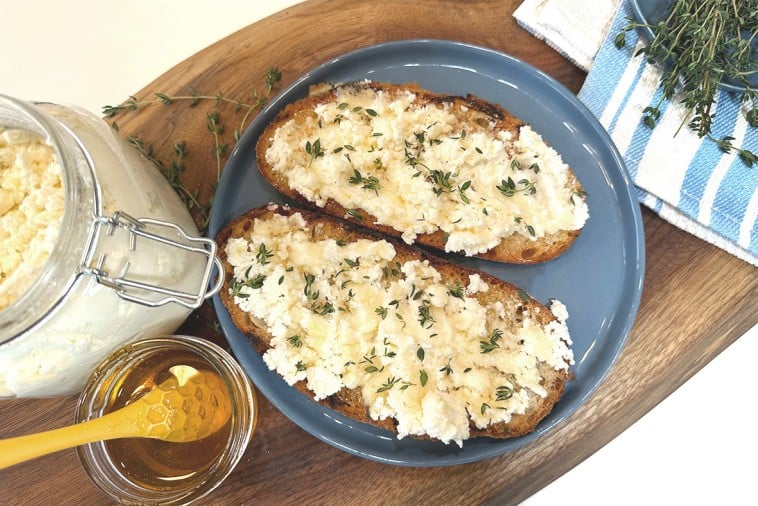 Ingredients
For the Ricotta
8 cups (2L) 100% Canadian whole milk
1/2 tsp (3ml) salt
3 tbsp (45ml) lemon juice (make sure you are not using meyer lemons, as they are too sweet)
Serve with:
2 tbsp (30ml) honey (optional)
1 tsp (5ml) of thyme (optional)
Sourdough bread (optional)
DID YOU KNOW?
When you see the Blue Cow Logo on a product, it means it's made with 100% Canadian quality milk.
LEARN MORE
Preparation
Line your colander with a lightly damped cheesecloth. Place colander over a bowl.
In a large pan, heat 100% Canadian milk over medium heat. Add salt to the milk and sir occasionally with a wooden spoon. Make sure the milk does not burn. Heat milk to 185°F, and then bring the heat down to low.
Add the lemon juice to the milk.
Mix the lemon and milk mixture for 2 minutes. Curds (ricotta) will begin separating from the whey (yellowish liquid).
Cover pot and let stand for about 20 minutes.
Ladle your ricotta into the cheesecloth lined colander. The consistency of the ricotta will be dependant on how long you leave it to drain. For a softer ricotta, let it sit for 3-5 minutes, for a firmer consistency leave it for up to 20 minutes.
Spread ricotta on a piece of toasted sourdough bread. Drizzle with honey and thyme.