Lake Memphremagog Holiday Meat Pie
This is the Lake Memphremagog Holiday Meat Pie recipe.
Cooking: 2 h 40
Refrigeration: 6 h
Yields 8 - 10 servings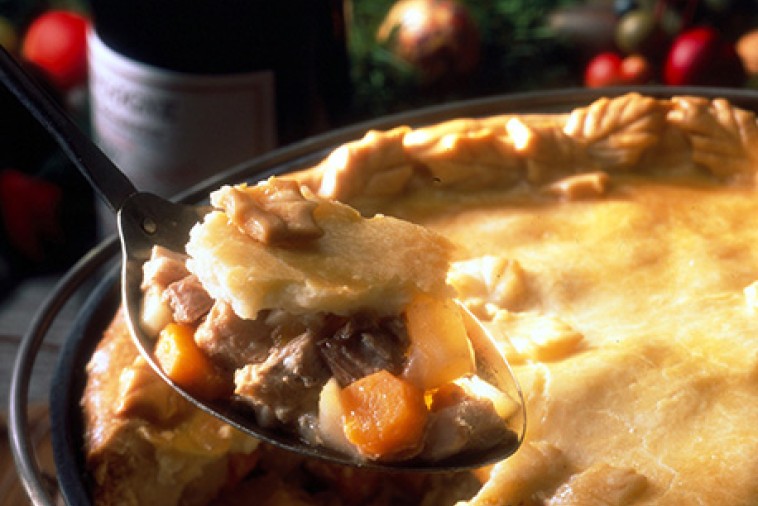 Ingredients
4 skinless boneless chicken breast halves cubed
1 lb (450 g) pork cubed
1 lb (450 g) beef cubed
1 boneless rabbit cubed
1/3 cup (80 mL) vegetable broth
1/3 cup (80 mL) 15 % or 18 % cream
2 bay leaves
1/2 tsp (2 mL) cloves
1 tsp (5 mL) savory
2 onions chopped
2 garlic cloves minced
3 carrots peeled and sliced
3 potatoes peeled and cubed
Salt and pepper to taste
Piecrust (3 to 4 crusts)
4 cups (1 L) all-purpose flour sifted
1 tbsp (15 mL) baking powder
of salt
3/4 cup (180 mL) vegetable shortening
1 cup (250 mL) cold water
1/4 cup (60 mL) melted butter
1 egg yolk
Preparation
Preheat oven to 375 °F (190 °C).
Place first 11 ingredients in large bowl. Mix well and refrigerate for 6 hours.
Fit 1 piecrust into large baking pan. Spread a first layer of meat mixture and cover with potato and carrot cubes. Season to taste with salt and pepper. Repeat and cover with water. Season once more. Top with remaining piecrust and seal ends with fingers or fork. Make few short slashes in top crust and bake for 40 minutes. Reduce oven heat to 275 °F (135 °C) and bake for another 2 hours.
Piecrust:
In food processor, mix all ingredients until dough is smooth. Refrigerate for 4 hours.
Roll out enough dough to fit bottom and sides of large baking pan and for top as well.
Tips