Lobster Lasagna with Poppy Seeds and Mascarpone
This is the Lobster Lasagna with Poppy Seeds and Mascarpone recipe.
Prep: 20 min
Cooking: 50 min - 1 h
Yields 4 servings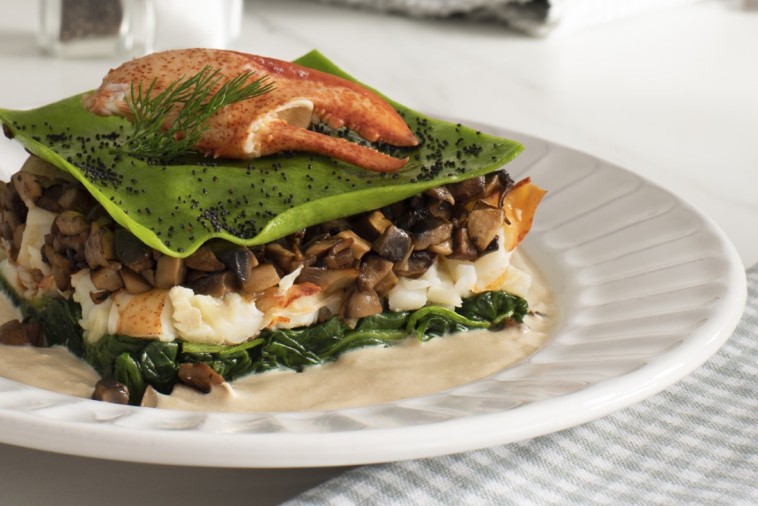 Ingredients
4 lobsters 1 lb to 1 1/4 lb (450 g to 600 g) each
8 oz (250 g) spinach
Salt and pepper to taste
8 sheets of green spinach lasagna
Mushroom duxelles
8 oz (250 g) mushrooms chopped
1 oz (30 g) shallots chopped
1 tbsp (15 mL) butter
Salt and pepper to taste
Sauce
Lobster carcasses
1 carrot
1/2 leek
1 stick of celery
1 tomato
3 tbsp (45 mL) olive oil
1 tbsp (15 mL) brandy
1 cup (250 mL) 35 % cream
3 oz (100 g) Canadian Mascarpone cheese or Canadian cream cheese
A pinch of anis seed
A pinch of Cayenne pepper
Salt to taste
Garnish
Lobster claws
2 tsp (10 mL) poppy seeds
Dill sprigs
Preparation
Cook lobsters in salted boiling water 15 to 20 minutes. Cool and shell. Cut tails into chunks and keep meat warm. Cook lasagna in boiling water for 7 to 8 minutes. Set aside to cool.
For the duxelle, sauté shallots in butter for 1 to 2 minutes. Add mushrooms and sauté for 7 to 8 minutes until all the liquid has evaporated. Season with salt and pepper and keep warm.
To make sauce, wash carrot, leek, celery and tomato and chop into pieces. Over a high heat, sauté lobster carcasses and vegetables in olive oil for 4 to 5 minutes. Flambé with brandy. Add cream, aniseed, cayenne and salt.
Simmer for about 15 minutes, then pass through a fine meshed sieve. Add cheese and check seasoning.
Wash spinach and remove stems. Sauté in a non-stick frying pan and season. Arrange 1 lasagna sheet on each plate. Spread spinach, then lobster meat over pasta. Cover with duxelle, then with another lasagna sheet. Pour sauce around lasagna and sprinkle with poppy seeds. Garnish with dill and a lobster claw.
Jean Soulard, Executive Chef, Le Château Frontenac