This is the Maple Carrot Cake recipe.
Prep: 15 min
Cooking: 1 h
Refrigeration: 30 min
Yields 6 - 8 servings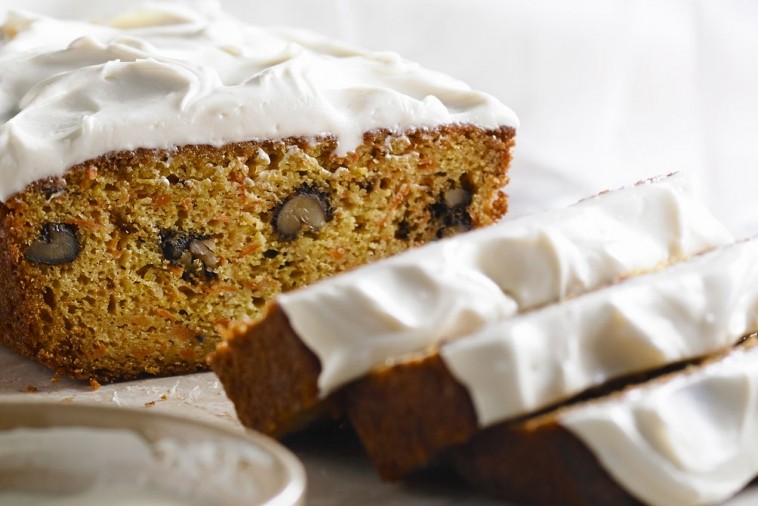 Ingredients
1 1/4 cup (310 mL) all-purpose flour
1 tsp (5 mL) baking powder
1 tsp (5 mL) baking soda
3/4 cup (180 mL) brown sugar
1/4 cup (60 mL) maple syrup
2 cups (500 mL) grated carrots
1/2 cup (125 mL) canola oil
2/3 cup (160 mL) sour cream
2 eggs
2/3 cup (160 mL) coarsely chopped walnuts
Cheese Cream and Honey Icing
1 pkg (8 oz/240 g) Canadian Cream cheese
2 tbsp (30 mL) maple syrup
1 tsp (5 mL) vanilla extract
1 cup (250 mL) icing sugar
Preparation
Preheat oven to 350 °F (180 °C).
In large bowl, mix flour, baking powder and baking soda. Blend in brown sugar, maple syrup and grated carrots. With electric mixer, beat in oil, sour cream and eggs until smooth. Add walnuts.
Pour mixture into 9-x 5-inch (23 x 13 cm) buttered loaf pan. Bake for 1 hour or until toothpick inserted in centre comes out clean. Remove from oven and let stand for 10 minutes before removing from pan. Pour icing over cake, smoothing with a spatula
Cream Cheese and Honey Icing:
Beat together all ingredients until smooth and creamy. Refrigerate. Let stand for 30 minutes at room temperature before using.
Tips
Learn more about