Marinated Cheese Salad with Pistachios and Tomatoes
This is the Marinated Cheese Salad with Pistachios and Tomatoes recipe.
Prep: 40 min
Cooking: 30 min
Yields 4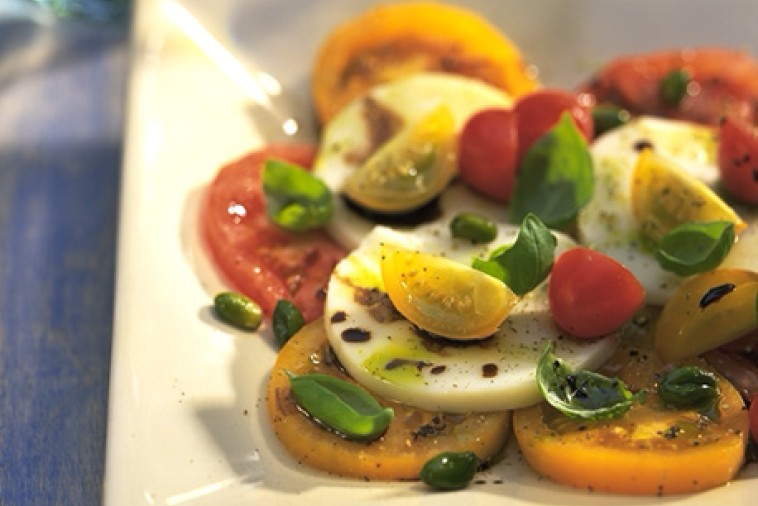 Ingredients
1/3 lb (150 g) Canadian Mozzarella
3/4 cup (175 mL) olive oil
1 bunch of fresh basil
2 tbsp (30 mL) aged balsamic vinegar
Small pinch of salt
Fresh ground pepper
8 yellow teardrop tomatoes cut in half
8 red cherry tomatoes cut in half
4 small orange tomatoes stemmed and sliced about 1/2 cm thick
4 zebra tomatoes stemmed and quartered (optional)
1/2 cup (125 mL) of fresh pistachios skinned
DID YOU KNOW?
When you see the Blue Cow Logo on a product, it means it's made with 100% Canadian quality milk.
LEARN MORE
Preparation
Bring a small pot of water with a pinch of salt to a boil.
Blanch the basil in the water for no longer then 10 seconds. Remove from the water and refresh in a bowl of very cold water. Drain and squeeze the excess water out of the basil.
Place the basil in a blender and add the olive oil. Puree the basil until fine, strain and reserve the green oil (approx 30 seconds).
Slice the Mozzarella in 8 equal portions and place in a dish. Pour the basil oil on top, making sure that it covers all the slices. Season with the pepper only. Allow the Mozzarella marinate for 30 minutes in the refrigerator.
Roast the pistachios in a 350°F /180°C oven for 10 minutes or until they turn slightly brown in color. In a bowl, combine the tomatoes and add the balsamic vinegar. Season with salt and pepper.
Assembly:
To assemble the salad, place 2 slices of the Mozzarella in the center of the plate and arrange the different tomatoes around and on top. Sprinkle with the pistachios. Drizzle some basil oil and any remaining balsamic vinegar on top of the salad. Season with fresh ground pepper. Garnish with a sprig of basil and serve with fresh foccaccia croutons.
Chef Caroline McCann Bizjak
Tips
Learn more about