Mushrooms in Puff Pastry with Hazelnut Cream
This is the Mushrooms in Puff Pastry with Hazelnut Cream recipe.
Prep: 20 min
Cooking: 20 min
Yields 4 servings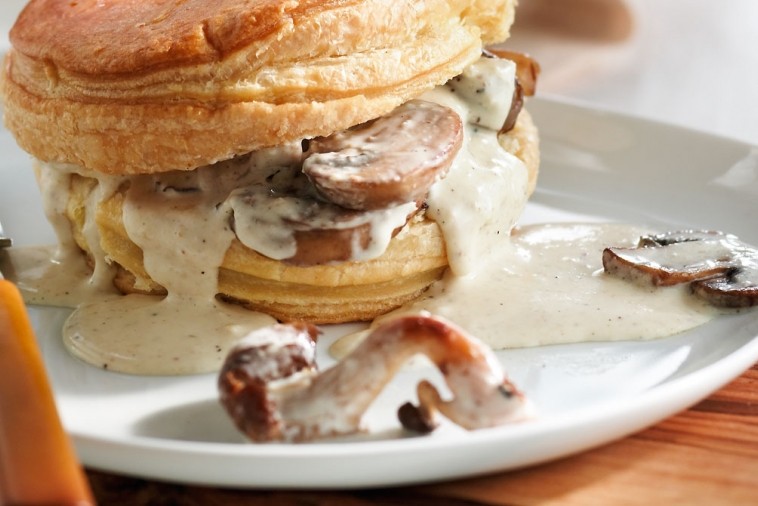 Ingredients
1/4 cup (60 mL) hazelnuts
1 tsp (5 mL) butter
1 tbsp (15 mL) olive oil
2 garlic cloves minced
8 oz (250 g) white mushrooms sliced
5 oz (150 g) oyster mushrooms sliced
1 cup (250 mL) chicken stock
3 1/2 oz (100 g) Canadian Brie cheese rind removed
1/3 cup (80 mL) 35 % cream
4 commercial puff pastry shells
Salt and freshly ground pepper to taste
Preparation
Dry roast the hazelnuts on a baking sheet for 15 minutes in a 350 °F (180 °C) oven. Set aside.
Melt the butter with the oil. Sauté the garlic and mushrooms for 5 minutes. Season to taste with salt and pepper. Add the chicken stock. Bring to the boil and let reduce by half, about 10 minutes. Add the Canadian Brie and let it melt.
Combine the cream and the hazelnuts in a food processor or blender. Add to the mushroom mixture. Let reduce and thicken for a few minutes.
Meanwhile, reheat the puff pastry shells in a 250 °F (120 °C) oven for 10 to 15 minutes or according to instructions on the packet. Fill each shell with the steaming hot mushroom mixture and serve immediately.
Tips