Orange-Flavoured Chocolate Cream Cheese Bombe
This is the Orange-Flavoured Chocolate Cream Cheese Bombe recipe.
Prep: 20 min
Freezing: 3 h - 4 h
Yields 8 servings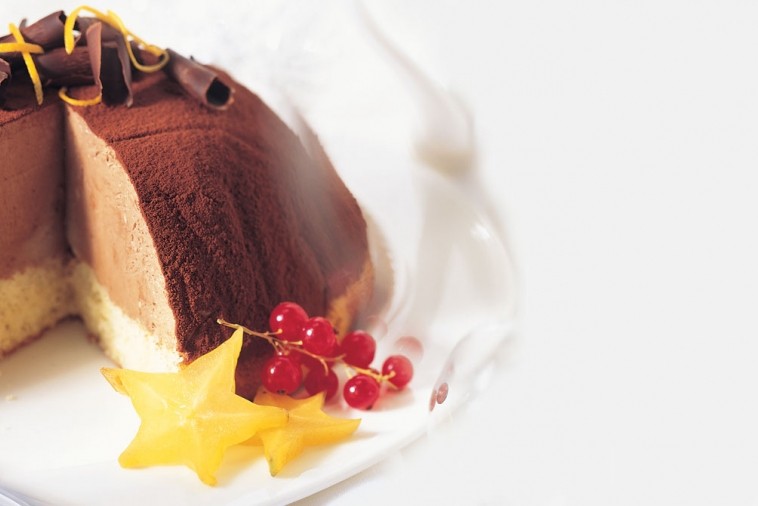 Ingredients
2 eggs separated
1/3 cup (80 mL) 35 % whipping cream
1/3 cup (80 mL) sugar
8 oz (250 g) Canadian Cream Cheese or Mascarpone Cheese at room temperature
1/4 cup (60 mL) cocoa powder
1/4 cup (60 mL) strong coffee cooled
3 tbsp (45 mL) your choice of orange liqueur (Grand Marnier, Cointreau, Triple sec, Grand Curaçao, etc.)
1 angel cake or sponge cake sliced in half horizontally (use only one half)
Preparation
In a bowl, beat egg whites with an electric beater until stiff peaks form. In another bowl, whip cream and add half of the sugar.
In a large bowl, beat egg yolks with an electric beater with remaining sugar for 2 to 3 minutes; the mixture should be thick and creamy. Beat in Canadian Cream Cheese or Mascarpone.
Dissolve cocoa in coffee and add to cheese mixture. Add orange liqueur. Fold in egg whites and whipped cream delicately with spatula.
For a mould, use a round-bottomed bowl the same diameter as the cake. Cover inside with plastic wrap. Pour Canadian Cheese mixture into mould. Place cake half on top and cover with plastic wrap. Freeze for at least 3 to 4 hours. Unmould when ready to serve.
Tips
Decorate bombe by sifting cocoa in mould before pouring in cheese mixture.
To unmould bombe easily, place bowl in hot water for 2 minutes, wipe dry, remove outer plastic wrap, pull gently on plastic wrap in mould to help remove bombe, then turn out onto a plate. Return bombe to freezer until ready to serve. Garnish unmoulded bombe with orange slices and chocolate sauce.
Note: This recipe contains raw or lightly cooked eggs. Foods containing raw or lightly cooked eggs may be harmful to vulnerable people such as young children, the elderly, pregnant women and people with weak immune systems.
Nutrition
Nutritional Information
per serving
| | |
| --- | --- |
| Energy: | 270 Calories |
| Protein: | 6 g |
| Carbohydrate: | 24 g |
| Fat: | 16 g |
| Calcium: | 70 mg |