Overnight Breakfast Strata
This is the Overnight Breakfast Strata recipe.
Prep: 10 min
Cooking: 7 min
Refrigeration: 2 h
Yields 4 servings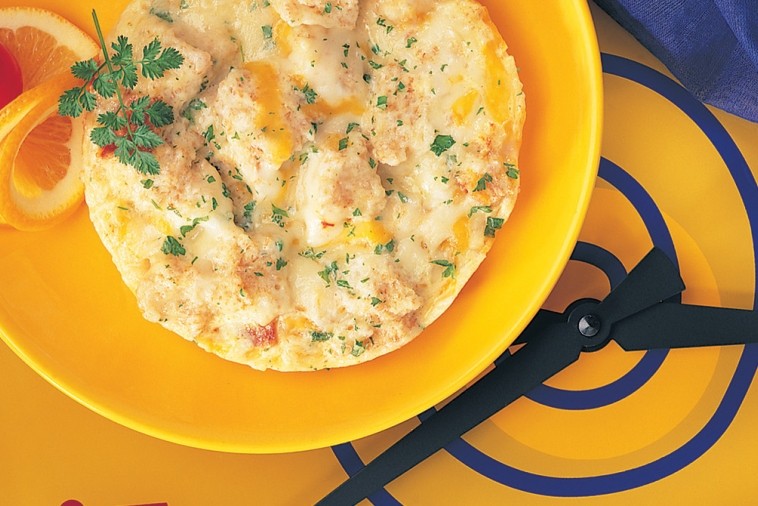 Ingredients
4 slices of whole wheat bread preferably stale, cubed
2 cups (500 mL) shredded Canadian Swiss or Cheddar cheese
1 tbsp (15 mL) chopped fresh parsley
4 eggs
2 cups (500 mL) Milk
1/2 tsp (2 mL) salt
1/2 tsp (2 mL) dry mustard
Cayenne pepper to taste
Preparation
Divide bread cubes, Canadian Swiss cheese and parsley evenly in 4 buttered 1 1/2 to 2 cups (375 to 500 mL) microwaveable containers.
Beat together eggs, milk, salt, dry mustard and cayenne pepper. Pour over bread and cheese mixture, pressing on top with a spoon. Cover and refrigerate at least 2 hours or overnight.
Cover with plastic wrap, venting one corner. Microwave at 'medium', one serving at a time, until the centre is set but soft, 6 to 7 minutes, rotating dish twice. Let stand 2 minutes. Serve plain or with salsa, jam or syrup.
Tips
Suggestion for a complete meal: serve with an orange or a glace of juice.