Parsnip and Carrot in Mozzarella Cheese Sauce
This is the Parsnip and Carrot in Mozzarella Cheese Sauce recipe.
Prep: 15 min
Cooking: 10 min - 15 min
Yields 4 - 6 servings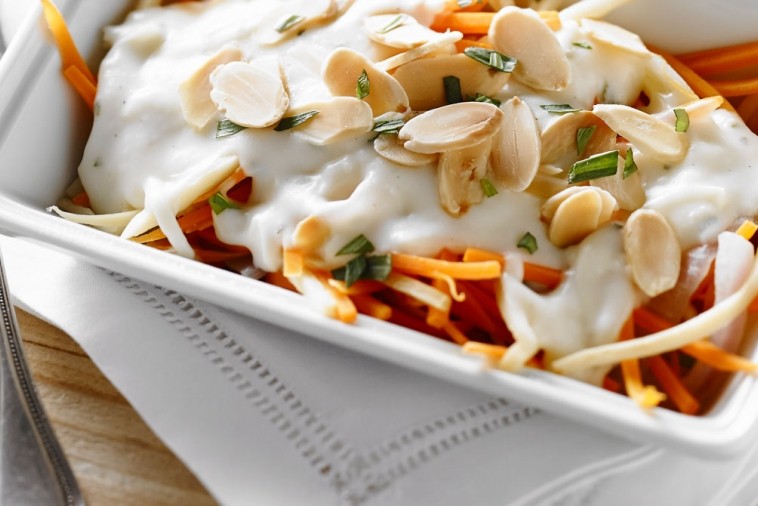 Ingredients
4 parsnips peeled and julienned
4 carrots peeled and julienned
1 red onion thinly sliced
2 tbsp (30 mL) slivered almonds or pine nuts lightly toasted
A few sprigs of fresh tarragon
Sauce
3 tbsp (45 mL) butter
1/3 cup (80 mL) all-purpose flour
1 cup (250 mL) Milk
5 oz (150 g) Canadian Mozzarella cheese in small cubes
Fresh tarragon chopped
Salt and freshly ground black pepper to taste
Preparation
Place vegetables in a saucepan, cover with cold water and bring to the boil. Reduce heat and cook 3 minutes in gently boiling water. Drain, reserving 1 cup (250 mL) of cooking liquid. Place them in a dish and keep warm.
In a saucepan, melt butter, then add flour all at once. Cook for 1 minute stirring constantly, then gradually add cooking liquid and milk. Increase heat and whisk until sauce thickens. Simmer for 2 minutes.
Remove from heat, add Canadian Mozzarella cheese and stir until melted. Season with fresh tarragon, salt and pepper. Pour sauce over vegetables and sprinkle with pine nuts or slivered almonds. Garnish with fresh tarragon sprigs and serve right away.
Tips
Nutrition
Nutritional Information
per serving
Energy:

262 Calories

Protein:

10 g

Carbohydrate:

21 g

Calcium:

20 % /

215 g

Fat:

16 mg