Paul Toussaint's Peach And Passion Fruit Blanc Manger
In my family, we served Blanc Manger on special occasions. To make it, we used fresh, local ingredients such as seasonal fruits and milk from neighbouring farmers. To make the Blanc Manger and honor this family recipe, we need quality ingredients, which is why I always use 100% Canadian milk and cream.
Prep: 20 minutes
Refrigeration: 60 minutes
Yields 6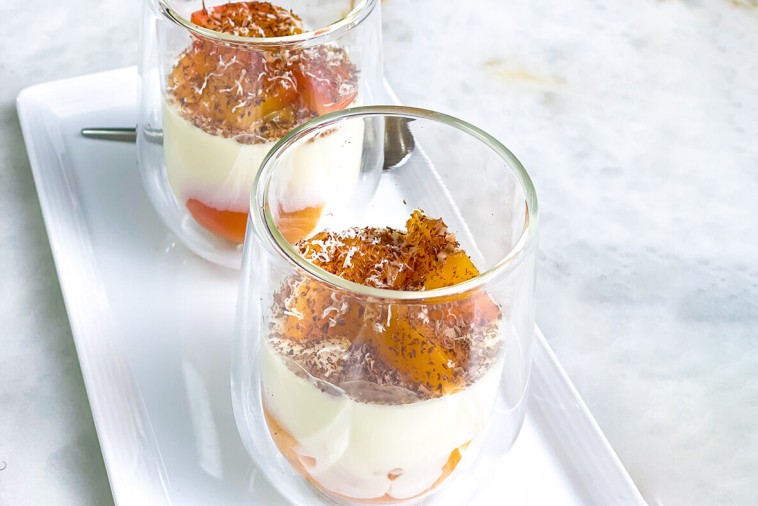 Ingredients
Blanc Manger
1 ½ cups Canadian whole milk

½ cup Canadian heavy cream

2 tbsp. cornstarch

4 tbsp. sugar

1 pinch of salt

1 tsp. vanilla extract (clear, if possible)

2 oz. white chocolate (or marble chocolate)

2 passionfruit


Poached Ontario Peaches
2 cups of water

1 cup of sugar

Juice of 1 lemon

4 peaches, halves and pitted


DID YOU KNOW?
When you see the Blue Cow Logo on a product, it means it's made with 100% Canadian quality milk.
LEARN MORE
Preparation
Blanc Manger
Mix the cornstarch, sugar, and salt with ¼ cup of cold milk.
In a small pot, heat the remaining milk, the cream and the chocolate over low heat (do not boil!).
While whisking, slowly add the cold milk mixture to the heated milk, stirring constantly, in a heavy bottomed pan or a double boiler.
Continue to cook over low heat, whisking constantly, for 15 minutes until the raw taste of the cornstarch disappears and it thickens (do not boil!). It will thicken all at once at the end of the cooking time.
Add the vanilla. Remove from the heat and pour into small individual serving bowls/glasses. Allow to cool naturally then refrigerate.
Poached Ontario Peaches
In a saucepan, bring the water to a boil with the sugar and lemon juice.
Add the peaches and simmer for about 5 minutes or until the peaches are tender.
Remove the peel. Let cool. Cover and refrigerate until completely chilled. Cut in medium chunks.
Plating
Lay the passion fruit pulp on top of the blanc manger. Add the chunks of poached peach and finish with some shaved milk chocolate.