Paul Toussaint's Risotto With Butter Poached Lobster
Risotto is one of Italy's most popular dishes.
Instead of rice, I choose Canadian barley, which contains less starch, as well as 100% dairy products to ensure freshness, quality and less environmental impact.
In this barley risotto, the cream brings smoothness to the dish and the Canadian Parmesan is reminiscent of the authentic flavour of a classic risotto.
Butter is the ideal ingredient for cooking lobster: it makes the flesh tender and keeps it juicy until it reaches the guest's palate.
-Chef Paul Toussaint
Prep: 10 minutes
Cooking: 50 minutes
Yields 4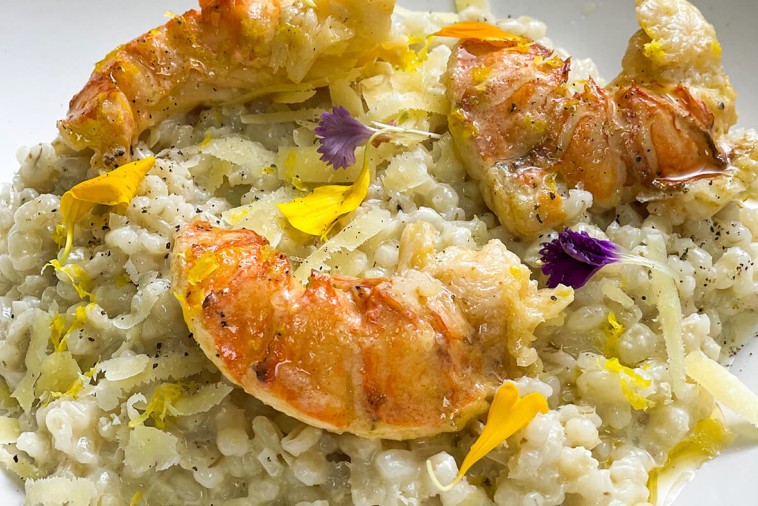 Ingredients
Risotto
1/2 cup freshly grated Canadian parmesan cheese

4 tbsp. Canadian butter

8 cups chicken stock

3 tbsp. olive oil

2 shallots, diced

1 ½ cups barley

½ cup dry white wine

½ cup Canadian heavy cream

sea salt to taste

freshly ground black pepper to taste

3 tbsp. finely chopped chives

edible flowers, beet/radish sprouts (ideally yellow and green colours)



Butter Poached Lobster
900 g of Canadian salted butter (4 cups)

6 Canadian pre-cooked lobster tails

2 tbsp. paprika

3 garlic cloves

4 sprigs of thyme

1/2 onion


Preparation
Risotto
Add 1 tablespoon olive oil to a skillet, and stir in the shallots. Cook for 1 minute. Add barley, stirring to coat with oil, about 2 minutes. When the barley has taken on a pale golden colour, pour in wine, stirring constantly until the wine is fully absorbed. Add 1 cup stock to the barley, and stir until the stock is absorbed. Continue adding stock, half a cup at a time, stirring continuously, until the liquid is absorbed and the barley is al dente, about 15 to 20 minutes.
Remove from heat, add butter, cream, chives, and Canadian parmesan. Season with salt and pepper to taste.
Butter Poached Lobster
In a saucepan, melt the butter and add the paprika, garlic, thyme and onion.
Simmer the mixture over medium heat for 8 minutes.
Try to keep the butter between 160-175°F. Use an instant-read thermometer to keep it under 180°F.
Add the lobster. Cook for 8-10 minutes and turn tails in butter mixture. Make sure the butter does not come to a boil, reduce the heat if necessary. Be careful not to overcook the lobster. Poached lobster tails should have an internal temperature of about 140-145°F.
Plating
In a deep plate, spoon out the risotto, add 2 half lobster tails and finish with some shaved parmesan, microgreens and cooking lobster butter.
Tips
Save the flavourful lobster butter for pasta and vegetables! Freeze the butter till the next use.