Portobello Mushrooms with Italian Stuffing
This is the Portobello Mushrooms with Italian Stuffing recipe.
Prep: 20 min
Cooking: 20 min - 25 min
Yields 4 servings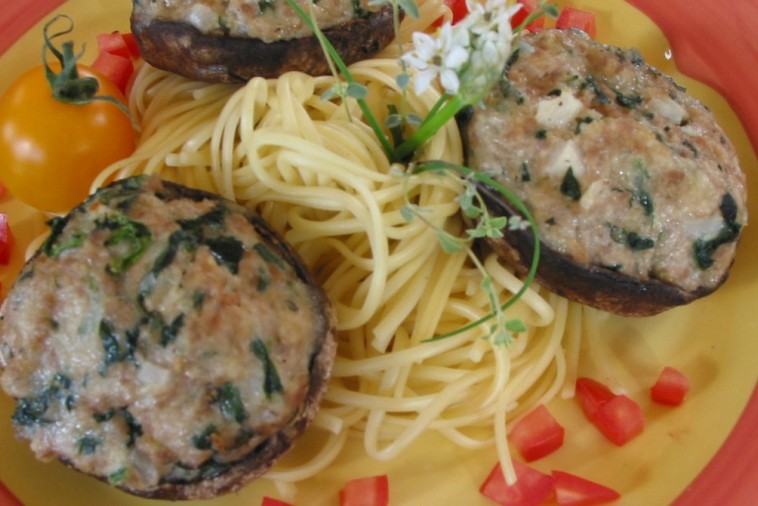 Ingredients
Stuffing
1/2 cup (125 mL) Canadian Ricotta cheese
8 oz (225 g) spinach cooked and chopped
8 oz (225 g) your choice of ground meat
1 clove garlic chopped
1/2 onion chopped
1 cup (250 mL) Canadian Provolone cheese shredded
2 tbsp (30 mL) Canadian Parmesan cheese grated
1 tbsp (15 mL) your choice of chopped fresh herb or 1 tsp (5 mL) your choice of dried herb (basil, oregano, thyme, sage, rosemary.)
Salt and freshly ground pepper to taste
4 large Portobello mushrooms or 8 Portobellini mushrooms
Preparation
Mix together all the stuffing ingredients. Season generously.
Remove the mushroom stalk by cutting it where it joins the cap. Chop the stalk and mix into the stuffing. Place the mushroom caps on a baking sheet or in an ovenproof dish, underside up.
Divide the stuffing between the 4 mushrooms and smooth over. Cook in the centre of a preheated oven at 400 °F (200 °C) for 20 to 25 minutes or until mushrooms are tender and the meat is cooked through.
Serve with a green salad and pasta.
Véronique Gagnon-Lalanne, chef
Tips
The mushrooms can be replaced with zucchini or eggplant, cut lengthways and hollowed out.
Learn more about