This is the Ratatouille with Havarti recipe.
Prep: 30 min
Cooking: 30 min
Yields 4 servings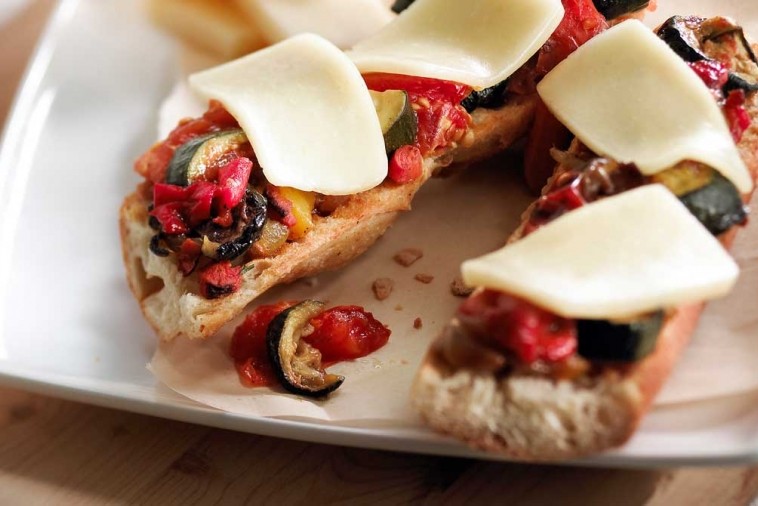 Ingredients
1 eggplant sliced
2 zucchini sliced
2 bell peppers (red and/or yellow) seeded and quartered
1 large onion finely chopped
2 large carrots diced
4 tomatoes halved
1/4 cup (60 mL) virgin olive oil
3 tbsp (45 mL) chopped fresh parsley
3 tbsp (45 mL) pine nuts
5 oz (150 g) Canadian Havarti cheese in thin slices
Salt and freshly ground pepper to taste
Preparation
Place eggplant slices in a colander and sprinkle with a little salt. Let stand for about 20 minutes to extract moisture. Rinse thoroughly, drain and dry with paper towels. Preheat oven to 425 ºF (220 ºC).
Brush vegetables with a little olive oil and place in 1 or 2 ovenproof dishes. Roast in oven for about 20 minutes, or until lightly browned and bell pepper skin starts to blister.
Transfer vegetables to a large dish (peel skin off peppers if desired). Moisten with cooking juices, season with salt and pepper. Let cool.
In 350 ºF (180 ºC) oven, roast pine nuts 7 to 8 minutes.
When vegetables are at room temperature, coarsely chopped, mix in parsley and roasted pine nuts. Distribute Canadian Havarti slices over ratatouille.
Serve on crusty bread or as an accompaniment to grilled meat.
Jean Soulard, Executive Chef, Le Château Frontenac
Tips
Learn more about