Scalloped Potatoes with Herbed Cheese
This recipe is taken from the 1991 Milk Calendar. This is the Scalloped Potatoes with Herbed Cheese recipe.
Prep: 15 min
Cooking: 1 h 20
Yields 4 - 6 servings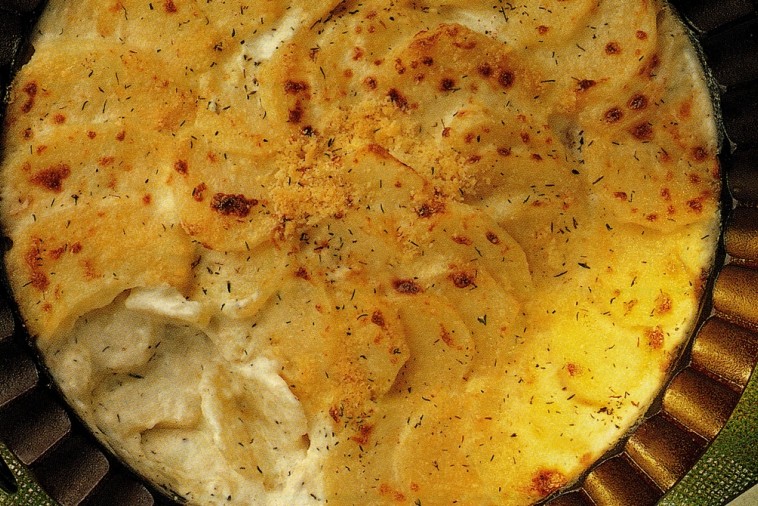 Ingredients
2 tbsp (30 mL) butter
2 tbsp (30 mL) all-purpose flour
2 1/2 cups (625 mL) Milk
4 oz (125 mL) Canadian Herbed Cream cheese
3/4 cup (180 mL) shredded Canadian Swiss cheese
1/2 tsp (2 mL) salt
1/4 tsp (1 mL) pepper
of ground nutmeg
5 medium baking potatoes (1 1/2 lbs/675 g)
1/4 cup (60 mL) grated Canadian Parmesan cheese
Preparation
Melt butter in a medium saucepan. Whisk in flour. Cook 2 or 3 min without browning, stirring constantly. Whisk in milk. Bring to a boil. Reduce heat. Simmer gently 5 min. Add herbed cream cheese, Swiss cheese, salt, pepper and ground nutmeg. Stir until cheeses melt.
Meanwhile, slice potatoes into 1/4-inch (1 cm) slices. Layer potatoes and sauce alternately in a buttered 9-inch (23 cm) casserole dish, ending with sauce. Sprinkle with Parmesan cheese. Bake in a preheat 350 °F (180 °C) oven for 1 hr and 20 min or until potatoes are tender. Let stand 5 to 10 min before serving.
Tips