Shepherd's Pie with Cheesy Mashed Potatoes
This recipe is taken from the 1993 Milk Calendar. A favourite recipe back by popular request. From the 1988 Milk Calendar.
Prep: 20 min - 25 min
Cooking: 55 min - 1 h
Yields 6 servings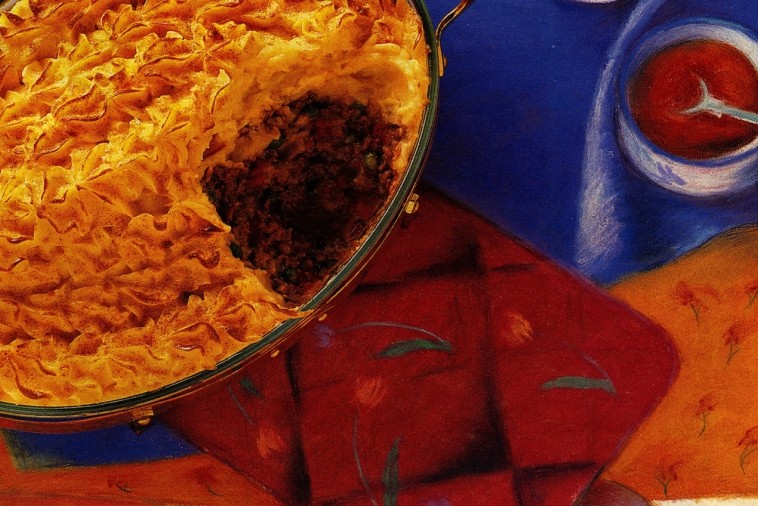 Ingredients
6 medium potatoes
3/4 cup (180 mL) Milk heated
2 tbsp (30 mL) butter
2 tbsp (30 mL) shredded Canadian Cheddar cheese
Salt and pepper to taste
2 tbsp (30 mL) vegetable oil
2 large onions chopped
2 garlic cloves minced
2 1/4 lbs (1 Kg) lean ground beef
2 tbsp (30 mL) all-purpose flour
1 cup (250 mL) Milk
1 can (19 oz/540 mL) tomatoes drained
2 tsp (10 mL) Worcestershire sauce
1/2 tsp (2 mL) dried thyme
1/4 tsp (1 mL) Tabasco sauce
3/4 cup (180 mL) bread crumbs
1/2 cup (125 mL) frozen peas
1 tsp (5 mL) A few pinches of paprika
Preparation
Cook potatoes in boiling, salted water 15 min or until tender. Drain well. Mash with milk, butter, cheese, salt and pepper. Reserve.
Meanwhile, heat oil in a large, deep skillet. Cook onions and garlic until tender. Stir in beef. Brown lightly. Stir in flour. Add milk. Bring to a boil. Cook 3 to 4 min. Add tomatoes, braking them up with a spoon. Cook until thickened slightly- about 10 min.
Stir in seasonings, bread crumbs and peas. Season to taste with salt and pepper.
Transfer mixture to a buttered 9 x 13 inch (23 x 33 cm) casserole. Spread or pipe mashed potatoes on top. Sprinkle with paprika. Bake in a preheated 400 °F (200 °C) oven for 30 min.
Tips
Learn more about